The Summer Quiz 2016 - Round One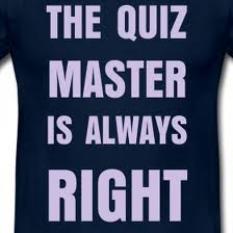 By Old Pete
June 1 2016
Well, the close season is upon us and it gives the Editors of COYSDC great pleasure in announcing the return of Old Pete's Summer Quiz! Have a go at Pete's first set of questions but please don't use search engines to look up answers for posting. It defeats the purpose of the piece, as well as ruining the effort Pete has made. No merit is gained either way as questions are intended for fun. If you only know part of an answer, put it up for the discussion of others - it might lead us to the whole answer! Expanding on an answer, giving full reasoning is positively encouraged - so away we go...
SUMMER QUIZ ROUND ONE
Quotes - who said the following and if you can - on what occasion.
1. " There's something wrong with our bloody ships today "
2. They say about "X" that he's his own worst enemy - "Y" replied, "Not while I'm alive he ain't." Who were X and Y?
3. Who is alleged to have said "I would go into hell and make a pact with the Devil in order to defeat …" Who is supposed to have said this - about what and when?
What links the following
4. A French duke, a colourful Emperor, two Admirals,a rare London beauty
5. Goldilocks , The Daily Express, AA Milne, Peru
6. Aberdeenshire, Berkshire, Norfolk and London
Colours
7. Which political movement is/was associated with the colours Green , White and Violet.
8. Five members of the EU have the colour green in their national flag - which are they.
9. What colour links and how - a priest/ composer - a popular music group - a pre Columbian explorer - Garibaldi
The odd one out - which is it and can you say why ?
10. Sherman, Lee, Grant, Eisenhower, Pershing, Patton, Churchill, Cromwel
11. Pomerania, Alsace, Bavaria, Rhodesia, Newfoundland, Yorkshire
12. Kings Landing, Gotham City, Santiago, Maardam, Mahagonny, Deseret