News: Northampton Saints vs Exeter Chiefs - Match Preview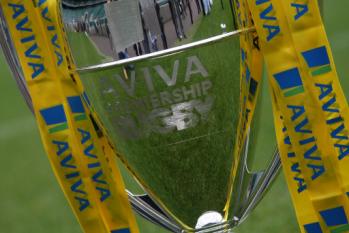 By HRSaints fan
September 29 2016
With just the one success in four attempts in the fledgling Aviva Premiership, Northampton Saints welcome Exeter Chiefs to Franklin's Gardens under the lights on Friday evening. Regular COYSDC contributor HRSaints fan (David to his mates) takes a look ahead to the game...
NORTHAMPTON SAINTS vs EXETER CHIEFS
AP: Friday, 30th September 2016 - 7.45pm (BT)
FRANKLIN'S GARDENS, NORTHAMPTON
MATCH PREVIEW
Well I for one did not think we would be seeing a post entitled "Friday v The Chiefs – Most important game for a long time" this early in the season. Although I noted that not everyone entirely agreed with Forrester's comments, nevertheless I think we can all get behind the view that winning home games is vital to being in contention at the end of the season.
When I was reading that particular forum thread I got to wondering how many home games had been lost by those teams that finished in the top four over previous seasons. The wonder of the dear old internet is that these figures are but a click away, and they do make for an interesting study. (By the way, I don't know if any of you actually like these sorts of statistics but if you have read any of my previous Previews, you will know that I – sad old git that I am – do!!)
Last season (2015/2016) two of the top four teams lost 2 home games and the other two 1 home game. In the two seasons prior to that (2013/2014 and 2014/2015) only one top four team lost 2 home games, the other three teams losing only 1. In point of fact since the 2010/2011 season, the greatest number of home games lost by a team finishing in the top four was….wait for it…..Northampton Saints in the 2012/2013 season! (we lost four home games that season).

In general however as you look at the progression of each season there is no doubt that it has been getting far more competitive with the result that over the last three seasons no team has advanced to the knock-out stages having lost more than two home games.
So, in that respect, there may be some validity regarding the importance of Friday night's game. It is a clash between 5th and 10th although at this early stage in the season the gap between the two teams is only 4 points.
I have to confess that if I didn't support Saints, then my allegiance to another Premiership team would undoubtedly go to Exeter (although the travel distance to the home games might create a bit of tension with the missus…). Ever since our time playing them in the Championship I have found a lot of similarities between the values of both of our clubs. Good grounds, no sugar daddy owners, excellent English Directors of Rugby, great fans etc. What is also impressive is that since their arrival in the Premiership, they have finished no lower than 8th, culminating in their highest finish last season (2nd) and a trip to Twickenham for their first ever Premiership Final, losing to Saracens.
Exeter arrive at Franklins Garden in reasonable shape having recovered from losing their first two games of the season. Particularly impressive has been the fact that they seem to have put the heavy loss at home to Saracens in round 2 behind them, with subsequent wins at home to Harlequins and away to Bristol.
So, despite still being without Dave Ewers, Phil Dollman and Don Armand amongst others, they will be in good spirits for the game against Saints. Rumours are also creeping out from the West that Jack Nowell may be back in the squad for Friday's game.
For Northampton it is still frustrating to think back to the loss against Wasps. George North had his best game for a long while in a Saints shirt, beating 8 defenders which was more than any other player in round 4 of the competition. He was ably supported by Harry Mallinder who also carried more than any other player in that round. Louie Picamoles continued his excellent form which has seen him top the "most off loads" table (with ten just in case you were wondering). And yet we still lost. I read, and agreed with, the comments on this forum about taking all of the possible available points from penalties awarded against the opposition rather than the 'kick-to-the-corner' option. I appreciate that not every penalty is kickable, and factors such as wind, distance and position have to be taken into consideration. But the effect of building a score against the opposition can force them to chase the game, which opens up opportunities for Saints. England have done this in the past with great effect when Jonny Wilkinson was in the side, and indeed still do this with similar impact with Owen Farrell.
What was encouraging from last weekend though was the manner in which Saints played. I listened with great interest to what Alex King talked about during the Saints show on BBC Radio Northampton on the 21st. The target is to work towards playing a very fast tempo game, and to bring the likes of George North far more into the match. Now you might wonder whether this has been a recent plan, or one that has been around for some time, and undoubtedly this style of play was missing for a lot of last season. But it must be the right way to go, and Alex King was under no doubt that Saints have the squad to achieve this goal.
So, on this basis I would happily not expect a change in game plan for Friday.
One of the benefits of writing a preview on Thursday for the game on Friday is that you don't have to guess the team and I, and 15,000 other Saints supporters, am delighted to see the return of a certain Calum Clarke. The Saints starting 15 looks very strong, as does the bench, and I think we can all have some grounds for optimism for Friday's result.
Safe journeys for all those travelling on Friday night, especially our friends from Devon, and I am hoping for a cracking game of rugby with Saints coming out on top.
COYS