News: CC: Northampton Saints vs Leinster Rugby - Preview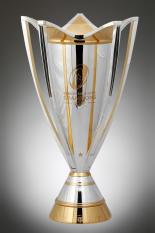 By HRsaints fan
December 9 2016
Northampton Saints welcome Leinster Rugby to Franklin's Gardens this evening in Round Three of the pool matches in the 2016/17 Champions Cup. With one win and one loss for all four teams in the group so far this could be a season-defining fixture and COYSDC stalwart, HRsaints fan (David to his mates), looks ahead to the game...
NORTHAMPTON SAINTS vs LEINSTER RUGBY
CC: Friday, 9th December 2016 - 7.45pm (BT Sport)
FRANKLIN'S GARDENS, NORTHAMPTON
MATCH PREVIEW
It's no good. No matter how hard I have tried, I cannot think about tonight's game without my mind drifting back to a cold December Friday night in 2013 which was the last time that Leinster visited Franklins Gardens. At that time Saints had lost away to Castre in Round 1 (a game they should have won) and won at home against Ospreys. So, in terms of the group, there was still everything to play for. Leinster was two from two, having won away at Ospreys and then beating Castre at home.
Then, as now, the Leinster team were almost at International level, with such dignitaries as Kearney, O'Driscoll, D'arcy, Fitzgerald, Reddan, Cronin, Ross, O'Brien and Heaslip. However Saints themselves were enjoying their first season with George North on the wing, and their domestic form was excellent, having won seven, drawn one, and lost only one of the first nine games of the Premiership.
I can still recall the shock of that first half. The speed with which Leinster attacked took one's breath away and it seemed that they could score tries at will. O'Driscoll's outrageous pass from between his legs for the second try summed up what was a clear gulf in class between the two teams. At 26 – 0 at half time, the game was over and the second half saw two further tries from the visitors with one from Saints.
If anyone from the Saints team happens to read this (very unlikely I know) I just want to say DON'T LET THEM DO IT AGAIN. Enough said.
ERCC Pool 4 is interestingly poised. Leinster won reasonably comfortably at home to Castre in Round 1 but really struggled against the monster Montpellier pack in Round 2, squeezing what was really an underserved losing bonus point in the last minutes of the game. Saints fought very hard against the same Montpellier team to squeeze a win in round 1, and then got regally thumped away to Castre. So although Leinster top the group, and Saints prop it up, there are only 2 points separating the teams.
Of course, Saints cannot point to anything like the same domestic form of 2013 in the current season and we come into this game following a disappointing result at Welford Road last weekend. Saint's defence continues to be a mighty thing – but our attack? Much debate and discussion has taken place about where our attack seems to have wandered off to. Indeed by Round 4 of the 2013/2014 Premiership season we had scored as many tries as we have in nine attempts in the current season.
There is no doubt that our defence will again be tested against an excellent Leinster side. Whether we can find our attacking mojo though remains to be seen.
The teams are already announced, and I personally am very pleased to see JJ Hanrahan back in the side. He was very eloquent in the Saints Show on BBC Radio Northampton on Wednesday night. In particular he felt that he hadn't been able – for whatever reason – to show the Saints fans what he can do. I, for one, hope that he might be the catalyst towards a much underperforming Saints backline finding its feet again.
The good news is that I have it on very good authority that a certain F.Christmas has checked his list (twice) and that yours truly got a tick in the 'nice' box. So, on that basis, I have written a letter to the North Pole, put as many stamps on it as the envelope would take, and asked Santa for an early Christmas present in the form of a Saints win tonight.
Safe travels for all, especially the travelling Leinster fans, and here's hoping for a really good game of rugby and a Christmas wish coming true for this supporter at least.