News: CC: Leinster Rugby vs Northampton Saints - Preview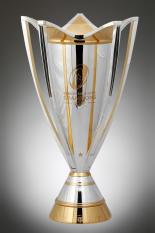 By HRsaints fan
December 15 2016
After a chastening defeat at Franklin's Gardens last time out, Northampton Saints travel to the Aviva Stadium to take on Leinster Rugby in the return fixture of the Champions Cup pool matches. David looks ahead to the game...
LEINSTER RUGBY vs NORTHAMPTON SAINTS
Saturday, 17th December 2016 - 7.45pm
AVIVA STADIUM, DUBLIN
MATCH PREVIEW
Last Friday morning I scribbled together a quick preview of that evening's game which Phil kindly posted up on the COYS forum. There were two main points to my blurb.
Firstly I recalled memories of the 2013 visit of Leinster to Franklins Gardens which resulted in a thrashing of Saints and I concluded with the following quote:
"If anyone from the Saints team happens to read this (very unlikely I know) I just want to say DON'T LET THEM DO IT AGAIN".
And lastly I mentioned that I had taken it upon myself to ask Santa Clause for an early Christmas present in the form of a Saints win.
What can we conclude then from Friday night?
Saints let them do it again; and

There is no Santa Clause.
I am sitting in my office wondering what on earth to say about Saturday's return visit to the Aviva Stadium. I have been thinking that it would be great if Saints went there and won again, as they did back in 2013. However that team were playing good rugby as I mentioned in my preview. They were riding high in the Premiership having won seven out of nine games and drawing one. It was that team that went on to become Premiership Champions in 2014. This is not the same situation at all even though some of the same players are still around. Saints came into Friday night's game ninth in the league and desperately trying to find some form having only won 4 out of the 10 games played so far in the Aviva Premiership.
There has been a huge amount of discussion about Saint's form, not just after Friday night, but since the first game of the Season and there is no doubt that feelings amongst the fans is running very high. This is perfectly understandable and quite justified. As fans we want our team to be successful and to play the type of rugby that saw us become Premiership Champions. And as fans we also have a right to vent our feelings and thoughts on the clubs current predicament.
Almost three years ago we were able to fight it out, toe-to-toe, with Saracens and come out on top. We were certainly their equal and, in a number of positions on the pitch, better than them in my opinion. I think we certainly played a better quality of rugby as was shown in the 2013/2014 final where we out-scored them three tries to one. Fast forward two and a half-years, and Saracens are currently Aviva and ERCC Champions, playing a good brand of attacking rugby, and they continue to get better and better whilst Saints get worse and worse.
The problem is that none of us actually know what the reasons are for the position Saints find themselves in. We can guess, we can surmise, but we just don't know. None of us are privy to the dressing room, or the training sessions, or what is said from the coaches to the players (and vice versa) or from the Board to the coaches (and vice versa!). On Friday night Tom Wood stood for over an hour after the game discussing the situation with press and fans before wandering off to get showered and changed. And whilst I applaud the efforts of Lennie Newman and Graham McKechnie from BBC Radio Northampton to try and find some positives out of the Leinster game, it was Tom Wood's statements that stay in my mind. For those that didn't hear what he said the BBC has an audio clip available or you can read it in full on-line in the Northampton Chronicle. However I would like to comment on one part of his interview which is quoted below:
"Out there, I didn't feel we were anywhere near where we need to be in terms of intensity and emotion that we need on nights like this," Wood said. "I honestly don't know why that is. I'm searching for answers myself. I don't know whether it's the stage of the season, whether it's the disconnect between the internationals and the rest of the squad, whether it's people feeling sorry for themselves, too much game time, not enough game time. I'm searching for answers and I honestly don't know what they are, but we were flat and it showed in the opening exchanges. Leinster came here and pumped us in the scrum. They mauled comfortably all night and we didn't wreck a single one. We didn't drive them out of town, we didn't drive them into the stand once. "They did it with ease and set a forward foundation. Now, are we a forward pack who pride ourselves on our togetherness like we did not so long ago, or are we happy for another set of forwards to come here and push us around? Because they pushed us around, in the scrum and in the maul. Ashamed is a strong word because I'm proud of my team, but I'm hurt by the fact that we're not better."
I know that some fans will say that there is more going on than Tom was willing to say, and that he is not going to come out in public and reveal his real feelings. That may be true, and the fact that the club has been talking to other coaches (well Pat Lam at least) would seem to mean that there are moves afoot. But when you read the above (and hear his full interview) it does not sound like someone trying to make things better by soundbites; in fact quite the opposite. One thing is certain and that is for whatever reason, and they may be numerous, all is not well with Northampton Saints at the present moment.
But hang on I hear you cry, this is meant to be a preview, not a review. So, on that basis I will shut up about the past and look forward to the return match in Dublin on Saturday night.
Well what is needed is an extremely urgent focus on getting things right both mentally and physically (I have always had a God-given gift in stating the bleedin' obvious) and this is no exception. However there are a number of issues that is going to make this harder than it would otherwise have been.
Firstly the lead-up to the game will be interrupted by the hearing for Dylan's red card which takes place on Wednesday evening and we are also expecting the report on George North's 'concussion' by the end of the week.
Secondly – the injury list. This is horrendous with the following out of action (as far as I am able to glean from various sources although there is precious little formal information from Saints):
Harry Mallinder
Tom Stephenson
Campese Ma'afu
Sam Dickinson
Lee Dickson
George North (presumably still going through the protocol)
Christian Day (?)
James Craig (?)
Then we had the following players come off with knocks/injuries on Saturday – Jamie Elliot, JJ Hanrahan, Gareth Denman and Louis Picamoles. Denman's injury certainly seems bad because Saints are reported as urgently seeking a short-term tight-head replacement. We won't know about those players until we all see the team-sheet at Friday lunchtime or hear any further news from the Saints camp – which is unlikely.
Thirdly - the forthcoming games that the Saints squad are facing over the next two months
23rd December 2016 – AP – Sale home
1st January 2017 – AP – Gloucester away
7th January 2017 – AP – Bristol home
13th to 15th January 2017 – ERCC – Castre home
20th to 22nd January 2017 – ERCC – Montpellier away
28th January 2017 – Anglo Welsh Cup (LV Cup) – Tigers away
4th February 2017 – Anglo Welsh Cup (LV Cup) – Scarlets home
(As an aside, how stupid is it that here we are in mid-December and yet we still don't know the actual dates and times for Rounds 5 and 6 of the ERCC?).
Anyway this eight week period is, in my little mind, critical for the Saints season (and yes I do have great sympathy with those that wish it was over already!). The LV Cup team will undoubtedly be the mix of youth and experience that we saw in the first two games of this season's tournament and which sees the team top of Pool 1. There can be no doubt whatsoever that the three Aviva Premiership games either side of the New Year are huge; particularly the two home games which really are 'must-wins'. As for the Champions Cup – well Saints are really playing for pride. If we lose on Saturday (and with a heavy heart I have to say that I cannot see a repeat of 2013) then surely there is no chance of qualifying for the knock-out stages.
So all of this leaves a real dilemma for the coaches as they plan for not just Saturday but for the following few weeks.
One thing that has really eluded this team all year is confidence and self-belief, and surely one of the best ways of re-establishing this is to start winning games, and playing as we know that they can. So what to do to achieve that? Rest some key players from the Champions Cup games to focus on the Premiership? Seems to make sense but that would mean almost certainly losing both of those games which would not help the squad find its feet again (and would not help the current mood of the fans either). I think that the coaches will have to make use of all of the players given the injury list in particular, and this may not turn out to be a bad thing, particularly if it means some players who are so lacking in any sort of form dropping to the bench, or indeed out of the match-day squad entirely until they can find their mojo. Consistently picking players who are so clearly out of form on the hope that they will suddenly click again seems to me to be a mild form of insanity. But of course one can argue that dropping a player doesn't exactly do their confidence much good either.
So, to put it mildly, this is a far from ideal situation for the Saints. Who'd be a coach eh?
In terms of team selection for Saturday's return fixture against Leinster in Dublin I am never very good at second-guessing the coaches and it may well be that the team picks itself based on the only 23 left standing! We have Calum Clark and Keiran Brookes back which is good news as long as they both learn from their recent suspensions. I doubt very much that we will see Dylan for a while, even if it is decided that his swinging arm was not malicious or intentional, and surely there must be some rotation for Alex Waller or the lad is going to be a mess by the end of the season (if not sooner). If Christian Day is not fully fit, then I would think that Michael Paterson will start alongside Courtney. I cannot think of any reason whatsoever why Teimana Harrison does not get on the starting sheet more often. If Eddie rates him surely the Saint's coaches should do as well? So on the grounds that we have got to find a way of playing faster and disrupting Leinster at the breakdown I would play him at 7 alongside Louis Picamoles (if fit) at 8 and Tom Wood at 6 with Calum on the bench. If Louis is not fit then Teimana would probably take his place, with Tom at 7 and Calum Clark at 6.
The front row (and the front row subs) rather picks itself, given the likely suspension of Dylan and the injury to Gareth Denman, although who starts is always an interesting question. As I said above Alex needs a break so I would prefer to see brother Ethan start with Alex dropping to the bench (I don't think we can afford to give him a complete break!) alongside Mikey Haywood and Keiran Brookes. The front row bench would therefore be Alex Waller, Charlie Clare and Paul Hill.
The backs? Where does one start? I think Nic Groom and Stephen Myler pick themselves with Tom Kessel and James Wilson on the bench as subs (I presume that James is available and not injured?). Ken Pisi and Tom Collins should start on the wing (if Jamie doesn't recover from his knock). I think that due to our current injury situation - assuming also that JJ Hanrahan will not be fit - and the fact that Jim seems to like the tried and trusted, we will see Luther back at 12 and George Pisi at 13 although personally I would prefer to see us try out Rory Hutchinson and Juan Pablo Estelles. I mean why not? They can't do much worse surely (although I thought that JJ was good at 12 against Leinster). I think Ben Foden needs to start from the bench as he is not in the best form and could cover for wing or full back, so I am going for Ahsee to start at full back.
I don't think that there are valid grounds for chucking a bunch of youngsters in against Leinster, especially given the forthcoming sequence of games, but perhaps with the current injury list we may see one or two get a chance from the bench.
As for the result, well I doubt very much that Leinster will make the same mistake as in 2013 when they clearly thought that they only had to turn up to thump us again. But if Saints do have pride, and if the words from Tom can find a resonance in every player then you never know. Personally I would be satisfied if we competed for 80 minutes, which could be a platform for the rediscovery of the confidence that this team desperately needs.
As this is my last preview of 2016 I would like to take the opportunity to wish the Editors, and all readers and contributors to this Forum a very (but not too) merry Christmas and a happy New Year. I hope that those travelling to Dublin for the game have a safe journey and a wonderful weekend.......and you know I could be completely wrong about Santa...