News: Of Pickerniks and other Schtuff...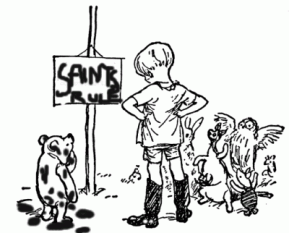 By Sainstby
February 24 2017
As COYSDC's tenure of SportNetwork's Northampton Saints platform draws to a close, veteran contribuotor (hah!) Stainsby (Bob to his mates) takes a look back at how this little fan's forum became a place for socialising, fund raising and making friends for life. Thank you, good sir!
OF PICKERNIKS AND OTHER SCHTUFF
As COYS disappears like the sun going down behind the Northampton lighthouse I got to thinking about why and what I have got most from the site/forum/web space and it is really pretty simple it boils down to fun, friends, and the S word detached from that it is often twinned with 'media' Social Media? Whoever put those two words together was talking out of their fundament IMHO or WTF (what the flip). Of course I like and enjoy the sport of rugby but to me it is vastly enhanced by the interaction the SOCIALISING with good friends and acquaintances many of them I wouldn't have known without COYS.
I came upon the forum around 2001 the year after that glorious day at HQ and started my ramblings online about then as Saintsby, reading posts from the likes of West Mids Saint (WMS) Connect, Binary Bob Broonie, St Tim, St Rich, (you know Joes dad,) Shaddo, St Marlowes, Old Pete, Ajack, our co founder Chris G, Beef, Stockers, Mark H, Wellsaint. Paul Flatt, Bleach all of whom I like to think of as good friends most still with us some not. So how did we get 'Social' (Ooo err I hear you mutter!) well by errrm…
Socialising!
Because I am a nosy sod I thought what do all these folk look like? What else have they got as interests/opinions/views on the game? So after much research, time and thou…oh sod it I just suggested a meeting in Heroes before a home game (might have been Bath) Got some special badges made – sticky paper envelope labels and printed folks moniker on them in GB&G doncha know!
Amazingly lots of the aforementioned actually turned up badges were slapped on lapels and people introduced each other had a laugh and, well, socialised. I did have one very sticky (see what I did there?) moment though when I presented Helen the Lady Stockham with her high quality badge complete with the title 'Mrs Stockers' Eeek! I still carry the bruises ;o)
From this get-together great things were born like the annual Pikerniks on the back pitches where Mr Paul Flatt would go on to cause mayhem with his POMD (pickles of mass destruction) and our herds of Gazebos would wander the sward. Sarnies, beer and good conversation flowed as well as a lot of silly but enjoyable codswallop too.
Then, after a couple of us had heart issues, St Rich came up with the idea that turned into SWH running (well walking actually) for 15 years and raising squilions for the BHF.
Thanks to Chris G for the birth of COYS, Rich for coming on board as an Headittor at a later date and since then all the hard working editors, moderators, and contributors for all your work over the years it's been fun informative and a real asset.
And the unofficial site formally known as COYS moves on into a hopefully, bright new future just like a reborn Dr Who. I wish the new team to be all the luck in the world!
Remember though keep it social!