News: One Last Pome From WMS...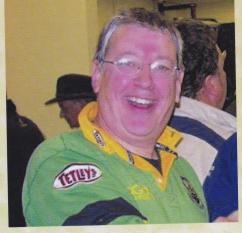 By WestMidsSaint
February 24 2017
In the early to mid 2000s, Mark Coleman (WestMidsSaint) was one of the most popular contributors to the comeonyousaints.com messageboard. His wit and wisdom via poetry brought a much missed levity to the board...
A POME FROM WESTMIDSSAINT
Mark was a much loved member of the comeonyousaints.com community. His wit and wisdom kept many of us going during gloomy periods (like continually losing to Leicester). His cardiac problems in Biarritz in 2002 led to the formation of Saints With Heart, which has raised over £150,000 for the British Heart Foundation. Sadly, he passed away from a second heart attack in September 2007.
I'm guessing this "pome" would have been written in the Spring of 2007, shortly before Saints were relegated. Those of you that were around at that time will note the issues of the time to which WMS refers (no cameras, no large banners!). For younger readers, just have a read - Almost 10 years after his sad passing, his words are as pertinent as ever... (Phil)
WHAT IS A JIMMY?
There's some we win, some we lose
And now and then a draw
Our Trophy cupboard's empty
But we're always back for more
We trek across this sceptred isle –
Each year a trip to France
We Jimmies will keep coming
While there's still the slightest chance
We're used to minor setbacks
We take them on the chin
'Cos we know that one day
Wendy will indeed come Marchin in
Pay over the odds for Guinness
Hide cameras under coats
Queue to use the toilets
Shout load and damage throats
Apologise for "plonkers"
Upsetting AP friends
Discuss it in the Rodbar
My God! Where will it end?
Accept the ref's decision
Watch old friends learn to cheat
Pray for Shiney kicking
Is it victory, or perhaps, defeat?
Get robbed while in the club shop
Eat chips under a tree
You can even wave a banner
(If no bigger than A3)
Shed tears of joy at Twickers
As we did that one, sweet day
What would we give to see, once more
Our dear friend, Lammy play
We may go down, the signs are bad
The future's looking dark
But think of silver linings folks –
We'll locate Sedgely Park!