SUPER SAINTS SINK SORRY SHARKS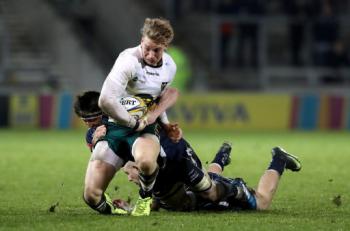 Mallinder
By Tom Carmichael
March 5 2017
All regular Saints travellers know that following the team on the road can be a frustrating business. Driving home after the last gasp defeat at the Rec and the third quarter capitulation at Newcastle wasn't easy. A Friday trek up the M6 didn't sound the most appetising journey and full marks to those who did it. The reward was a super win well masterminded by the coaches and expertly executed by the team.
Setting off at mid-day, it was dry in Kent on departure and pretty wet on the way. The journey was made bearable by listening to the England batting in Antigua. When a local resident pointed out that parking in his road was residents only despite the lack of signage, neighbours would be angry but he was fine about it, moving on seemed the best option.
Safely parked in the back streets of Eccles and avoiding the flooding on the roads, I reached the ground in time to consume a local delicacy prior to game. The prospect of finding anything to contribute to my five-a-day (now ten it seems) was much more remote than an away win. The team list in the programme listed 47 Sale players plus the Saints squad from pre-September, so no JP, Api or Nafi. Kick-off is 8.15. It's going to be a late night.
So, to the match. Conditions are on the damp side and the Saints are immediately defending. However, our defence is good and, after a dullish 25 minute or so, the Saints are ahead. If Denny Solomona really has England aspirations, he'll be hoping that Eddie Jones doesn't see this game. Ken Pisi scores out wide and Smyler misses his first kick in ages. Then the TMO surprises us all by awarding the Saints a try. We can start to hope.
Sale grab one back but a penalty on halftime gives us an eight-point buffer. Steve Diamond is serving a ban. He's not in the changing room at half time so his charges are perhaps spared a tongue lashing. However, he is sat in the stand wired up to his apparatchiks, so doubtless his words of wisdom are being passed on. Not that it helped them much. Having kicked off earlier, Leicester are being stuffed at home.
Quietly we discuss the possibilities if we win today. So, to the second half and things get better and better. We score again, Smyler is running the show and Sale aren't at the races. An irate Sale supporter sums up his feelings in blunt Anglo-Saxon and it's hard not to laugh. Dicko comes on for a cameo, is it a job interview? And what's this, a last minute try and a bonus point.
A very happy Saints are delighted to acknowledge the cheers of the diehard travellers. But the biggest smile of the evening is from Sale's rotund prop, Halai Aulika, being photographed by his wife holding a child and a tiny bundle. I
It's his 2-week-old son at his first match. They start 'em young. This must go down as an excellent win. The critics are confounded. Note this fact, we only missed 5 tackles, 95% success rate. Take a bow Mark Hopley. So, it's a week off, followed by a nostalgic trip to Goldington Road and then…bring on the Tigers.