News: Northampton Saints v Saracens - Preview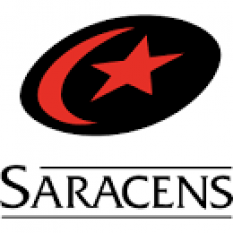 No camels allowed...
By HRsaints fan
April 11 2017
Northampton Saints welcome Saracens to Stadium MK this Easter Sunday afternoon. Many thanks to David for submitting this preview. Here's his thoughts on the game ahead and I'm sure we'll all be joining in on our Tom Toms on Friday evening!
NORTHAMPTON SAINTS vs SARACENS
AP:Sunday 16th April 2017 - 3pm
STADIUM MILTON KEYNES
MATCH PREVIEW
Okay – let's have a show of hands. Who is fed up with seeing Saints lose games that they should have won? Who can't wait for the slate to be wiped clean and a new season to begin? Who would like to see a Saints scrum that mullers the opposition as in days of old? Yep – I can see all those hands from as far away as deepest Bedfordshire.....
However before we can all turn our attention to happier things such as summer holidays and the relief in not having to worry about whether Saints will win the next match or not, we have to turn our attention to our battle with Harlequins for the coveted 6th place and a guarantee of European Champions Cup Rugby next season. Yes folks, sadly that is all we have to concentrate on with the hopes of a play-off place disappearing primarily via the boots of Owen Williams and to a lesser extent Jimmy Gopporth. I see that Dean Richards has stated that Falcons have a chance of 6th place, but with a 7 point gap between his team and Saints/Quins, I don't think that is being realistic even though two of their remaining games are against Worcester and Bristol. I am sure that Saints would rather have their run-in though!
There is no doubt that this is a rather odd Premiership season, with the gap between 3rd and 4th place (currently a tie between Tigers and Bath) a huge 16 points. It also seems to me that both Wasps and Exeter are not finding the going as easy as they did earlier in the season albeit that they both are teams that seem to find a way to win even when they are up against it.
The gap between the tied 4th and tied 5th places is only 5 points, but a quick glance at the fixture list shows that both Bath and Leicester are favoured with games – either home or away - against the 8th, 9th, 10th and 11th placed teams, so it is likely that both of these teams will fight it out for the last remaining play-off place.
That leaves, as I have already mentioned, Saints own play-off for sixth place. Yes I know – depressing isn't it.
Harlequins have to play Exeter and Wasps at home before facing Saints on the last day of the regular season. Saints, as you will all know, have to face Saracens at "home" and Exeter away before hosting Quins at Franklins Gardens.
Of all of the teams currently occupying the four play-off places, it is very hard to look beyond our visitors on Sunday for the most likely Champions. A suffocating defence coupled with a ruthless ability to take almost every chance that presents itself makes Saracens formidable opponents even if, to be honest, the style and manner of how they go about it does leave yours truly a bit cold. However as I have said elsewhere I am jealous that they have pushed on since winning the Premiership in 2015 against Bath in not only defended their title against Exeter the following year, but also doing the double by winning the European Rugby Champions Cup for the first time. So whilst Saracens have been going from strength to strength, Saints, despite topping the table in the season following their Championship win, have been drifting the wrong way.
Saracen's three remaining games of the regular season are against Saints, then at home to Bristol and finishing with the mouth-watering prospect of an away game at the Ricoh Stadium against Wasps. Of course, coupled with this is the small matter of the semi-final of the Rugby Champions Cup against Munster in Dublin a week Saturday, and herein lies a faint – and it is fainter than a very faint thing on an extremely bright day – glimmer of hope for Saints. There is the possibility that Saracens will rest some key players for the Munster game, just as Munster themselves will undoubtedly do the same for their home game this weekend against Ulster. The rumours, and they are rumours, are that at least Owen Farrell and Maro Itoje will be rested and Mark McCall hinted that Mako Vunipola's knee might be given time to heal up before the Munster game. Big Jim Hamilton is also a doubt for the game against Saints although George Kruis may make a return from injury. For McCall and his team, they have a delicate balancing act to perform in how to select a squad the remaining games of the season to ensure that they a) beat Munster and b) secure a home play-off place. If only Saints had such worries.............
That is not to say that a mixture of first and allegedly second string Saracens players – if that was to be the case – would be any easier because, and you have to admire the training and coaching that achieves this, it does seem that any player that Saracens include in their match-day squad has already been fully programmed to play the "Sarries" way. For those of you who, like me, are Trekkies it is almost 'Borg-esq'.
Now one might say that I am clutching at straws in hoping that Sarries might go gently on us, but, let's be honest, at this stage of this particularly painful season, I think that straw clutching is all that we fans have left.
Sunday sees a return to Milton Keynes for a home game, and it has to be said that this has not always worked in Saint's favour as - in reality - you end up with a neutral venue and sacrifice home advantage. In prior seasons there has been some valid reason for the use of the MK Stadium (World Cup trials etc). However, given that the target must be to fill out Franklins Gardens for every home game (and whilst we are at it, see it return to its 'fortress' ways) I am at a loss to see why Saints went down this route. When it was announced back in August last year the reason given was simply a financial one. It is noticeable that it does seem that the Saints Senior Management have now decided that this is not the best way forwards and so, thankfully, it is not going to be repeated next season.
Nevertheless the decision has been made and so off we all trudge on Sunday afternoon to the MK Stadium to try and batter down Saracen's version of an Anglo Saxon shield wall.
Of the four times that Saracens have lost this season, three of those games were during an International period (Bath, Worcester and Gloucester in case you were wondering). The only time the 'full' squad has lost a game was against Quins way back in September last year. But, and I take some comfort from this, I do think Saints have the forwards to take them on. For about 55 minutes way back last September Saints got right under Sarries skin and, had it not been for a wild rush of blood to Alex Waller's head, may have gone on to win the game.
It is also true that Saints performances have improved markedly since the start of the season. This must be coupled though with the concerns over a surprising return of Saints defensive frailties, something that over the past couple of seasons has not been a concern at all. I read a very good article at the weekend by Stephen Jones of the Sunday Times on Harry Mallinder. He (Jones) was impressed by his visit to Franklins Gardens to see this young man, and particularly with his dedication to bettering himself, which Jones described as being 'Wilkinson-like'. I for one hope that the work that Harry does pays off, and that he rectifies what at the moment appears to be a weakness in his all round game, that of his defence. If he could start to tackle like Jonny…………
Of course it is not fair to single out Harry but, as someone pointed out, we cannot have a situation where we rely on one of the back-row forwards to defensively cover the 10/12 axis. In saying that I don't think Saracens have the same potency in their back-line as Wasps, but nevertheless Saints will need to find their defensive mojo again for Sunday afternoon.
In terms of the teams, well, I still harbour the forlorn hope that I might see the Saracens Under 20 B team run out at Milton Keynes on Sunday. For Saints, I expect little change from the match-day 23 that played at the Ricoh Stadium last weekend although there may be some changes in who starts and who is on the bench. I think the back three of Tuala, Foden and North is working well. Courtney is well on his way to playing his best rugby for some considerable time, and I was encouraged by David Ribbans debut. I don't think Stephen Myler will have another day at the office like last Sunday and if we can get the 10/12 axis shorn up then anything is possible. It is still a very big ask though to beat this Saracens team.
Harlequins play Exeter on Friday night and I have already got my Chieftan head-gear and a full set of drums ready to cheer our mates from the South West on to victory. So by Sunday afternoon Saints will know what they have to do, although, regardless of the result from The Stoop, nothing less than a win for Saints will do in the race for 6th place.
Full on flowing rugby is great, but not if you lose. We need to find a way of continuing this encouraging trend towards a better, and more exciting brand of rugby (which we all want to see) without losing sight of the fact that the win is everything (I am sure that the coaches and players were as disappointed with the results of the last two games as the fans were). If we can find the defensive strength from the first half of the season and couple it with the renewed attacking game from the second half then we may just do this.
My only-just-calmed-down-heart-after-Sunday says a Saints win in a tight game. My head though……