NEWS: Exeter Chiefs v Northampton Saints Preview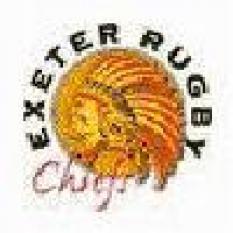 By HungryLiketheWolf
April 27 2017
"Okay – let's have a show of hands. Who is fed up with seeing Saints lose games that they should have won? Who can't wait for the slate to be wiped clean and a new season to begin? Who would like to see a Saints scrum that mullers the opposition as in days of old? Yep – I can see all those hands from as far away as deepest Bedfordshire…..". This was the opening gambit from HRSaints excellent preview of our last match against Saracens, I feel obliged to stick with it.
However with summer approaching, blue skies and the vitamin D-producing sun, it is time for a change. To quote Bill Murray's character Phil Connors in Groundhog Dog "I'm not going to live by their rules anymore". As Saints move towards the end of a season of 'what ifs' and 'if onlys' there is still a significant amount to play for as we head to Sandy Park to face the metronomic Exeter who switch roles from helpful ally (after starving Quins of a point last week) to feared foe.
The Chiefs currently lie second in the Aviva Premiership table thanks to a resounding performance last week which showed all the power and pace we have come to expect from a Rob Baxter side. Three second-half tries, including the double from Turner, in an astonishing 11-minute spell ensured a sixth successive bonus-point win and increased their unbeaten run in the League to 11 games. The set piece was solid, the breakdown was clean, the backs were dangerous and the ball carrying was strong. Crucially, the gargantuan Dave Ewers returned back to form after injury with a number of barnstorming runs, allowing the slick Exeter backline quick ball which created more gaps than an unused noughts and crosses grid. Argentina-bound Jack Maunder is growing into his role at 9 having only turned 20 years-old this month and Henry Slade showed the bright sparks of ability that prompted his England selections last year. Add into the mix that Exeter are just two points clear of Saracens with no other competition to play for….. sounds ominous right?
Mirroring their lofty league position, the Devonians are second for most tries, points and metres gained in the division. They are also first for carries and second for most passes. Attack, attack, attack. However don't expect to play against 14 men at any time either, Exeter rank 2nd for cards per game standing at just 0.26/match. Another hallmark of Baxter's well-oiled machine. Agreed statistics would favour Exeter more heavily than a Theresa May election win but unlike Jeremy Corbyn we have some real weapons to take down our tribal friends. More on this later.
Let's stick with the American theme here and take some solace from Mark Twain's famous "There are three kinds of lies: lies, damned lies and statistics". We beat Exeter at home in September during a period of extremely turgid rugby. Granted the table doesn't lie but Northampton are not 26 points worse than Exeter. In recent weeks the forwards are carrying the ball like Trojans and here a special mention must go out to Louis Picamoles. He leads the Premiership stats for offloads at a remarkable 40 which is 13 clear of second place Sam James of Sale. Nic Groom is snapping around the breakdown providing quick ball to our backs who are beginning to find and use space with a real zip.
The understated Alan Dickens deserves all the praise he receives. After turning our defence into league-leaders on numbers, he has taken over the attacking duties which has seen our play evolve from the clapped-out Lada that sputtered and stuttered its way through 2016 to the stylish, purring E-Type Jaguar that flashed around Milton Keynes against the league's top defence.. The ball was being taken flat, there are options out the back and players are running supporting lines allowing for offloads in the tackle - hurrah! The line out is still ever dependable and the midfield defence seemed to improve.
Now onto the challenges. The scrum is still a problem and was ultimately the root cause of our demise against Leicester and Saracens. Attacking field position is being squandered, 50 yard gains are being gifted to the opposition which ultimately leads to attacking field position in our 22 and points in the last ten minutes. There seem to be no quick-fix solutions or easy explanations; light second row, light props, technique? Who knows, but it will unlikely be solved before the end of the season, so let's hope for a massive effort by the front 5 and hopefully we gain some parity. Exeter do not have a stellar lot of scrummagers but they do have wise old heads who collectively work as a unit, year in, year out to produce a solid platform (something we should aspire to).
Exeter rank only 5th in terms of points conceded, there are opportunities out there and as a reminder we made considerable yardage whilst scoring three tries against the best defence in the league and indeed Europe. We beat Exeter at home in September, with Harry starting at 10 which should allay some fears assuming he takes over the mantle from the injured Myler. Maybe Mallinder & co will spring a surprise with the inclusion of JJ Hanrahan at 10? With such little game time of late and leaving in the summer, I suspect the former selection is more likely. Tom Wood has been covering more ground than a migrating Caribou as his quasi-midfield defensive position has put stress on our breakdown play. Tom would likely breathe a sigh of aerobic relief if the defensive frailty was moved into the closer 10 slot. Credit where credits due, Harry really put his body on the line in a brave performance last week that likely swayed Eddie Jones to take him to Argentina.
How do we stop them? Turning ball over at the breakdown is almost a thankless task against the Chiefs, their ability to churn phase after phase is ever impressive. Instead of committing players at the breakdown I would look to load up the fringes to stop the big ball carriers of Ewers et al getting over the gain line round the corner. Last week Exeter looked to play with a lot of width very early on to create space, Henry Slade has arguably the best pass in the premiership off both hands. Starting at 10 he will be whipping some exocets out there so we need to be on red alert on the outside channel. Here also presents an opportunity, Saints have recently been flying players up in the 13 channel to stop the ball out the back. This approach led to Foden's interception against Wasps and stifled Saracens for long periods. Remarkably Exeter have conceded interception tries in each of their last four games, this will be in their heads and I am sure our coaches will be putting seeds of doubt into their minds whether that works to restrict their play or results in an interception.
How do we score? We need to continue our direct pick-and-drive game at the breakdown, the modern rugby defence often allows cheap yards through the middle, just pick it up Louis and go! We need to be on the big mans shoulder, Exeter can be broken down with quick ball over the gain line. Let's not mess around at the scrum, a quick strike and exit. Now we have confidence flowing through the backs' veins we need to back ourselves more. When we receive a kick in or around the halfway, keep the ball in hand, work their heavy forwards over. Sure we need to test their back three under the high ball occasionally but let's have the confidence to cut through them as we have the other top 4 sides. We have a very strong attacking lineout, but we should also really attack the Chief's own ball. We won't be able to disrupt their scrum so let's make young Maunder's life as hard as possible with dirty ball from the lineout. If we are successful then keep kicking the ball out of play in their half. Henry Slade is sneaking back into some form after a disappointing year but there are still some demons lurking. We need to be in his face, a Courtney special or two wouldn't go amiss.
Onto the last quarter. Take all kickable points, rack them up. Maybe Harry should get the howitzer out from distance early in the game with little pressure? We need calm, at breaks in play get the team together and keep things simple. Territory, low risk passing, controlled rolling mauls to eat the clock - make them work for it. This assumes a lead, if we are behind then keep doing what we are doing. We have tries in us.
On the injury front Exeter will again be without the Premiership's highest ranked ball carrier Waldrom (broken hand), Mitch Lees and Jonny Hill (both knee) whilst Cowan-Dickie is likely to return after missing Quins through fatigue. The Saints miss Myler (knee), Clark (calf) with doubts over Picamoles and North although the club is hopeful they will be ready come Saturday.
The forecast is sun, the pitch will be firm and returning to our man Phil Connors "There is no way that this winter is *ever* going to end as long as this groundhog keeps seeing his shadow. I don't see any other way out. He's got to be stopped. And I have to stop him."
We will stop him this weekend.