News: Northampton Saints v Harlequins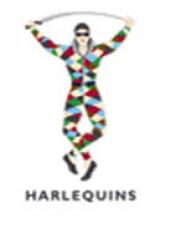 It's a nail-biter!
By HRsaints fan
May 3 2017
It's the final game of the 2016 / 2017 season & once again David has kindly provided us with a cracking preview. We all know what's riding on the result of this game & never will the 16th man be more important than from 4pm this Saturday. Thanks David for a great preview & enjoy the game everyone (well...try to!)
NORTHAMPTON SAINTS V HARLEQUINS
AP Saturday 6th May - 4pm
FRANKLINS GARDENS
MATCH PREVIEW
Firstly, an acknowledgment of thanks to HungryLikeTheWolf for sending over some very useful statistics and information regarding the upcoming game against Harlequins. However in true authorship fashion, I take full responsibility for the following, including any glaring errors or cock-ups!!!
Can the sound of a fat lady singing be heard at Franklins Gardens? Or perhaps the sound of gargling and the clearing of the throat?
As we approach the (possibly) last game of this wretched season we can only reflect on what hopes we all had way back on Saturday 3 September 2016 for the first home game against Bath. Sadly, what happened on that day became a pattern for the whole season. If we look (and, in order to write this preview, I had to take a deep breath on your behalf and plunge into the results of Rounds 1 through 21 of this season) at the results of the games against the six teams currently above us in the league – including Saturday's opponents – it makes incredibly depressing reading.
Played 11, won 1, lost 10.
In truth, some of the home and away results were very close. Bath – lost by 4 points at home and 2 points away. In the same vein Wasps 5 points and 2 points, Tigers 5 points and 8 points. Only against Saracens and Exeter did we really struggle in the away games, losing by 15 and 24 points respectively.
But a loss is a loss, and no matter how we dress it up, what is particularly worrying for me is that we have returned to the old problem that we had before winning the Championship 3 years ago, that we simply do not seem to be able to win games against the top teams of any given season.
Last season – which was bad enough – saw Saints finish 5th, five points off a play-off place. This season with one game left we sit in 7th place, twelve points off a play-off place. Not what anyone expected or wanted.
You may have gleaned from my scribbles over the past few years that I am, at heart, an optimist. However, my optimistic spirit has taken a pounding as this season has progressed. I even got to wondering, after last Saturday's incredibly disappointing performance and result at Sandy Park, whether we have the right set up to regain our place at the top table. Whatever our individual views – and very few of us have access to real (not alternative) facts on this matter – one thing is very clear and that is that "business as usual" is not good enough. If Saints are to avoid the worrying trend that we have seen over the last two seasons there needs to be changes. What this might look like is, thankfully, for those way above my pay grade to decide, but I hope that the Board and the Management take a very honest look at how Saints is run to see what can be done to get us back to where everyone - shareholders, directors, coaches, players, employees and supporters - wants this club to be. This is especially important because, as Tony Hewitt mentioned on the Saints Show on Radio Northampton a few weeks back, it is financially critical that Saints start regularly filling Franklins Gardens for every home game. To my simple winnie-the-pooh type brain, this is a straightforward equation - Good quality entertaining, but most importantly winning, rugby = bums on seats.
Which of course brings us back to Saturday and the last game of the regular season with the prize of 6th place and a guarantee of top flight European rugby next season – the only prize still left for Saints.
Our visitors are Harlequins who find themselves in a strong position to claim the coveted 6th place in the Aviva Premiership table. Quins sit three points above Saints thanks, in no short fashion, to a performance against Wasps that both surprised and annoyed their supporters in equal fashion. Surprised, because no one really thought that they could turn Wasps over, and annoyed, because the fans wondered where a performance like that had come from, given that Quins, like Saints, have not had the season they wanted thus far either.
Quin's record against the five teams above them is slightly better than Saints albeit that the margins of the results have not been anywhere near as close. Quins have lost away to all five clubs with an aggregate score of 170 points to 80. Saints also have lost to the same five clubs but with a slightly better aggregate score of 146 points to 95. The closest Quins got was a 10 point defeat away to Bath, whereas Saints lost two of their away games by only 2 points. Where Harlequins have done better than Saints is in their home performances, where they beat Wasps, Saracens and Bath, losing only to Leicester and Exeter.
Harlequin's away form has not been good all season, losing eight of the ten games played; their only wins coming at Bristol and Gloucester. I for one hope that they keep this trend going……..
Their form in 2017 has seen them win five out of the ten games played scoring on average 27 points per game, and conceding 24 points per game (Saints have won four out of ten averaging 26 points per game but conceding 29 points). In Tim Visser they have the Premiership's leading clean line breaker, and James Horwill leads the number of lineouts won with 97. Additionally for the Quins team and fans there is the added incentive that this may possibly be Nick Evans last game for the club. It certainly seemed to be an incentive against Wasps in Round 21 where Evans turned in a match-winning performance scoring 22 points out of 32 as they thoroughly outplayed the league leaders in front of a sold-out crowd at The Stoop.
For Saints, nothing other than a win will do, and at the same time they must set out to deny Harlequins any points at all (unless Saints win and score four tries in the process in which case there is a two point cushion!). Saints have won the last three encounters against Harlequins at Franklins Gardens although the results in 2015/2016 and 2014/2015 were a win by less than 7 points which, if repeated on Saturday, would see Harlequins finish above Saints on numbers of games won. Additionally, not to be undone on player performance matters, Saints No.8 Louis Picamoles has the most offloads from the tackle in the Premiership and has been nominated for RPA Player of the Year.
I have mentioned already that this is not confirmed as the final game of the season for either club, as there is the possibility of the play-offs for the final 20th place in the European Rugby Champions Cup. This, for the uninitiated, is the bizarre manner by which certain clubs from all three leagues (8th team from Pro12 and 7th teams from both Top14 and Aviva Premiership) fight for the last remaining place in this competition. However the only way that either Harlequins or Saints will find themselves in this play-off scenario is if Gloucester lose the final of the European Rugby Challenge Cup against Stade Francais on May 12th as a win for the Cherry and Whites would see them take part in the play-offs at the expense of Saints or Quins if either finish in 7th place. Still with me?
In terms of team selection we know that Courtney Lawes, George North, Louis Picamoles, Tom Wood, Calum Clark and Stephen Myler are injured although the only one for certain to miss Saturday's game will, sadly, be Stephen. Courtney is a doubtful prospect as he is going through the concussion protocol even though it seemed that the injury that took him off against Exeter was not primarily about his head. Saints need as many of these players fit and on the pitch on Saturday if they are to get the result that is needed, particularly Picamoles, Lawes, Wood and North.
There is no doubt that a performance like the one we saw at Sandy Park last week will see Saints lose to Harlequins, no matter how bad the visitor's away record is. Silly penalties must be stamped out so that Nick Evan's boot does not come into play. The fragility of confidence in the Saints squad which seems to have been such a dominant factor this season must be eradicated and the defence needs to be resilient. I think Saints can, and should win this one and it will be important to get a fast start and put Harlequins on the back foot. If Saints continue with the attacking rugby that has seen them score 32 tries in ten games since Christmas at an average of over 3 a game, but cut out the defensive errors and mistakes that have seen them lose six of those games, then 6th place should be secured and job done, at least for the time being.
Come on you Saints!
The Squad
As a footnote to the above, and particularly because there are players for whom Saturday's game will/might (see above) be the last time they play for Saints at Franklins Gardens, I hope you don't mind indulging me a bit in thinking about the squad changes for next season.
We know that Lee Dickson is off to Bedford to take up a dual player/coach role, and I am sure that all of us wish him every success for this next phase of his career. Calum is off to deepest Barnet; Ethan Waller is – very sadly – off to Worcester and JJ Hanrahan is going back to Munster. I would hope that all of these players would be keen to take part in Saturday's game.
There have been rumours of others leaving (George Pisi, James Wilson etc.) but we haven't heard anything definite yet – I guess that Uncle Geoff might update us at close of play on Saturday afternoon as he has done similarly for the past few seasons.
On a related note I think Saints have recruited quite well although I share other people's view that I hope that we haven't seen an end to new signings. There is no doubt that Rob Thorne is a high quality player as is Cobus Reinach. I am a big fan of Mitch Eadie and am looking forward to seeing how he progresses. The signing of David Ribbans is already looking like a very good piece of work, and, although I haven't seem much of Piers Francis I, like many others, was intrigued to see that Eddie Jones knew enough about him to select him for the forthcoming England tour of Argentina. It will be interesting to see if he gets an opportunity to play. In terms of the front row, although we have signed Jamal Ford-Robinson from Bristol who I understand to be particularly good in the loose, I would like to see the addition of a couple of really gnarled eastern European type props, particularly as we have just heard that Gareth Denman is off to Gloucester, leaving us looking light in such an important area.