NEWS: Our Beloved Saints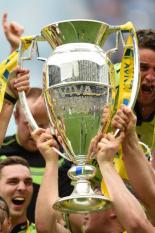 Better Times
By HR Saints Fan
December 11 2017
First of all, my apologies for not posting for some time, and in particular for not writing any previews for ages. To be honest, I just didn't know what to say as we approached each game this season on the back of a dire performance from the previous game. I also would like to apologise to the Editors as this has meant that they now have to post the "Teams up" as a News Item in order to keep the site running. I will try and do better I promise.
And I need to say that I am not a current Season Ticket holder having decided not to renew my ticket for this season, and the last – primarily for personal reasons that my wife and I were unable to get to the games as regularly as we would have liked. Nevertheless, having been a ST holder from 2000 to 2016 (and a supporter before that) I will never stop following the Saints, and I still miss watching the games live (watching the game on TV from behind the couch is nowhere near as fun) and reading all that I can about the team.

So, when I was offered the opportunity to come and see Saints play Ospreys on Saturday night - despite the recent dreadful run of results - I was really looking forward to my return to Franklin's Gardens after quite an absence. Suffice it to say that I have never left that ground feeling so dejected and miserable as I did on Saturday evening.

As I got to the stadium I wondered where everyone was. I peered into the bars which had hardly anyone in them, and there was no buzz or atmosphere at all in the Village area. And inside the stadium it was even worse. Perhaps it was the late kick off time, or the relative nearness to Christmas that was affecting the turnout – but then we have always had European Champion Cup rugby games at this time of year, so that couldn't be it. I thought that maybe a lot of people would be arriving over the 20 minutes or so before the game started, but there was only a relatively small trickle of supporters who made their way to a seat.

As I settled down to watch the game and glanced around at the myriad of empty seats staring back at me, my mind wandered to a mild May evening only 3 and a half years ago, when Tom Wood went over the whitewash to clinch a famous Premiership semi-final victory against Leicester Tigers. The reason I recalled that game was that in my time as a Season Ticket holder (short I know compared with many who read and contribute to this forum) that was the best atmosphere I have ever experienced at Franklins Gardens. Apparently 13,591 people attended that game, which means we got an extra 91 people squeezed in somewhere. Attendance on Saturday evening was 8,105. So not only were we short by almost 5,500 people from that wonderful May evening, but also over 7,100 short of the full capacity of the ground. The average attendance this year has been 13,316 (for Premiership games). So, despite increasing the capacity of the ground in 2015, we are still not getting people coming to the home games (although we have had a capacity attendance at the fixtures against Tigers and Wasps apparently).

Sadly, the attendance on Saturday night left a tepid and lack-lustre atmosphere which was, unfortunately, matched by the performance of the players for 60 minutes by which time the game was effectively over. Much has been said about the game, and I am not going to waste everyone's time with my thoughts because I really can't add anything meaningful to that discussion.

But one thing I can say with great certainty is that there is something very, very wrong with Northampton Saints Rugby Football Club.

Whether it is the coaching team (of whom much has been said both in this forum and elsewhere) or the players, or the overall set-up, or the board, is hard to say from the outside. People will rightly argue that supporters support – no matter what the team is going through. And that is correct and there will always be a wonderful hard-core of Saints supporters who will attend home (and away) games regardless of the performance of the team. But in these commercial days, there is another side to that particular equation, and that is that people are not going to give up their hard-earned money to watch the sort of rugby that Saints produced on Saturday, especially given the financial pressure that that hard-earned money is coming under in these uncertain times.

I really wish that I had a solution. I wish that I knew exactly what the problem was, and that I also had the wherewithal to fix it. At the moment, the best analogy I can come up with is that Saints is like a very ill individual on the table in an operating theatre and all the surgeons and specialists are scratching their heads and wondering what the problem is so that they can actually operate.

The players and coaches must be hurting, and one would hope the board is too, because the fans certainly are. There is also no doubt that this cannot continue. Many on this forum would point to the fact that Saturday's result is not a one-off, but is a sure sign of a slow but certain decline that has been taking place for some time; indeed, the results from the current season, and the two before that lend considerable weight to that view (2014/5 – Finished 1st and only lost 5 games, 2015/16 finished 5th and lost 10, 2016/17 finished 7th and lost 12 and the current 2017/18 season currently sitting 10th having lost 6 games out of 10 played).

There have been changes to the squad, and I for one had quite high hopes about the new influx of players – but they too seem to have been affected by the 'illness' that seems to pervade and effect everyone and everything to do with Northampton Saints Rugby Football Club. Is there a cure? Well we all must hope so, but if no action is taken to operate (using my analogy), and taken soon, then I fear that this particular patient will continue to get worse.

When considering this sort of problem, the inspired words of Einstein come to mind when he said that "a form of insanity is doing the same thing time and time again, and expecting different results". There is talk from the players and coaches of the hard work that is needed to turn this around – and I have no doubt that this is exactly what will be done - but I don't think that hard work is going to be the solution in this instance. To push my analogy once again, you don't ask a sick patient to get up off the operating table and do some sit-ups to get better – you operate, remove and/or repair the problem, and then get the patient to work hard to get to a full recovery.

Is there anyone at Saints with a scalpel? If there is, do they know what needs doing? I don't know but for the sake of the club, and to ensure that there are no more evenings like the one last Saturday, we have all got to hope so.