From the Archive - Pilkington Cup Final 1991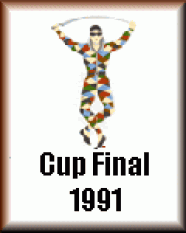 By Stockers & Rich
March 31 2003
A first look back to Saints finals of the past this week in the run up to Powergen Cup Final takes us back to Twickenham 1991. Rich and Stockers give us their views on Saints very first visit to HQ. Riches Memories of Twickenham 1991

I was only a lad of 20 in 1991 and studying at Staffordshire Polytechnic. Clambering on the train at Stoke I thought I'd be the only one and was overjoyed to meet Saints fans travelling from Manchester! We swapped stories and newspapers on the way down, which made the trip a little more special.

Harlequins 13 (Quins won 25-13 in extra time)
Saints 13
4th May 1991

At Euston I met up with some of the lads from Kingsthorpe. From Euston we undergrounded, overgounded it to Richmond and to this day we still quote Percy who commented "that must be a boring job!" about the 'mind the gap' message at the stations.

Richmond was great. The pubs were full of Saints fans and the singing erupted wherever we went. Another interesting game was spot the Quins fan.

At Twickers we ran into a Chronicle and Echo photographer who took a photo of us all. That photo went on Saints programme front cover for a few seasons after. If you all remember two girls with gold, black and green face paint and people behind them then that was us lot. A copy of the original picture still sits proudly Uncle Dr. Malx's parents wall.

To the game, and a classic it wasn't! The standard of the rugby compared to today was frankly shoddy but most Saints fans couldn't care less. The atmosphere was fantastic!!!

The Saints team that day contains some familiar names and stalwarts of the club at that time. They were:

Ian Hunter; Frank Packman (rep: Ben Ward), John Thame, Peter Moss, Harvey
Thorneycroft; John Steele, Richard Nancekivell (rep: David Elkington); Gavin Baldwin, John Olver, Gary
Pearce, Paul Alston, Colin Hall, John Etheridge, Phil Pask, Tim Rodber.

Only two internationals in Pearce and Olver as Hunter and Rodber had not broken through yet and Harvey never made it past his 'A' cap.

The Harlequins also had an awesome team containing five current internationals of that time, they were:

S Thresher; A Harriman, W Carling, S Halliday, E Davis; D Pears, R
Glenister; J Leonard, B Moore, A Mullins, M Skinner, T Coker, P Ackford, P
Winterbottom, R Langhorn.

Saints were massive underdogs and were expected by many a scholarly rugby writer to be blown off the park by Quins.

In the first half Saints kept in touch through the boot of John Steele but Harlequins had scored a goal (under the old 4 points for a try system) to make the score 6-3 to Quins at half time. The crowd had roared Saints on throughout the first half, whereas barely a whimper was heard for the fashionable but supporter less Londoners.

The second half was like a dream come true for a full 35 minutes. Saints were defending as if their lives depended on it and as often happens in these occasions they forced the opposition into a mistake. Packman hacked the ball through and Peter Moss chased and chased to win the race to the ball over the line. Twickenham went absolutely wild. Then later in the half Steele extended the lead to 13-9 and it seemed as if they were home and dry.

Unfortunately Harlequins had too much class, if only Harvey had grabbed Harriman's bootlaces as he raced past. Brave local lad that Harvey is, he never had enough pace for 'sevens specialist' Harriman. How that man never won more England caps is a mystery to many rugby follower.

13-13 at fulltime and since then I've always referred to this game as the 'drawn' final! However in extra time Quins showed their experience, strength and ability to score two tries and eventually win 25-13.

The Saints fans were down but not out. We all poured onto the pitch because to congratulate our brave heroes. The Quins picked the cup up to a rousing chorus of "Oh when the Saints!"

------------------------------------

Stockers Memories of Twickenham 1991

The Pilkington Cup Final against the Mighty Quins. Twickenham, pre the redevelopment being finished. We were in the old wooden East stand on a bright sunny Saturday in May. We travelled down from North Bucks with GB&G streamers and flags flying from the car all the way to Twickenham.

A picnic, a few sherberts and then into the ground.

The game...nip and tuck until the point where Pete Moss broke through the Quins defence to touch down and give us a slender lead which we sadly relinquished late in the second half. It was a draw at full time. Extra time, and Quins seemed to be just that bit fitter, scoring readily to put us into the depths of despair as the Cup slipped from our reach.

Saints first ever Twickenham final, after a tumultuous season, which had seen us go from Orrell's whipping boys at 60-0 in the league to be their conquerors in the semi final which everyone said we would lose. Pah! But, in the final, we were without the inspiration of Buck Shelford who had lead us so well and turned our season around, going home to New Zealand in a forlorn attempt to regain his All Blacks place.

There were great moments for us in that Final defeat though. Ian Hunter's attacks from deep, for example. I still have a photo of Ian from the Independent, evading the tackles of Harriman and Halliday with one of his audacious side stepping, swerving runs that were so memorable when he was in his majestic form. If ever a career was so cruelly ruined by injury, Ian's must be up there at the top of the list of "what might have been."

Peter Moss's try, from a player who seemed incapable sometimes of fighting the demons within, was an unexpected but of course hugely welcome flash of brilliance from the journeyman centre. Richard Nancekivell, our Cornish scrum half, who was right on top of his game at that time and whose form was too good for Dave Elkington, returning from injury, to get back into the starting line up.

And the back row! Young Rodders on the brink of international fame, ably supported by those two loyal and dogged servants of the Saints, Phil Pask and Paul Alston, both the nicest guys you could meet but hard as nails and wholly determined.

We came away from Twickenham that bright spring day hugely disappointed at coming so close to victory against the Cup maestros, the star studded Quins who, at that time anyway, were almost dead certs for the Cup. But we came away full of pride. Pride in our team, in what they had achieved that season and since they had been promoted from Division 2. In how they had conducted themselves that day in defeat. Pride in the Saints community and the 17,000 fans who had made the trip to support the boys and that at a time when there were probably less than 1000 season ticket holders.


.
More Northampton Saints headlines
Northampton Saints Poll