Sale Sharks 9 Saracens 45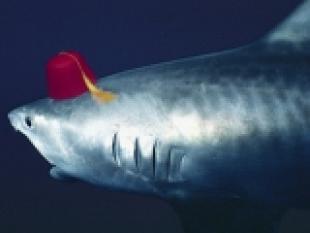 By Whaley Shark
March 24 2012
I need something to keep the board alive, and the only thing available is four tear-stained pages in my notebook, with my notes from last night, so tough luck, you'll just have to relive it with me......
There isn't much to say really. Saracens built their win on a ruthless, aggressive defence. We battered away, gave them a couple of opportunities which they took and, as they started to get ahead of us, we started to scramble, our organisation fell away, and we gave them the chance to turn the screw further. In the end, it was all a bit men against boys, and Sarries taught us a severe lesson, one which has now cost Tony Hanks his job.
The two sides were pretty even for the first 15 minutes or so, but then a classic Charlie Hodgson pass unlocked our defence and sent Chris Wyles in for Sarries' first try. Ten minutes later, Neil De Kock latched on to a Sale knock-on, broke through the wrong-footed midfield defence, and sent Number 8, Ernst Joubert, over on the left. With each side landing a couple of penalties, we turned round 9-18 down.
Ill discipline early in the second half gave Sarries two more penalties in the first few minutes and, suddenly, 9-24 looked like a long way back. However, we responded with a couple of spells of pressure in Sarries' 22, although we never looked controlled and the opportunities were eventually lost. Charlie set up Sarries' next try with a touchfinder from deep in his own half all the way to the corner. We cleared from the resulting lineout, but only as far as our ten metre line, Neil de Kock slid through our defence and put Alex Goode in for try number three just before the hour.
The bonus point try came less than ten minutes later, as Quates snuffed out a dangerous Saracens' attack, pinched the ball, and stepped into touch as he set off to counter-attack. From the resulting lineout, crisp handling set up a two-on-one allowing substitute Tagicakibau to send Rob Miller the wrong way and score himself.
With the clock running down, we had a last flurry in an attempt to restore a bit of respectability. However, we were pinned back by Saracens, then conceded a penalty on our own 22, Sarries kicked to the corner, stretched our defence, then sent the ball wide to Hugh Vyvyan, who scored the final try of a dispiriting evening. With the extras added throughout the match by an on-form Charlie, Sarries ran out 45-9 winners.
I suspect that various stats will probably make the game look less one-sided than the score. We had a fair bit of possession, and spent a lot of time in the opposition half, but it was all to no avail. We were never really in it, and I don't have the heart to identify a Sale man of the match. If I were being objective, I'd go for Neil de Kock or Charlie Hodgson.
So what should we take from this? We are a work in progress, and we have been reminded just how much progress we need to make before we really compete with the AP's top sides. This is to take nothing away from Saracens, who put in a dominant performance, played with confidence and patience and fully deserved their win. We have somehow to get a grip, because the games come quite quickly from here on, and we need to recover some equilibrium. It'll be interesting to see how Tony Hanks' departure contributes to this..... If we don't, then what started as a promising season and is still overall OK in my view, could descend into failure.
Finally, I am in no way qualified to comment on Tony Hanks' effectiveness, but the one time I met him, he was a great guy, and I'd just like to say a public 'Thank you' for his time with us, and to wish him well for the future.