EP Legends- Tighthead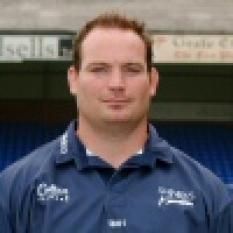 By Tigger
May 20 2012
Editor's note- So Lionel has come out on top, narrowly, at Loosehead, and it's time to start thinking about Tighthead prop. My thanks again to Tigger for these pen pictures. The poll will stay open for about a week.
Barry Douglas Stewart, known as The Bear, was born on 3rd June 1975 in Edinburgh. He joined Sale from Edinburgh in 2002 and went on to play 108 games scoring 1 try and accumulating 3 yellow cards. But this only tells half the story as his career could have been ended prematurely and we may never had seen him in a Sale shirt. In June 2001 Barry was advised that he would have to give up playing rugby due to a serious neck injury he suffered whilst playing for Scotland A against Italy. He was 26. Despite intensive treatment, Barry was told that he risked serious long-term problems if he carried on playing, so after much soul-searching and talks with his parents, surgeons, and coaches he took the only course of action open to him and retired. He had only won 5 caps for Scotland and due to his injury never pulled on the Scottish jersey again. But the words of a neurosurgeon at the time, who insisted the injury did not make Barry any more or less likely to suffer a serious accident on the field of play than any team-mate, persuaded him that the SRU were wrong; that he could play on. He left Scotland, paid for his own insurance initially, and enjoyed a further seven years in the England with Sale for 5 seasons before moving to Northampton. His last game at Edgeley Park was against Sale playing for Northampton on 25th April 2009 and he received a standing ovation from the Sale supporters, which says all you need to know about how he was regarded at the club. Barry now works in his native Edinburgh as an investment manager with Brewin Dolphin and still turns out for the odd game, the last being for the festive game for the Co-optimists against Watsonians in December 2011.
Eifion Lewis-Roberts, affectionately known as The Fridge, was born in St Asaph, Wales in 1981. Despite interest from clubs in the Magners League and the French Top 14, Eifion signed a three-year deal with Sale Sharks in March 2010. His debut was against Saracens on 10/03/2006 and went on to play 98 games, 24 from the bench. On 17/09/2010 playing against Harlequins he damaged his anterior cruciate ligament and spent a lengthy spell on the sidelines, returning to first team action against Leeds on 25/03/2011, playing his last game for Sale against Exeter in the same season before moving to Toulon.
Eifion was selected for the Wales squad for the Autumn internationals series in October 2008, playing his first game on 14 November against Canada. On 18 January 2010 he was named in the 35 man Wales national Squad for the 2010 Six Nations Championship but did not feature in the final reckoning.
As we lose Big Ted to Toulon the good news is we get the Fridge back and with the new look squad, new stadium and HEC rugby to look forward to 2012/13 looks to be an exciting season.
Stuart Turner was born in Southport in 1972 and joined Sale from Rotherham in 2000. He made his debut on 20/08/2000 against Bristol and went on to play 194 games, 81 from the bench scoring 4 tries and receiving 4 yellow and two red cards. He also won three caps playing for England. In our title-winning season he featured in 22 premiership games, including the semi and final at an average of 43 minutes a game. He played his last game for Sale against Northampton on 25/04/2009 before moving on to work for the family business in Liverpool.
But you cannot keep a good man down for long and in the summer of 2009 he dusted of the boots and signed for Caldy in National Two North. In March 2010 Stuart was promoted to head coach after impressive cameos off the bench, but his biggest contribution had been on the training ground and it very nearly had a fairy tale ending when Caldy lost in extra time to Richmond in the National One playoff on 5th May 2012.