Happy and Glorious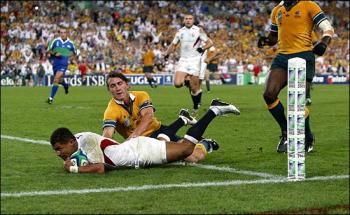 By Mako Shark
August 7 2012
Mako Shark posted this call to arms, and has kindly allowed me to put it here on the Front Page as well, to keep the board alive for a while. Anyone who wants to comment can find his original post on the main Message Board.
Over a memorable weekend of wonderful Olympic sport, those words have never rung so true or been sung more lustily by athletes and supporter alike as time and again the Union Jack has been raised aloft at the medal ceremonies.

Gold has piled upon gold, silver on silver, bronze on bronze as records have tumbled like dominoes.

Any Olympic medal is of course the result of years of hard work, dedication, discipline and self denial by the athletes and the family, friends and professionals behind them.

But one factor has stood out this weekend as never before – the factor we know in rugby as the 16th man.

Every single Team GB athlete has spoken in glowing terms of how much the support from British crowd at their home games has lifted them to do their very best.

And that's hardly surprising when you see the passionate vocal support there has been for our young men and women – the sheer wall of sound at Eton Dorney as our rowers gave their last ounce of energy, the deafening roar in the Olympic stadium as our athletes exceeded their own expectations. Even the combined voices of many thousands along the Weymouth seafront that roared over the water to our sailors like a welcome wind.

It's as though the whole country has united as one with our athletes to spur on our fellow British men and women to achieve the very best they can. And that's a passion that comes from unity, a feeling of pride in our country, it's history and what it stands for – all represented in the raising of the flag at the medal ceremonies that, quite properly, has caused many to shed a tear.

And it's exactly that kind of unity and pride in our club, its history and what it stands for that can make the difference between just doing well or exceeding and surpassing expectations

And that means everybody; players, coaches and supporters alike buying fully into our club.

Happily, Dimes and Brush, have expressed just that view. They want only those players who wish to play with pride as a team member for their club; not money grabbers or prima donnas. So that leaves it down to us join the team as the 16th man – giving encouragement and support at every opportunity.

And in this area, there's a great improvement needed. Looking back at Edgeley Par, our overall performance has been pretty lacklustre.

True, there has occasionally been some good positive noise created, but that's nearly always well into the match after our lads have done something pretty exceptional. Very rarely is there anything much when the team's going through a bad patch or is fighting from behind – exactly when they could do with something to give them a lift.

And, apart from perhaps one or two very special occasions, I can't recall the active support that you get at every football match and at league matches right from the first whistle and before.

Well now, we have a new chance to learn our lessons and start again at a brand new stadium which has the great advantage of a standing terrace – the natural home of passionate, committed and vocal rugby fans.

The South Stand has already been called the New Birtles, and if it creates an atmosphere half as good as the original Birtles (named after the legendary Jim Birtles who kept Sale FC alive during the war), then it'll be an improvement on recent years.

But wherever we are, we can all celebrate a new start in a new stadium which can be made all the better by going back to Brush and Dimes' old-fashioned values of everyone pulling together in unity to support the club to the best of their ability.