Sale Sharks 19 London Welsh 29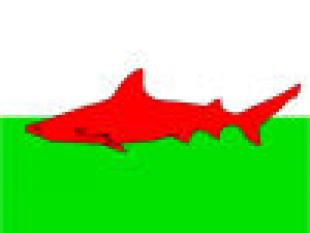 By Whaley Shark
September 22 2012
Well, the trusty notebook had another outing to Salford last night but I can hardly bear to open it.
I'll summarise the game briefly and then share a few thoughts.
We started really well, winning a soft penalty from the kickoff thanks to some committed competition for the ball, then put the opposition fullback in a difficult position so he had to run the ball into touch. That gave us a lineout ten metres out and after a few phases of battering, Captain Jonathan Mills went over to set up an easy conversion. Loose play from the opposition set up another easy penalty and, with ten minutes gone, we were 13-0 ahead. That seemed finally to provoke a response and some sniping play from Dwayne Peel got them into our 22, where we gave away a penalty to get them off the mark after 18 minutes, followed a couple of minutes later by a good handling move, prompted by Richie Gray and which gave them another penalty, and then yet another. At 13-9, they seemed to be clawing their way back into the game, though they then gave us a silly penalty straight from the restart, which gave is a little breathing space and, as the half drew to a close, fullback Tom Arscott's fine run from half way cut through the opposition defence and set us up in their 22. We recycled the ball again and again, but kept calm, retained possession and eventually Ed Jackson blasted over, pretty much under the posts. At 23-9, we started to believe this could be done and the opposition's final flourish was blunted by sound defence, which forced them to run sideways.
The second half began fairly evenly and it took almost ten minutes for us to score again, a penalty won at a scrum, and that seemed to prompt some substitutions. The opposition took off Danny Cipriani and prop Vadim Cobilas, replacing them with Nick Macleod and Tony Buckley. That finally seemed to give them a cutting edge and they strung together a sustained attack, lasting almost five minutes, before winger Tom Brady finally outflanked our stretched defence and crossed on the left. With 25 minutes to go, they lost Dwayne Peel with what looked like a nasty shoulder injury, but they kept their momentum and won another penalty to take the score to 26-19 with ten minutes to go. With five minutes left, they kicked a penalty for the corner, but strong Welsh defence kept them out and, as the clock ran down, they knocked on and we won a long range penalty at the scrum. Gordon Ross kicked it to bring us home 29-19, denying the opposition even a bonus point.
Oh, didn't I tell you? I've decided to support a winning team for a change, and started off by writing the London Welsh match report.
Putting my Sale hat back on, neither 'winning' nor 'team' appear to describe us accurately at the moment, and I just don't know what's happening. As others have said elsewhere, it's not simply that we're losing, it's that we don't even really look like we care. To my eyes we weren't even competitive with Welsh. Was that complacency, playing the hastily assembled easy beats just up from the Championship? Has the team remembered that player power got rid of the detested Mike Brewer, and do they fancy another change of personnel? Do the team actually believe in the coaching and tactics although it's obvious to pretty much everyone else that they're inadequate?
I don't bleeding know, but it all points to a failure of leadership, on the field to a degree, but largely off the field, and it needs fixing, and fast! The next month brings Bath away, Tigers at home, Cardiff at home, Montpellier away and, bluntly, I don't fancy our chances in any of those. The first game we might even think about winning is Worcester away at the end of October, and that is never easy. The week after that really could be a relegation decider at Salford, against London Irish, with us potentially out of the Heineken Cup after just two matches and, if we are bloody lucky, played 7 won 1 in the Premiership. Or, indeed, we might be dead and buried by then if Irish start to fire.....

I think it's all the more upsetting because it's so unexpected. We had a decent squad last year, with only limited changes over the summer, and you'd expect us to be competitive. Currently, we don't even know the meaning of the word, and I don't know why? Come on you Welsh!