View from the south stand: Sale 34 Leicester 30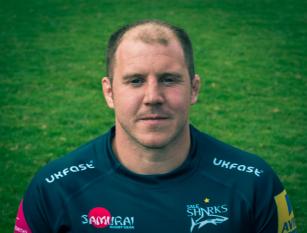 Briggsy!
By Cap'n Major Bloodnok
October 4 2016
Played 4, won 1, drawn 1, lost 2. Not the best of starts for a team with ambition. Next up, the toughest test yet: Leicester. Despite doing the double over them last season, this new Sale team would be up against one of the best-drilled teams in the league, a team that expects to win and refuses to lie down and accept anything other than that win.
There was a definite air of trepidation about the Sale supporters as we boarded the coaches at The Brook (two coaches, 84 people, should be a reasonable crowd). The half dozen or so foreigners travelling with us were keeping a low profile, but you could feel that they were expectant: and why shouldn't they be? Historically, Tigers have the edge over Sale, winning 60% of the matches between the teams in the premiership. Yes, we beat them home and away last season, but that was a different time, with a different team. This time round, Sale's new signings were still getting to know each other, whereas Leicester had made a decent start, winning three of their four games, compared to Sale's single win, one draw and two defeats.
So there we were, putting a brave face on it, but inwardly expecting the worst. Still, hope springs eternal…
It was a fine day and the promised rain showed no signs of appearing, so it was into the bar, grab a pint, unexpectedly run into an old friend and then off to occupy my accustomed place in the stand.
There was a goodly amount of mockery doing the rounds last season, when Sale unveiled their fluorescent away kit; and yet, here we are one year on and Leicester are very noticeable in their own dayglo yellow strip. Life, eh?
---
Schoolboy ref Craig Maxwell-House peeped his peeper and Paddy MacGinty started the game.
After a bit of back-and-forth, Will.I.Sign kicked for touch and put it out on the full. This would turn out to be the only kick he missed all afternoon. Ref Maxwell-House deemed the lineout to be not straight; scrum Sale.
Now, after the match, Dimes — with whom no-one would disagree (if there was any chance that he might hear about it) — made reference to this and at least four subsequent scrums, saying that we'd had the best scrum in the league last year, but here we were being penalised five times in a row.
Now, it may be true that we had the least penalised scrum last season, but what is also true is that we didn't have 'Neville' Longbottom at tight head last season. For the simple truth is that, if you watch the replay, Longbottom is almost horizontal at each scrum and is clearly responsible for taking them down, despite Maxwell-House telling him that his feet were too far back.
Anyway, some rugby happened for another few minutes until Sale were awarded a lineout on the left around the 22-metre line. Notorious came through on a typically slippery run, committed a couple of defenders and, from the ruck, Mike Phillips-Screwdriver spotted a gap the size of an aircraft hangar door and lumbered through for the opening try just to the left of the posts. The Goat seemed to be favouring his left hind leg, so Will.I.Sign stepped up for the conversion, which he duly kicked. 7-0.
We then got what we'd secretly been fearing as Betham (any relation to the tower?) scored twice in short order, with Williams kicking both conversions (including an impressive touchline kick on the right) to make the score 7-14 with less than a quarter of the match gone. Sale fans resigned themselves to a long afternoon, especially when The Goat's kick-off from the second try went straight out. Another dropped scrum, another penalty, 7-17.
Some more rugby happened until Sale were awarded a penalty for, in the words of our schoolboy ref, "everybody offside". I don't think I've ever heard that one before. Will.I.Sign kicked the three points to bring the score to 10-17.
Twenty-two minutes in and Sale had a lineout in the Leicester 22. Josh ran round to collect a long throw and passed it to Notorious, who slipped through the Leicester defence for the try — a rare occurrence of a training ground move actually working. Will.I.Sign kicked the conversion to level things up 17-all.
It's worth noting at this point that kicks to touch, from both The Goat and Will.I.Sign, were quite impressive. Good length from deep was making life much easier than in the past, when a short clearance kept pressure on. Now, the resultant lineout was sufficiently far out to be less threatening, all of which may have helped the generally positive attitude of the team and contributed to the final result. On small things are great deeds accomplished.
On the half-hour, Johnny Leota scrambled over from the base of a ruck and a good kick from out wide by Will.I.Sign put Sale ahead again 24-17.
A couple of minutes later, another scrum dropped by Neville, another penalty and another 3 points from Williams. 24-20, where stayed until half time.
---
The second half, as is rather common with second halves, was a somewhat more turgid affair.
Three minutes in, Neville went down and off, replaced by Ulrika-ka-ka, who immediately took on Neville's job of giving away scrum penalties.
Another Leicester penalty brought things back to 24-23 and then, about 10 minutes into the half, Sale were able to put some serious pressure on the Leicester line, with a series of rucks and mauls before Ulrika-ka-ka went from zero to hero, bullying his way over for the bonus-point try. Another successful kick from Will.I.Sign gave us some breathing room at 31-23.
It's interesting how impressions at the time and subsequent memory can be fickle. If asked after the game, I would have insisted that Leicester had collapsed two or three mauls in the lead-up to that try and wondered why ref Maxwell-House hadn't shown someone a card (especially in light of later events). The replay shows, however, that they only collapsed one maul (and were penalised). Everything else was just rucks and general rugby.
Things then proceeded a bit turgidly to nearly the hour, when Leicester mauled the ball up to the Sale line. The maul went down short, and the ref went to the TMO to check what had happened.
Now, I would recommend everyone to watch the replay at this point and listen to Mr. Maxwell-House, for an excellent example of a referee communicating his decision clearly and unambiguously. The upshot was that no try was given and Ulrika-ka-ka completed a zero to hero to zero progression with a yellow card. The thing is that the referee's explanation explains exactly why Ulrika-ka-ka was binned (but the Leicester player earlier was not), and why he didn't award a penalty try. Good stuff – this ref isn't as wet behind the ears as some would have it.
From the lineout, the ball went left, before coming back into Thomstone's hands wide on the right. Despite being comprehensively wrapped up by Notorious and Lord Byron, he managed stretch out an eight-foot long arm of rubber like Mr. Fantastic to dot the ball down in the corner. Williams added the extra points to bring it back to a one-point game with about ten minutes to go, at least six of them with fourteen men.
Welcome back, squeaky bum time. Some good game management in the form of jumper stuffing by the forwards and maximal use of "use it" time by Phillips-Screwdriver kept Leicester at bay until a 74th-minute penalty from Will.I.Sign brought the score to 34-31, where it stayed until the end, to the great relief (and the mass unclenching of the buttocks) of Sale fans.
---
So, what do we take from this game, apart from five points, thank-you-very-much?
Well, for a start, a 100% kicking game for the third time. And three different kickers — Muggles, The Goat and Will-I.Sign — did it.
There is evidence that the backs are starting to feel more comfortable with each other, and are eyeing up the possibility of keeping the big guns out when they return from injury.
Notorious is looking very slippery, with a good step and turn of speed, inviting certain comparisons that are a bit too early yet, but the promise is there. He also comprehensively won the battle of the ex-players, since Tom Brady was pretty much anonymous all afternoon.
There's also the small matter of fifth place – this, after the doom and gloom of the Newcastle and Gloucester results.
But I want to reserve pride of place for Briggsy. When Webber broke his arm during the first game, Briggsy stepped into the breach and has performed magnificently ever since. A full eighty minutes each game, near-flawless lineout, good work in the loose, solid scrummaging and a notable lack of yellow cards. He's turning into a bit of a mini-Vadeeeeem.
All in all, the feeling on the coach back was much more upbeat than on the way to the game.