View from the south stand: Sale 5 Toulon 15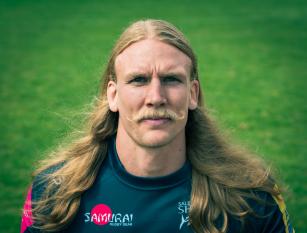 Maggie
By Cap'n Major Bloodnok
October 25 2016
Well, we knew we were unlikely to progress from this group from the day they were drawn. A disappointing performance in Llanelli to kick off proceedings didn't help, and now we had to entertain the Galacticos of Toulon, smarting from defeat at home to Saracens. Oh, dear...
As with the previous home game, the mood among those gathered at The Brook was not particularly upbeat. For myself, I was pretty much expecting a procession of penalties being slotted by Leigh Twofarthings. I could quite see 30-0 without a try being scored.
Jennings and Will.I.Pass up against Nonono and RastaBaud: Hmmm. Li'l Notorious against Brian Habana-Cigar: Eeek. And any one of twenty other matchups that, on paper, left little doubt of the drubbing to come. Well, I say drubbing, but the result against Leicester suggested that maybe all was not as cut-and-dried as it may seem. (The games against Bath and Scarlets, however, said differently. But they were away and this was at home.)
That we left the game fairly upbeat, chests inflated with pride and thinking "you know, we could have had that with a little bit of luck going our way" was a testament to the way the Sale team stood up to the "Galacticos" — that expensively-assembled collection of talented individuals.
That Brian Habana-Cigar was mostly anonymous whereas Li'l Notorious scored what is rapidly becoming a trademark break-through try tells you all you need to know about the value of match-ups "on paper".
That Sale held RC Toulon scoreless for 68 minutes tells you all you need to know about the fight and dog that this team possesses. All 15 of Toulon's points were scored in the first seven or eight minutes of Maggie's fourth-minute, hotly disputed, binning for saying "welcome back" to Corcho in a slightly over-enthusiastic manner.
Twofarthings knocked over the penalty, which they followed up with two tries and a conversion (that went in off the post), at which point the crowd were collectively looking forward to a long, long evening.
But the expected fulfilment of our worst fears did not materialise. Will.I.Pass bounced a penalty off the post (wrong side) and missed converting Notorious's try. Twofarthings also missed a penalty in the second half, but that was the sum of scoring opportunities.
Sale did have an extended period of pressure in the second half, during which they eschewed numerous possible kicks at goal for (ultimately futile) lineouts. Some felt that they should have gone for the points, but I'm not so sure. Kick three points, and, ok, the score's now 8-15 (losing bonus territory), but you're back in your own half from the kickoff and have to go all the way back upfield again. By going for the lineout, even if it doesn't come off, you're still up in their half, applying pressure. I feel that, even though no points came from it, that period must have given the team a big morale boost to seriously pin back a team like Toulon for some fifteen minutes or so.
---
Special mention must go here to Peter Stringer: at Axel Foley's funeral in Ireland in the morning, playing a blinder for Sale in the evening (at his own insistence). I'd have his picture accompanying this article, but I don't have one.
---
And so we left the ground surprisingly upbeat after having been beaten. The feeling on the coach was one of pride that the mighty Toulon couldn't score against 15 Sale players (yes, OK, we couldn't score against 15 either, stop complicating things).
Onward and upward. This is a team that seems to be playing for each other. Everyone is taking responsibility for his own role. What's missing is that bit of fluidity, a touch more understanding, a soupçon of precision (i.e. stop dropping the frickin' ball, falling over and giving away silly penalties).
A single round of the Aviva is coming up — away to Bristol — before the Anglo-Welsh cup starts. This is a game that Sale have to target for a win. Sale will probably spend this season going up and down the league between maybe ninth and fifth. Where they finally end up will depend to a large extent not only on their home record but also on what they can get out of games like this one. They need to take the fire that held out Toulon and use it to go further against Bristol. Four points is vital, five would be the icing.