View from the south stand: Sale 17 Wasps 14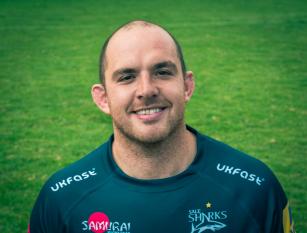 doo di-doo di-doo..
By Cap'n Major Bloodnok
November 9 2016
So, to the Anglo-Welsh cup, that opportunity for teams to give some much-needed game time to the "second string" players, or the up-and-coming youngsters.
Or, in Sale's case, for blooding recently-arrived cross-code recruits.
Josh II made his much-heralded first appearance with about 20 minutes of the game to go, at which point I woke up and remembered that I was supposed to be writing this report.
I had, admittedly, spent much of the preceding 60 minutes in that kind of stupor that involves things happening in front of you, but you never quite take it in as it is, to be blunt, a bit dull.
Not that it was ever tedious, you understand. I mean, I've been to some mind-numbingly boring games in the past and this wasn't even in their league. It's just that it never got to be a terribly interesting game, despite four tries (2 each).
To be fair(ish), the weather wasn't conducive to open, running rugby. Torrential rain made for a surface on which Will.I.Pass, had he been playing, would have spent 90% of the match horizontal.
In keeping with the spirit of the competition, Sale's lineup was somewhat different from the Premiership team. Ant and Dec were given a joint start in the back row and Lou Reed (doo di-doo di-doo doo di-doo doo…) got his first start in the second row. Tom Arscott's Magic Day-Glo Boots made their comeback after about eight months out and we had rare starts for Bedlow and Ingall.
Bench-warming duties went to Matt Rogerson and George Nott alongside the aforementioned Mr. Charnley.
---
As for the game, it was, as I said, hard to get enthused about. On balance, Sale had the better of possession and territory but, as so often happens, it was Wasps who scored first with an Eastgate penalty after Sale infringed at a maul.
Five minutes later, from a maul of their own, Sale scored a try when Jennings pulled the ball out and bullied his way over the line. Arscott's magic boots added the conversion to make the score 7-3.
It stayed that way for nearly twenty plodding minutes, until a Sale lineout inside the Wasps' half went somewhat awry. Reed (doo di-doo di-doo…) secured the ball, but Screwdriver-Phillips looped out a hospital-and-two-medical-centres pass, which Guy Thomson gratefully snaffled and ran three-quarters of the length of the pitch to score.
Eastgate missed the conversion from out wide, but it did mean that Wasps went in at half time with an 8-7 lead.
---
Ten minutes into the second half and Tom's magic boots directed a grubber kick over the Wasps' line, and Sam Bedlow managed to get hands on it for the try. The boots did their job with the conversion and with a penalty a few minutes later and Sale had put some daylight between the teams at 17-8.
Twenty minutes to go, and Charnley made his appearance, replacing NevNevNev on the left wing. And for twenty minutes or so, he barely saw the ball, which seemed to gravitate to the right wing on every occasion that Sale had possession. Josh did get partially involved in one ruck, but he mostly spent his debut running around a bit like that kid who was always the last one to be picked. Still, early days and his chance will undoubtedly come soon enough. Let's just hope he doesn't start wondering if there's any point in him being out there…
Ten minutes from time and Wasps scored again as Umanga broke worryingly easily through Sale's defensive line. He missed the conversion, though, and that's where things stayed until the final whistle. Sale 17, Wasps 13 – the difference between the teams just two conversions.
---
And what can we take from the game? Four points, certainly. Ant and Dec played well, Dec (or was it Ant?) especially on his debut. Lou Reed (doo di-doo…) played as if he was looking to be a regular starter — always a good thing to see in any player. Charnley's first run out was distinctly underwhelming, but that's the way of things. We will see more from him, especially once he's bedded in and worked the differences between the codes (without, hopefully, losing that something of League that attracted us to him in the first place).
Briggsy was given a game off; presumably, Cam will get a rest against Brizzle and Briggsy will start.
Slightly more worryingly, still no sign of the J brothers, T and A. Possibly over-caution in not risking them, but we really need them both to get fully fit and firing on all cylinders as things really start to heat up.
Brizzle away next, then back to Premiership action and Saracens. We really, really want a full, fit squad to choose from for that one.