On Tour with the Lions - Part three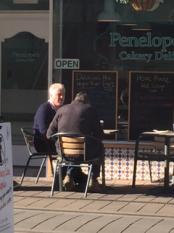 Who ate all the pies?
By Gym Haka
June 14 2017
Gym Haka visits Christchurch and sees first hand the devestation caused by the earthquakes. He also gets wet...again...and finds out who actually ate all the pies...
The sad, sad city of Christchurch.
It's early Thursday morning and it's off to Auckland airport via coach. There is a separate group check-in and nobody weighs your case which is useful as internal baggage allowance is less. Through rather lax security it's off for a flat white and start talking to an old bloke who is from Stoke. This nearest I've been to a Northerner since Manchester Airport. I never thought I'd pine for a scouse accent never mind a Manc. Turns out him and his mate are pillars of Congleton rugby club and go sporadically to watch a team called Sale Sharks which he's surprised I've heard of. A man walks past and disappears into the posh person's lounge. He looked like Richie McCaw. IT WAS RICHIE MCCAW. OMG. Not sure why I'm surprised but I am.
An hour and 20 minutes flying over some dramatic scenery and it's Christchurch, the most English of the New Zealand cities. On the coach again and the driver warns of the sights that await. The hotel is only one of 2 buildings standing with over 10 storeys. The view from my 8th floor windows tells a sad story. The earthquakes of 2010 and 2011 devastated this beautiful place. It reminded me of seeing Moss Side in the 70s when all you could see for miles was rubble. It's at first a surprise that the city is not rebuilt but the more you see the extent of the problem the more it's not surprising that demolition has not been completed never mind reconstruction. There is activity everywhere with bulldozers, cranes, hard hats and George Osbourne jackets. The Victorian Cathedral is particularly poignant. The chancel has almost gone with plants growing in its walls and pigeons enjoying the sanctuary these days. Mouths are open in astonishment and it's embarrassing to photograph it but I do. The congregation now worship at the beautiful temporary cardboard cathedral which is full of Lions supporters reflecting in silence. Close by there are 178 white painted chairs, all differerent, one for each of those killed in the second earthquake, made worse people were awake not asleep as in 2010. The Earthquake museum is again an excellent way to while away time and gives a true sense of the horror of natural disasters. I remember the Christchurch earthquake from TV news, but of course within days it's old news and you forget the pain that lies ahead.
There is still much to enjoy however and Saturdays game beckons. The locals exude quiet confidence and they have good reason. There a quaint old street which trams meander along and guess who is sat outside the pie shop? Stuart Barnes no less. That waistline grows further. The botanical gardens are full of very different plants to English gardens. Not the most interesting time to visit but still very interesting. Auckland museum has too much to see but gives a good account of Maori history. One thinks they have been here for ever but it's only 800 years. The art gallery is 10 times as weird as the one in Auckland. I would love to know what a decent psychiatrist would make of that art. A morning in the laundromat is interesting talking to other supporters who have also run out of socks and shirts. It takes me back to my childhood, going with my mum who would buy me the football pink to read while she put Persil in the washer.
In the distance I can see the huge stadium. I mention it to our tour leader but he tells me that we are not playing in that one but in a 14,000 seater a distance away. The huge stadium was built for the World Cup and like most things was damaged beyond repair in the 2011 'quake and will never be used.
It's election time and I don't even need to wait up for the results. But no Dimbleby or Kuensberg or Kamal Ahmed or Jeremy Vine in sight. Instead the hotel serves up CNN and I'm glued to the BBC website. Nicola Sturgeon takes a pasting-there is a God after all.
I'm not a fan of Sauvignon Blanc but the local Chardonnay is excellent and does not often appear in the UK. It's the cider however that I'm developing a weakness for and I will need to pursue that on return.
It's the match soon. Crunch time I think. Strong team picked against strong opposition. Lose this and heads will drop. Including mine.
Crusaders and then on to Dunedin
The stadium in Christchurch is a simple affair made from 4 temporary stands which are partially covered. The coach drops us off very early which allows a lot of meandering around to kill time before being seated. The seats are reasonably close to the pitch allowing a good view of the Lions one hour warm up. Before the game Crusaders on horseback canter round the pitch perimeter. Not sure if any deposit anything that a tackled player might land in. Another dreadful local singer and band perform and the teams are out with yet another variation on the Haka. The Crusaders are confident that they will win as they have done nothing else all year. The Lions finally show the grit required to win down under although it's not pretty and there again mistakes aplenty. Spirits are lifted and it's back on the coach to the hotel. Morning comes and on the TV are Tom and Denny and then the long drive South to Dunedin on the East coast in the Province of Otago. The Pacific is to our left and the snow covered Southern Alps (including Mount Cook) are to our right. The Canterbury plain is as flat as a pancake and the massive fields feed mainly cattle for milk and meat. Dunedin is approached through steep hills and then we descend to the 7th largest city in New Zealand. It's name derived from the Gaelic name for Edinburgh as it was founded by Scots and still has a strong Scottish flavour, including a statue of Robbie Burns and a team called the Highlanders. Our motel is a good walk from the main hub which is an octagon not a square. St Paul's Cathedral is built from the local white limestone and is truly impressive with a modern chancel and an organ with 3500 pipes. The railway station is truly stunning despite there being virtually no passenger trains in the South Island these days. The architecture is impressive and colonial in character. It's everything that Christchurch once was. The locals are incredibly friendly and it's difficult to get away from everyone who wants to chat about where you are from and who do you think are going to win. There is an Irish pub called The Bog. In the octagon I pass a cafe with 8 Lions including Cole and Marler. Ten minutes later I almost knock the same pair as I leave a shop. Joe Marler really does look like a madman. I go in the Adidas shop which is a temple to the All Blacks and but a shirt as requested by my elder daughter. $150 seems a lot for a flimsy top but I had my orders and she is minding my house, garden and chickens. There are supporters everywhere and many seem to be on do it yourself tours. The stadium is apparently permanently covered and has a real turf pitch which must be an achievement. It's forecast rain tomorrow but who cares under cover. It's looking like the midweek team plus Warburton or possibly the midweek team including Warburton. As I wander back to the motel I see a sign in an Indian restaurant- 2 Currys for the Price of 1- and my thoughts are back home again!
Highlanders cause a Low Point
Rain rain and more rain and it does not drizzle here. Some sleet and others have seen snow. It is very windy which adds to the chill. The Otago museum is yet another brilliant one. Certainly not boring. Amazed at just how many Pacific Islands there are, how many languages are spoken there and how their cultures vary. Dunedin is very much a university city and there are students everywhere living in run down British Empire bungalows. Late lunch at the Good Earth Cafe with a lot of salads and smoothie counteracts the umpteenth cooked breakfast. The excuses that I have paid for them and they set me up for the day simply don't stack up when my waist stares back from the mirror. There are 2 free drinks each in the bar, but some have hardly come to following an invitation to the local rugby club last night. Looking at their bellies I perhaps don't have so much to worry about after all. There is reasonable optimism about tonight's game but the news about Hogg is a dampener. The coach sets off for the ground 2 hours and 20 minutes before kick off and it's a 10 minute drive. Sitting on the front seat is John Taylor ex Welsh flanker who is commentating for TalkSport. He has certainly aged and guess London Welsh problems have contributed. The stadium is stunning. Amazing that the turf is in such good condition and yet never sees the sky. The roof looks like clear plastic sheeting over a network of pipe like supports. The stands are steep which achieves an elevated view but pitch proximity. Local beer cider and wine are available inside alongside an array of different foods including the ever present fish and chips. The enclosed space makes for massive noise and a great atmosphere. It's worth flying over and taking a look Mr Orange!! Hint hint.
Soon Sam and his cuddly toy emerge and the increasing pack of Lions bay for blood. I can't remember seeing so many box kicks and Webb is not Murray. Joseph finishes well, Seymour intercepts and optimism rises. Injuries again take their toll and Naholo looks a menace every time he gets the ball. It's suddenly clear this is far from over. The Highlanders seem to have the refs ear and the irritating Banks especially so. He kicks for the lead and wins it. It soon is over and the locals go mad. Too many errors. Sad that Joseph knocked on as he might have scored. Margins are close in rugby and with a little better skill and less mistakes we could be 4 up. The Test team is emerging and discussion on the coach is around a few positions now. The coach takes an hour to reach the hotel. Where is Swanny and his travel plan when you need him?
Wednesday is coach to the airport and a flight back to Auckland before a 4 hour coach journey to Lake Taupo. Hopefully it's a bit warmer there while we lick our wounds. After all, it's the Tests that matter. Isn't it????
More Sale Sharks headlines
Sale Sharks Poll