Wilf Wooller ( 1912 – 1997)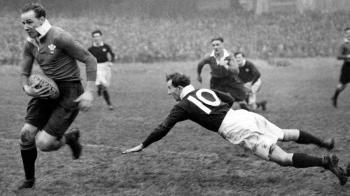 By Mrs Trellis of North wales
August 22 2017
OK. Pay attention at the back! Its time for a history lesson from Mrs Trellis of North Wales...yes I know you have heard it all before iBozz but there may be an exam...so once upon a time....
Wilf Wooller ( 1912 – 1997) played for Sale FC and was a sportsman par excellence.

The 'Roaring Thirties' brought about an international Sale backline; Hal Sever (England wing), Claude Davey and Wilf Wooller (Wales centres) and Ken Fyfe (Scotland wing).

Wooller displayed, on and off the field of play, a combative spirit shot through with self-belief. An all-rounder, he was capped 18 times for Wales at rugby. He captained Glamorgan County Cricket Club for more than a decade, played soccer briefly for Cardiff City and represented Wales at squash.
Wooller was a man of charm and a man of arrogance. He was born at Rhos- on-Sea on the North Wales coast and attended Llandudno County School and Rydal School, one of Wales's few public schools, where a shrewd rugby coach switched him from the pack to the back division. At Cambridge he took a degree in Anthroploogy and won three rugby Blues in 1933 to 1935 and cricket Blues in 1935 and 1936.
He was a key member of Wales's three-quarter line, making his debut in 1933 when his country won at Twickenham for the first time in more than 20 years. He captained Wales in the 1939 clash with "the old enemy" when Wales won by a solitary try. His role in Wales's 13-12 victory over New Zealand in 1935 was decisive; injury had reduced Wales to 14 - no replacements were permitted in those days - but his shrewd kicking led to two tries that sealed an historic victory.

On the cricket field he swung the ball worryingly, batted tenaciously and excelled as a close fielder at a time when protective gear was almost non- existent. He first took the field for Glamorgan in 1938 and played his last match for the county 24 years later. He captained the side from 1947 to 1960, with 1948 a golden year when Glamorgan won the County Championship for the first time. He became secretary of Glamorgan County Cricket Club in 1961 and was elected president 30 years later. Although never called up for service with England he was a Test selector from 1955 to 1961.

There was a brief flirtation with the round ball game as centre forward with Cardiff City in 1939 and he played squash for the national team.

At the start of the Second World War, together with friends from Cardiff's rugby fraternity, he enlisted as a gunner with the 77th Heavy Anti-Aircraft Regiment. In 1940 - the days of the "Phoney War" - he turned out for an Army XV which beat France at the Parc des Princes; he declared the side (to which he contributed three tries) as one of the best he had ever played in.

Posted to the Far East, he was captured by the Japanese in Java in 1942 and incarcerated in Singapore's notorious Changi prison. For a while he worked on the Burma railway, a hardship to which many prisoners of war succumbed. He owed his survival to his iron will, but the experience left a deep mark; years later he was reported to have refused to use a Japanese- made pocket calculator.
As a broadcaster and sports writer Wooller was outspoken, occasionally to the point of giving offence. The mother of one Welsh rugby international sent him a pair of spectacles after he had criticised her son for being caught out of position. The corrective lenses were returned with the comment that, as he had married into an optician's practice, he could see perfectly well.