Once more unto the breach, dear friends, once more...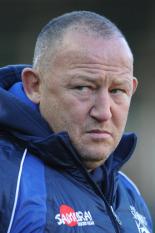 By Tigger
September 4 2017
Here we go again and my first full season as a moderator. The season has started with a try fest and the highlights on Channel 5 made for good viewing. But what about Sale? After a very quiet summer on the forum, an excellent travelogue by Gym Haka from the Lions tour and the thrill of seeing Sale players wearing the Red Rose what does the new season hold in store .
Where we ever going to stand a chance of beating Wasps at home where no one has done so since December 2015? We know the answer now...no. It was a spirited display but the first 20 minutes cost us any chance of an upset as we were chasing the game from the third try. On the plus side we did not capitulate which we have done on many occasions. We also scored 5 tries at Wasps which not many teams will do. We also came close to a losing bonus point. Yes Wasps scored 7 tries but was our defence that bad? It looked more like stupid mistakes costing us. And we only gave away one kickable penalty so maybe that can also be counted as an improvement.
So does future looks bright? Well it certainly does if the new orange kit is anything to go by! And the new home kit looks different and for the record I like them both. Dimes has been talking about the steady growth of Sale as a team and the continuing plan of using academy players. He also talked about how he could go out and spend 3 million pounds on marquee players/All Blacks but would rather spend half a million pounds each year and do it incrementally. This is good. It means sustainable growth going forward. I read with sadness this morning that Worcester have lost £16 million over the past three years and the current owner is looking to sell. And Worcester is one of my favourite away trips. And this brings us onto the thorny issue of the AJ Bell.
Worcester have spent a fortune on a stadium over the past few years. Right next to a motorway with no train station nearby and only one/two pubs but access by a shuttle bus. Sound familiar? The AJ Bell will only get better once the bridge is open (we hope!) and the tram links to the Trafford center. With a regular shuttle service down the new access road it could improve things immeasurably. If Sale do acquire the stadium then we are in charge of all food and drink offerings plus the ability to add bars, restaurants or even a hotel. The AJ Bell isn't the only difficult stadium to get to. A lot of the travelling supporters who I have spoken to really like the location, beer tent and watching experience. And if we build our own stadium? What is to say the location would be any better? No matter where we do end up though it is the rugby that will dictate the crowds not the beer, food or location.
And that brings me onto posters points of view. We all have them. I would like to start with the point made by ADMIN that there is no free speech argument on a message board. You cannot say what you like if the ADMIN and moderators deem it to be inappropriate. If you agree or not does not make any difference. If you don't like it you have two choices...do a dramatic flounce or just accept it and move on. Or become a moderator. On the topic of banning someone. The moderators cannot ban a poster. Only ADMIN can do that. We can delete and edit your post and I will always ask the poster to do that themselves, after an explanation, unless it is very bad. And don't forget the following from ADMIN...
Please try to keep discussions generally polite.
I will ban without warning anyone who makes a post that falls into any of the following categories:
potentially legally actionable;
foul or abusive;
deliberately or persistently disruptive;
No sockpuppets.
Please do not feed the trolls.
They are all self explanatory but the one that needs to be enforced on a more consistent basis is deliberately or persistently disruptive...there have been occasions when this has got out of hand. It is what has led to a lot of posters 'leaving' the board. Over the summer and especially in the last two/three weeks I have noticed a swing towards how the board used to be with some great topics and conversations. I would ask any poster who has wandered off to come back and join in again.
So we are off and running with a home game against Newcastle looming on the horizon. Wonder how I will be feeling this time next week?