View from the south stand: Sale 12 Newcastle 13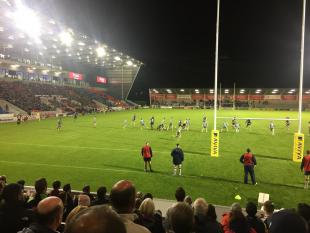 By Cap'n Major Bloodnok
September 11 2017
So here we are for the first home game of the new season; several exciting new signings and a promise of kicking on from the improvements of last season. Disappointing to ship 7 tries at Wasps, but scoring 5 was a plus, so how would the team fare against Newcastle?
[Aside: normally I would watch the full match replay before writing these reports, to check facts and so on. I haven't bothered this time for fear that, if I did, I might expire from an excess of ennui.]
Match day dawned brightly on the Llŷn peninsula — odd, since the weather forecast was for storms. The drive back home from the holiday cottage was uneventful: a mention on the M56 of a closure of the M6 between junctions 19 and 18. Meh, no biggie, I'm not going that way.
Got home, freshened up, changed into Sale shirt and set off for The Brook and the coach to take us to the stadium. The time came for the coach to leave: no coach. Half an hour later, still no coach. We're half expecting to be watching the game at the pub, rather than at the ground.
It eventually arrived fifty minutes late (that M6 closure? Yep, a biggie.) and we piled hurriedly on board, now expecting a long queue into the stadium. Maybe we'd get to see the second half…
The promised M60 queues weren't there, and we rocked up at the stadium 25 minutes after leaving The Brook and about 10 minutes before kick-off. Just time to grab a RefLink (of which more later), get to my usual place and greet the choir before AJ got things under way.
---
The early play was all Newcastle until Sale's resolute defence eventually turned into attack on their own behalf. Although Sale had the best of the possession in the first half, we reached the break with only a three-point advantage, courtesy of AJ's boot.
The half was eminently forgettable (hence a one-paragraph summary), with only a disallowed try by Byron as a high point. My view of the replay was that it looked good (on the basis that Emily Scarratt was awarded a try for fingertip pressure during the women's world cup). The TMO disagreed and judged it to have been lost forward. On such small decisions do games turn — had the try been awarded, would Sale have pushed on with added confidence, or would Newcastle have upped their game once more? "If we'd scored that try, we'd have won by 6." No. If we'd scored that try, play would have restarted with a kick on half-way, not a scrum on the 5-metre line, and the whole course of the rest of the game would have been different.
The low point of the half (and, indeed, the game) must be the complete collapse of the lineout. Whether this was Cam's failure to throw properly, or the jumpers mistiming things (and the failure rate on Jonesy's throw suggests a bit of both), the point remains that this is probably where we lost the game. It's particularly galling to see an overthrown lineout a few metres out from the oppo's try line. I lost count of the promising attacks that fizzled out on a poor throw. Still, makes a change from fizzling out because someone dropped a pass, eh?
I remember a match at Heywood Road — I think it was against Saracens — where the Sale lineout was so bad that Sarries were content to keep kicking for touch knowing that they'd get the ball back from the Sale throw. I think Newcastle missed a trick there.
The second half was just as forgettable as the first, despite featuring seven times as many points. Newcastle's try came following a promising Sale attack, during which TJ — for reasons known only to himself — decided to essay a grubber that went straight to a Falcons player, who kicked for touch. A penalty from the resulting (failed) line out and Newcastle had a lineout of their own close to the Sale line. There was a sense of inevitability about the maul, deliberate collapse, penalty try and the yellow card for Jonesy that followed. The scoreboard operator seemed unaware for a few minutes that penalty tries now include the conversion as a given but eventually, the extra two went up and Newcastle were ahead for the first time.
We had one comedy moment as everyone lined up for a Sale throw in without apparently realising that there was no-one to actually throw the ball in (Jonno eventually took over the duties) before the game wound down to its dull, predictable conclusion.
---
Two games, two defeats, two bonus points. This defeat will be more concerning than the one against Wasps, given that it was at home, that Newcastle were not particularly good and that it was a dreadful, tedious, dull, uninspired performance. I'm still not going to be crying doom and gloom, though; it's far too early for that, but things do need to change quickly: next week against Irish for preference.
On a positive note, Faf looks to me to be the real deal. I think he could well be the best scrum half for Sale since Brush, but only if the pack get their act together.
Also, from my position, Tarus reminded me physically of early Vadeeeem, so I'm going to take that as a good omen.
Oh, yes. RefLink. It seems the referee's mike is very good at picking up ambient sound, but a bit rubbish at getting the ref's voice. Mostly, all I could hear was the players 'talking'. I heard the word 'pre-engage' several times, but it was mostly unilluminating regarding events on the pitch. Perhaps I just need to get my ears tuned in, or maybe this ref was just not very mike-friendly.
Will JOC be fit to play against Irish and, if so, will Dimes select him? Will Charnley get a go? Will someone give the ball to Denny in space? All these questions and more may or may not be answered next Friday. Be there or be… somewhere else.