View from the south stand: Sale 36 Irish 7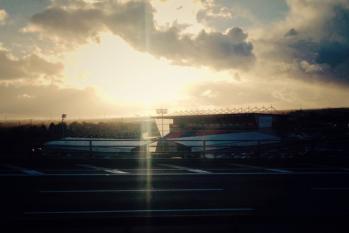 By Cap'n Major Bloodnok
September 19 2017
Spoiler alert: we won and won impressively. Irish had already beaten Quins this season, so this result was not a foregone conclusion, especially after last week's debacle. Not only were Sale much improved, so was RefLink…
I'll admit that when I set off on Friday night, I was finding it difficult to maintain an air of optimism. Ok, we'd not lost the opening three games since that horrible first season at the AJ Bell, but that game last week…
I got to the Brook to hear that, once again, the M6 was closed and the coach was likely to be delayed. Well, two coaches, actually. Interestingly, more people wanted to go to this one than last week's (although the actual attendances were almost identical). The first coach was about 10 minutes late, but we had a nervous half hour wait before the second one arrived. Omens again: was the rest of the evening going to repeat itself? It wasn't raining this week; hold on to that thought.
Another simple twenty-five minute run to the stadium and there we were in the new tent with plenty of time to spare to meet, greet and have a quick pint before claiming my sacred couple of square feet of concrete step.
Game time and Sale appeared in their fluoro change strip, oddly. Someone said that there were new rules and the home team changed (as used to be back in the old days), but I see that Sarries (nominally the away team) were in their change strip against Newcastle. Another omen?
---
From the off, it was obvious that this Sale side bore no relation to last week's. For the first few minutes, we were treated to a bit of a midfield battle, but there was a sharpness, an urgency to Sale's play that augured well for what was to come. Six minutes in and the first line out was awarded to Sale. Cue 4,500 people covering their faces and looking through parted fingers…
The ball went to hand to huge cheers and we soon got a penalty advantage in an eminently kickable position. Up steps AJ and claims the first three points of the evening.
From that point on, it was pretty much all Sale. A few minutes after the penalty, Jennings crashed through the Irish lines (something he would do several times that night) and Sale ended up with a five-metre lineout from which Ross Harrison claimed his first ever try for the club after a mere hundred and fifty-odd games. AJ added the conversion to make it 10-0 after 13 minutes.
Five minutes later, in what was obviously a training ground move, Faf stood off a ruck while Denny acted as scrum half, passing to De Klerk (and totally not forward at all), who popped it back for Solomona to glide in through the huge gap they'd created. 17-0 and not even half way through the half yet.
Irish then managed to put together a few minutes in Sale's half with some promising attacking moves. Unfortunately for them, Solomona scooped up a loose ball and ran nearly the length of the field to score under the posts, making the score 24-0, where it stayed until half time.
I should note that, between Denny's try and the half-time whistle, Sale managed to butcher at least three opportunities that really should have resulted in the bonus point before the break. Also, Addison's hamstring didn't last, meaning Haley came on at full back for the rest of the game.
---
The second half was less eventful (as is so often the case). Irish started off well, keeping the pressure on the Sale line for the first five or ten minutes.
After 15 minutes, Cowan pulled down a Sale maul near the Irish line. Barnes showed him yellow, but declined the penalty try. No matter as, a few minutes later, another Jennings bosh through the defence and neat offload gave Little Josh a try that will hopefully spark many more. AJ kept up his 100% kicking record for the season to take the score to 31-0.
Into the final quarter, and a Charnley tackle that "slipped high" gave Irish a 5-metre lineout from the penalty. Aulika-ka-ka pulled down the maul and this time referee Wayne Barnes did award the penalty try (as well as binning Aulika). Watching the replay, I can't honestly see the difference between the two mauls. For Sale's, he clearly said that he couldn't see that a try would have been scored, but I can't see how he then could see that Irish would have scored, since both mauls came down about the same distance from the line. Maybe he felt sorry for them, or maybe there's a Sale penalty try quota that has to be maintained.
With about a quarter of an hour to go, Blair Cowan got his permanent marching orders for a second yellow following a reckless shoulder-first dive onto Jonno Ross's back as he lay on the floor after a clash of heads.
Two minutes later, Jennings got his just deserts as he received the ball on the wing, bounced off a defender, cut inside and touched down. AJ missed the conversion (first miss this season) and from there the game wound down to the final whistle.
---
If you wanted a pithy summary of the game it would be: Sale Sharks – 31 defenders beaten.
---
There were lots of positives to take from this game, but let's get the negatives out of the way first.
Too many squandered chances. It didn't matter this time but there will be days when those are the only chances we get and we need to be more clinical taking them.
The pack needs to be more dominant. Scrums held on, rather than being secure and the maul (defence) is still a cause for some concern.
On to the positives. The backs, I thought, looked like they were cutting Irish apart for fun. Forget perceived "quality" of the opposition, there were several moves there that could have cut the defence of any team in the league apart. A slightly more dominant pack could see this set of backs run riot almost at will. This has the potential to be one of the most exciting back lines we've seen at Sale for many years.
The return of The Beard made a big difference to the lineout, and The Beard That Passeth All Understanding started to show some of the form that we presumably signed him for. Jonno Ross is shaping up well.
Faf de Klerk excites me more than anybody since Billy Whizz. I want the pack to get more dominant just to see him really open up. It'll be interesting to see what O'Connor can do with Faf's service.
---
The other massive improvement on the night was RefLink. Much, much clearer this week; the ambient sounds reduced to just that – ambient noise – whilst referee Barnes came through loud and clear.
On that subject, I thought Barnes had a storming game (see what I did there?). What RefLink (when it works) does give you is an insight into how the referee manages the players, and Barnes is one of the best. I liked one exchange where he told Josh (one of them; presumably not Charnley) that he was getting concerned about their timing at the lineout – reminding them that they couldn't close the gap before the ball was thrown. In other words "I've seen you pushing the limits, stop it or I'll ping you".
---
So that was it: a much more hopeful prospect for the season, if that sort of form continues. Get some results and a march up the table and we may see the bums start to reappear on the seats.
Sarries next week (hmmmm), then back to the AJ Bell for Gloucester. That game will, I think tell us more about the state of Sale than this one.
---
And, finally, a few Barnesisms:
(In response to something Jonesy said) "still, the scrums are going well, aren't they?" (There had been no scrums at this point)
(Shortly after the above) "I assume that was an ironic cheer from that lineout". (Referring to the first one.)
(After pulling Bryn back for offside from a kick to the wing that he nearly collected) "I know you're fast, Bryn, but…"