View from the south stand: Sale 57 Gloucester 10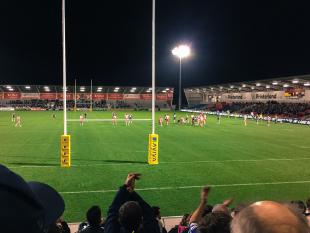 By Cap'n Major Bloodnok
October 3 2017
There is a wide range of emotions with which a sports fan can leave at the end of a match, all the way from abject despair through relief to utter joy. Occasionally, though, we manage a rarity that is best described as "what on Earth did I just watch?"
We turned up at The Brook to the now almost inevitable missing coach. That is, there was a coach there, but there were supposed to be two. Fortunately, it rocked up only a few minutes late. The consensus of the assembled sages, luminaries and other thinking persons was that this would be a tight game, not at all confident of the win, happy with four points, etc., etc. The course of this match would be the clearest pointer yet to how the rest of the season might shape up; something I alluded to in my report of the Irish game. [And, in hindsight, something that probably sits amongst the other predictions about this game in the degree to which it was totally wrong.]
We arrived at the ground after a slowish journey and decided to go straight in to the stand, eschewing, for once, the opportunity to have my eardrums shredded in the tent. Got in only to be greeted by one of those things that can put a complete downer on an evening before it's even started: Boris's Bijou Coffee Bar was sans power. No coffee. Sacre Bleu! Quelle dommage! Mange tout! Boris's coffee is the only drinkable substance available in that section of the south stand. I was mentally preparing my letter of outrage to the Swanny, The Times and the Queen as I walked to my accustomed patch of concrete. The game had better make up for that body blow of disappointment.
[Concerned readers will be pleased to note that power had been restored by half time and, despite a long queue, I was able to enjoy a fine cup of Number 7 blend for the second half. But I digress…]
---
One minute into the game and discussion among the crowd was along the lines of "he must have been in touch", "I can't see how he wasn't in touch", "the ref'll go upstairs and they'll say he was in touch"…
The ref (the inestimable JP Doyle) didn't go upstairs, the touch judge was happy, the try was awarded, and the stage was set for a remarkable evening's rugby. (Watching the replay, the only time he might have been in touch was chasing his kick-ahead; by the time he gathered it, he was heading back infield. The dancing tip-toeing along the dead ball line, was a sight to be watched again and again, though.)
I'm not going to dwell on a blow-by-blow account of the rest of the game: if you're like me, you've already watched it again a couple of times and know what happened. Byron, Byron, Faf, Denny, JOC, Sam, Byron, Afoa. Cue slightly dazed Sale supporters wandering out of the stadium wondering what they'd just witnessed and when they were going to wake up.
The stats underline the remarkable nature of the game: Gloucester had twice the possession and twice the territory but one eighth of the tries. Statistics, eh? What do they know? Apparently, Glos also made 593 metres (to Sale's 733), but my impression at the time was that they'd spent a lot of time going sideways, with very little penetration. Mind you, that may not be entirely wrong: all that time in possession with fewer metres to show for it suggests a lot of time not going forwards (or at least not going forwards as effectively as Sale). Even if we ignore the three interception tries (which must have accounted for about 200 metres), Sale's go-forward per unit possession time must be at least double Gloucester's.
I guess simple possession/territory stats are not a good metric; I'd like to see stats for possession within 10 metres of the opponent's try line, for example. It would weed out non-threatening possession (spend 15 minutes 40 metres out and the stats look good, but it's meaningless).
---
So, let's cut to the chase: what did we learn from this game?
A lot less than I'd hoped, unfortunately. As memorable and enjoyable as the result was, the game was so freakish that I don't think it provides any real pointers for how Sale (or, indeed, Gloucester) will perform for the rest of the season.
We did get confirmation of a few things, such as Solomona's quality and eye for the try line, Lord Byron's emergence as a poacher of the first order (Charnley must be thinking that he's got a hard job on getting the 11 shirt back), and that Faf will, IMHO, prove to be the signing of the decade.
I know I bang on about him a bit, but I seriously think that Faf de Klerk is the significant difference between this team and previous incarnations. My abiding memory of this game is not the tries but the sight of a small blond motion blur who seemed to be everywhere, marshalling the forwards, distributing the ball but keeping the defence honest with sniping runs, putting in delicate and clever kicks (cf Byron's first try), and generally being the dynamo that powered the rest of the performance. We have to keep him fit — indeed, we have to keep him…
We didn't get to see the de Klerk/O'Connor show, owing to Jennings being taken ill, so JOC had to fill in at inside centre. We saw enough to know that Dimes has a big decision to make at 10. AJ has managed to impress himself into the fly half position without ever being spectacular. His kicking has been impeccable (missed two from — what? — twenty-odd so far this season) and he's not really done much wrong that you could point to and say "here's a reason to give someone else a go".
Two beards stamped their authority on this game, as well. The big beard continued to do what he did all last season: nick lineouts, put himself about in rucks and mauls and generally be a nuisance. He also showed some developing talents as a back player — a couple of nice runs out wide and some delicious passing. Meanwhile, The Beard That Passeth All Understanding started to show why he's in the team, with some bullish ball carrying and harrying of the opposition ball carrier in turn.
Vadim's little brother Alex had another good game. Keep an eye on that one.
JOC took his try well, but I think I see why Dimes was insistent that he's there as a 10; at inside centre he did the job, but didn't really set the place alight. Yes, yes, first game, back from injury, yadda, yadda. There were enough signs to indicate that moving to 10 from 12 and linking directly with Faf could be the spark in the fireworks factory that we need. Which would be harsh on AJ, who doesn't deserve to be dropped.
Ulrika-ka-ka came on and stayed on, which has to be a plus.
On the down side, we saw a few too many injuries for comfort: Webber, Ant and Dec, AJ… I've seen nothing about the seriousness of these at the time of writing, so let's hope they were just normal knocks and they'll be available soon.
---
I said after the Irish game that I didn't think we'd learnt a lot from it and that the trip to Saracens wasn't something base hopes and fears on. This game has proved to be similarly uneducational, so now we should look to the away game a Quins. Unlike Sarries, I think this can be a meaningful match, we do have a chance to win it and how the team plays will, I think, have an impact on the season. Take the good stuff from Friday and keep the momentum — I'm not implying that we must win, just keep that good play going — and things could start to look very good indeed. Go back into a shell and we might as well look forward to next season and another year of 'building' now.