Vue depuis la tribune: Lyon 27 Sale 24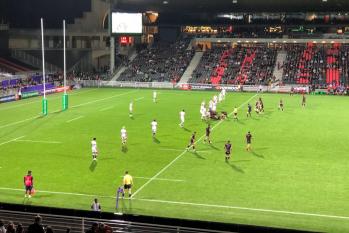 By Cap'n Major Bloodnok
October 23 2017
It always seems to be the way that Sale end up in a 'group of death' in European competitions. This year's opponents are the top two teams in the French league and a team that's beaten both of them. Last week, it was the French number 2 side at home, this week away to the number one team. This probably isn't going to end well…
I've often remarked that these European away trips are a wonderful few days' holiday spoiled by a game of rugby in the middle. To be fair, there have been times when the trip was not spoiled by the rugby — Castres and Clermont spring to mind — but it can be just a couple of hours spent freezing your bum off on a plastic seat screwed to a concrete step.
A couple of days in Lyon is not nearly enough, so this is another place added to the list of 'must go back and look around properly'. If you've not been, I do recommend it – even based on the small part of it I visited.
---
The weather had settled into that Manchester special 'I can keep this up for hours' sort of rain as I waited for the taxi to the airport. This was rather cheering in a way as, by all accounts, I was on my way to a balmy 20-24 degrees with only light cloud to hide the sky. The plane landed on time, we hiked the 15 miles from the gate to passport control (it always seems that far, in every airport ever — there are airports on tiny islands that have a 15-mile hike from gate to passport control. It's also true that every such hike involves passing a section where extensive work is going on behind makeshift a plasterboard wall), and then the extra 10 miles from there to the Rhônexpress stop. Half an hour later we pull up at Gare de Lyon Part-Dieu, and half an hour after that, I've dumped my stuff in my room and gone down for a quick reminder of how expensive French beer can be, especially in the hotel bar.
---
Matchday started with a quest for breakfast, which I found at a stall in the train station. What is it about the French and their ability to make even a simple ham and tomato sandwich into a thing of beauty?
Suitably fortified, a few of us set off to explore the city (or, at least, some of it).
Lyon sits at the confluence of the Rhône and the Saône. To the east (of the Rhône) it's fairly flat, and between the rivers it's pretty flat, but west of the Saône, it suddenly shoots up a hundred metres or so to a large bluff overlooking the city. This being France, someone has built a great big basilica at the top.
Fortunately, there's a funicular railway to ease passage upward. It's included in your TCL Liberté ticket (€11 for a 48-hour pass), so there's no excuse not to go up and drink in the view.
Then it was back down and an amble north along the banks of Saône to meet up with more travelling fans at The Wallace and The Elephant and Castle.
The Stade de Gerland is pretty easy to get to, having its own metro stop and we arrived in plenty of time to try to figure out the obscure and, it must be said, wholly unnecessary complication of the token system for buying beer and food. I ended up not bothering, partly because of not being hungry and partly down to having post-match drinks bought for us by the inestimable Mr. Orange.
Not being in the flush of youth any more, I decided to call it a day and head back to the hotel for a bit of much-needed shut eye.
The next day was spent doing a bit more exploring, sitting around in pubs drinking, eating and wondering how on earth Dylan Hartley got away with it yet again.
All too soon the time came to head back home: to familiar rain, familiar tea, familiar family and familiar bed.
---
And so, I suppose, I need to talk about the actual game.
A bare recitation of the facts — 14-10 up at half-time, 24-10 up with 15 minutes to go, 27-24 down at the end — might lead you to believe that this was another tale of Sale squandering a winning position at the death. And, in way, you'd be right; and, yet, also wrong. Yes, the last 15 minutes were painful to watch as wave upon wave of French attack finally broke down the Sale defensive line. But you have to understand that LOU were on the attack like this for the whole game. It was relentless. The quality of their players and their obvious desire — need — to wash the previous week's defeat away showed. Sale's essentially young team was under the cosh for 80 minutes. Someone said that we spent 7 seconds in their 22 in the first half, but scored two tries. I suspect it was more than that, but it feels about right.
Let's be quite clear: Sale's defence was immense. Everybody — and I mean everybody — contributed to keeping out a Lyon side that threw everything at them. And with a kitchen sink operation like that comes errors. Let's give full credit to Denny and Sam for capitalising on two of those errors to the fullest extent possible. First, a loose pass just outside the Sale 22 left the ball unattended on the ground. Denny spotted it and, in a repeat of his try for England in Argentina, raced the 70-odd metres to score under the posts.
The third try came from a Sam James interception deep in the Sale 22. So intent on attack were LOU that there was no cover to stop him going a good 90 metres for another score against the run pf play.
Between those two tries, a rare bit of possession in LOU territory saw little Josh (or possibly Jennings – I couldn't really tell) break through a tackle and nearly get to the line. He was stopped just short, but managed to give the ball to Sam James for an easy try under the posts.
The rest of the account is about a magnificent defensive effort. That it ultimately proved slightly too little is not to demean the effort that everyone put in. Yes, of course there were mistakes: dropped passes, missed tackles and so on – the sort of thing that you get lots of in any game but, for me, there was only one genuine clanger all game.
That clanger was dropped by, of all people, Faf de Klerk. Near the end of the first half, Lyon had a five-metre line out on their right. Somehow, Faf emerged from the resulting maul with ball in his own in-goal area. Instead of doing the sensible thing and kicking the leather off the ball to get as far downfield as possible, he ran across, into the field of play and tried to pass out right to Mike Haley.
Who dropped it into touch.
A couple of phases later, and Armitage is over the line to make the score 10-14 at half time.
I do think that that was a significant moment – had we gone into the break 14-3 up, rather than 14-10, and them with the boost of having just scored, we would have gone on to win.
But such speculation is futile, the error was made, the try was scored. Had the ref blown up when one of their players tried to jump over the remnants of the previous phase's ruck [update - I've seen the replay and it was a full leap into the tackle; the ruck was some metres away], they wouldn't have scored their third try and we would have won. If the ref hadn't been a bit pernickety about an innocuous offside three minutes from time, we'd have held out for the draw.
I'm not going to single anyone out; they all played their hearts out. I was proud of every one of them despite the deep disappointment of those last 15 minutes.
We have a team that's nearly there. The understanding is coming, the less experienced are improving with each game. Despite the way it may seem, I actually take a lot of hope from that game. To run the French league leaders that close with a team with so many young and/or inexperienced players is a great achievement.
---
So, Exeter next. What to do? For me, not too much. Strauss back, Jono back (if fit). Go back to a 5-3 bench. Keep Charnley in because he's improving with every game, but add Byron to the bench. He can replace Josh or Haley who, it has to be said, still looks a bit short of self-belief.
But play like they did here and they can beat Exeter.