View from the south stand: Sale 6 Exeter 10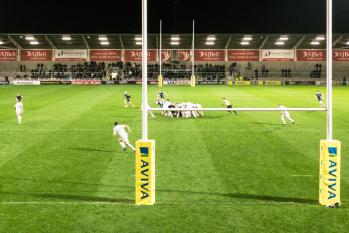 By Cap'n Major Bloodnok
November 1 2017
Following the European Challenge cup games, we had a one-week return to AP action before the Anglo-Welsh cup starts up. Reigning champions Exeter made the long journey up the Ms 5 and 6.
A pleasant evening and top-of-the-table opposition should have made for a healthy crowd and two coaches at The Brook seemed to suggest that would be the case. It was typical, then, that three separate incidents, in addition to the road works near the stadium, should conspire to produce some of the heaviest traffic this season. We had some serious delays getting in to the ground and we could set traffic queuing on the bridge well into the first half and even approaching half time. I still find it astonishing that a council could approve the building of a stadium without ensuring that the necessary infrastructure was in place from the outset.
There was, of course, one dominant topic of conversation: the rumour (now confirmed) that Marland Yarde would be moving from Quins to Sale with immediate effect. More on that later…
---
Sale came into this game having drawn at home against the second-placed team in the French league and narrowly lost away to the French leaders, having led for a good hour or more. Surely we could carry that form through and give the reigning champions a run for their money.
I've not had the opportunity to watch the game again, so what follows is based on my (heavily flawed) memory of it. Any resemblance to reality is purely coincidental…
The problem with relying on memory to write this report is that it was not a particularly memorable game; my overwhelming recollection is of a lot of midfield thud and blunder with the occasional tryline scramble to keep things moderately interesting.
What I found so frustrating about this game is that Exeter were much better at managing the midfield contest. They played phase after phase; patiently building, not panicking, wearing down the defence and then pressing harder. Sale, on the other hand, lack confidence in their phase play. It is a sad fact that the probability of Sale dropping the ball or giving away a penalty rises exponentially with the number of phases played. This, I believe, is not lost on the team, who are trying to gamble a possible gain in territory for an almost certain loss of possession.
It comes down to the basics – holding on to the ball, not giving away the stupid penalty at the ruck. Not depending, it has to be said, on de Klerk and O'Connor to spark something and getting some creativity elsewhere.
Exeter's try came from a defensive lapse. Sale's failure to score a try late on came before that penalty, when some poor decision making failed to capitalise on a very promising attack. I'm not going to say anything about the referee pinging Jonesy late on because, quite frankly, we should have already scored by the time it happened. Yes, there's something to be said about consistency of refereeing decisions, not only between refs but also within a match. That penalty did not cost us the game; the preceding 77 minutes did that.
Overall, I thought Sale were poor in this game, despite the obvious fact that they held Exeter to a close result. In the previous two games, we struggled to get possession; in this game, we had the possession but we gifted it away as if we were afraid of it. Even Faf, I felt, had an off day, trying the little dink over the top a couple of times too often.
O'Connor doesn't seem to want to take up a conventional out half position — he will often be between the centres, or behind them and in front of the full back; almost anywhere except in the receiver's role — so it's still difficult to assess how well he and Faf work together. JO'C is slowly rising into the role, though; it's going to be interesting to see how things work out with him and AJ around.
The pack are doing the set pieces well — I don't think we lost a scrum and the lineout went well enough. Where there is cause for concern in my mind is at the breakdown. We don't seem to be able to retain possession over numerous phases without getting pinged for a silly penalty. Is that because the ruck specialists aren't as good as their opponents, so with each phase they lose a little bit more of the initiative until they end up transgressing in frustration? Or is it that they don't think they'll get caught? Or maybe their technique just isn't good enough to stay on the right side of the law. Whatever the reason, the inability to string 10-15 phases together is concerning and the cause of a lot of our 'misfortune'.
---
And so to our latest signing. It's now confirmed that Marland Yarde has joined the club with immediate effect. Good thing? Bad thing? Indifferent/pointless thing? First off, I'm not going to argue whether we actually need another winger — I think it tends to suggest that the rumours of Charnley returning to League are quite likely true. If he does go, then, yes, we need another winger. Much as I felt that Charnley was starting to get the hang of it, and despite his obvious potential, if I had to choose between Charnley and Yarde, it would be Yarde every time; simply because he is a Union player and has several years' advantage over Charnley.
I view this signing in much the way I viewed the signing of Cipriani: we've got some real talent here; maybe he comes with baggage, but I'm sure Dimes is aware of that and believes he can do something with him. If I'm slightly less excited about Yarde, it's because, in terms of that pizzazz factor, Yarde isn't really in Cipriani's class. But time will tell. Maybe we just need to find a suitable bus for him to run in front of.