View from the south stand: Sale 29 Saracens 22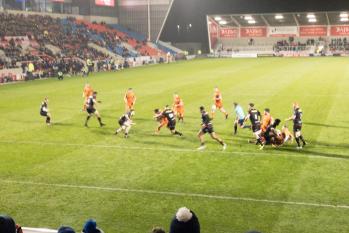 By Cap'n Major Bloodnok
November 15 2017
The Anglo-Welsh cup is, by tradition or design, mostly used as a proving ground for young and/or fringe squad members. This game could be seen, then, as a comparison of the quality of the fringe players from a large squad versus those from a small(er) squad.
Unfortunately, that same tradition of blooding the youngsters means that too many people decide not to bother going. Those who sat this one out missed an entertaining game, though, so it's their loss, really.
You could tell that the crowd would be fairly low as we made good progress along the M60 (after negotiating an early constriction) and got to the ground some 30 minutes after leaving The Brook. I went into the marquee, where an alleged singer was in the process of murdering some inoffensive ditty, got my pint of liquid gold (that's in reference to the price, not the quality) and headed into the stand to claim my couple of square feet of concrete step.
The team sheet contained several unfamiliar names, some familiar ones and a few familiar family names attached to less familiar given names. That is to say a team of mixed experience, included sons (and brothers) of past and current Sale players.
Wilf and AJ formed the pivot at half back, whilst Haley and McGuigan provided the old heads to steady an otherwise youthful back line: James (not that one) and Redpath (not that one) in the centres, and the relatively experienced (played once or twice) Aaron Reed opposite Byron.
The forwards (as you might expect) had more first-team playing time under their belts on the whole. Vadim's little brother, beardy Josh and Ant (or maybe Dec?) were the wise old heads, with Flynn, Nott, Moore, Langdon and Postlethwaite with some, little or no previous.
The subs were a similar mix of old heads and young blood. It was going to be interesting to see how they got on. After all, Saracens can boast a huge squad — possibly 50% bigger than Sale's — and have an academy system that is comparable to Sale's. You would expect Sarries to have just that bit extra quality carrying over from the first team into the up-and-comings.
It didn't work out that way, though.
---
This match was the proverbial game of two halves. The first half was characterised by the referee seemingly incessantly pinging Sale for various offences and Saracens with the upper hand for most of the time, but only a narrow lead (19-13) at the break to shows for it. By rights, Sarries should have gone in 19-6 up, but a bit of madness throwing long on a defensive 5-metre lineout at the end gave Ant (or was it Dec?) any easy score, which AJ converted.
In the second half, Sale seemed to have improved their discipline, as the pinging seemed more evenly distributed. This, in turn, allowed for a bit more continuity of play from the team and that was reflected in a much more dominant performance that saw them win the half 16-3.
Tries from Vadim's little brother Alex and from Mike Haley, following some classy footballing skills from Lord Byron put Sale 7 points ahead with only a few minutes to go.
That it wasn't a 9-point lead was down to one of the more questionable decisions by the referee, when he deemed a toe tap from AJ to be the start of his run-up and allowed the charging Saracens player to pick up the ball. AJ stood there, unmoving, as bewildered as just about everybody else watching. It was almost as if the ref was making it up…
---
Did we learn anything from this game? For me, I'm feeling a lot happier about the talent that's coming up through the ranks. Everyone put in a basically decent performance and if there were some rough edges, well, that's what training and experience is all about, isn't it?
As Dimes put it at the SSSC event on Monday, our squad of about 40 went toe-to-toe with their squad of some 60-odd and were far from disgraced. The younger lads — Redpath, Reed, James minor —put in a good shift and I look forward to watching them progress. Others (Moore for example) showed that they are simmering nicely and just need a little more seasoning before they are ready for the big time.