View from the south stand: A/W roundup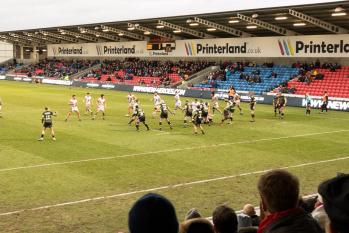 By Cap'n Major Bloodnok
February 6 2018
So, on to the second pair of Anglo-Welsh pool matches. Despite winning both of the first pair of games, Sale looked unlikely to progress owing to the somewhat arcane structure of the competition. Northampton came north off the back of an upheaval that had seen them struggle for the last few games…
The Anglo-Welsh cup strikes me as being a competition in search of a purpose. Is it for development teams? Or is it about "using up" international weekends? If either of those, then it's failing, as many teams play largely full-strength teams and three of the four games were played on non-international weekends.
In the first pair of games, Sale had beaten Worcester 24-21 at Sixways and Saracens 29-22 at the AJ Bell. A failure to get any bonus points coupled with the cross-pool match setup meant that Sale were lying third coming in to the second half of the pool stage.
The home game against Northampton was difficult to call. The somewhat precipitate sacking of Jim Mallinder had seen Saints go into something of a decline, but they were showing signs of coming out of the doldrums and returning to a bit of form.
On the other hand, Sale had (narrowly) beaten them back in November, so we knew it could be done.
For about 30 minutes, 31 men ran around a field. I don't propose to dwell on what happened in the remaining fifty minutes, save to note that — once again — Sale had managed to take a narrow lead into the final few minutes and blow it. I'm convinced that Sale have to have at least a 10-point lead with five minutes to go to have a better than evens chance of winning.
I'm not going to point any fingers to apportion blame for the defeat: this was a relatively youthful team against a much more experienced Northampton side and they came that close to winning.
The following week, Sale travelled to Scarlets to play an even more depleted side, since the bulk of the Scarlets first team would be playing Scotland the next day.
Sale ran in seven tries in winning 45-18, restricting Scarlets to no points in the second half, despite playing with 14 men for some 20 minutes.
Have we learned anything from these four games? Not as much as I would have hoped, because of that lack of a clear purpose to the competition that I mentioned above.
I think we can take heart that Sale seem to have a good crop of young players coming through, but we can't really compare with the equivalent players in other teams, since there is no consistency in the way teams use their squads.
For me, I'd like to see the Anglo-Welsh competition formally used as a "proving ground", perhaps specifying a maximum of, say, five regular starters (however defined) in the match-day 23.
I'd also like to see it played exclusively on international weekends. Assuming the restriction on first-team players, this should not be an issue. It would also lessen the impact of international matches on the primary league and cup competitions.
Finally, why the mystifying cross-pool arrangement? My take on that is that it is simply to get an even number of matches: two home, two away. Look at it this way: sixteen teams — 12 English, 4 Welsh — four pools of four (the only way to evenly distribute the teams). A traditional arrangement would mean six pool games (which is too many to fit into the season) or an unequal number of home and away. By playing cross-pool, we play only four games, but keep equal numbers of home and away. Simple, although the system does bring some unwanted baggage with it.
Anyway, from this point on, Sale only have one competition to worry about: the Premiership and getting as high a finishing position as possible. First up, London Irish and a game that they really need to win.