And now the end is near...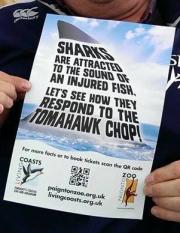 Well that went well.
By Tigger
April 24 2018
...but before we draw the final curtain I would like to look back over some of the intersting topics discussed over the last few weeks and look ahead to Exeter away.
It's been a strange, sad and difficult season for me. I won't bore you with the details but last October I decided to take a break from all social media. One of the best decisions I have made in a long time. I still read the posts on the forum but managed not to get involved with the discussions (though sometimes it was very tempting). When the Major asked for some help with a front page story I put my hand up (I am sure there were many others) and thought I would look ahead to Exeter and just look back on some of the interesting topics of late.
Reading this forum and not get involved with the debate gives you plenty of time to think about what has been said. And a lot has been said. The first thing that I realised was that a lot of posters are conflicted over Dimes. With one topic we say that he is great for the club and where would we be without him. The next we question his decision making and recruitment policy. I am sure he finds it very amusing. For the record I hope he continues with us for a long time. He gets a lot more right than wrong and we do punch well above our weight. I think that the year we had to battle for our survival...with the Championship looming...if anyone else had been in charge we would most likely have been relegated.
And let's talk about Denny and that incident. I still cannot believe he was found guilty of a homophobic comment without any evidence when the 'victim' did not want to peruse it. How someone can make a comment that one player hears and no one else is strange. The RFU though were going to make an example of Denny no matter what. Even without any evidence. So on the balance of probabilities he was found guilty and a very, very dangerous precedent has been set. I certainly agree that there is not room for homophobic slurs or attacks but this is just as dangerous....finding someone guilty without proof and damage his reputation and standing within the rugby community. Possibly damage his chances with England and any sponsorship deals. Basically affecting is ability to earn a living. If that had happened to me I would be suing the RFU. And then along comes Israel Folau. I am sorry but a player, a role model, can wrap a homophobic attack in his 'beliefs' and get away without any sort of ban or punishment? I don't want him at Sale. There is nothing else to say on the matter. Except that on the balance of probabilities he is most definitely guilty and as for Jackson and Olding. They were found not guilty. So that is where it should end. Except for their conduct on social media which was disgraceful so on balance I would prefer not to have them at Sale.
I would also like to wish all the best to Will and Mike on their new endeavours (with the caveat that if they ever face us they have a nightmare of a game). Both have been with Sale for a long time Mike's first game was in 2012 Will's was in 2011. It's always a shame to lose players who come through the academy but they want the opportunity to play international rugby. It's unlucky that Will had such a bad run with injuries...who knows if he had kept injury free he may have been on Englands radar. I look forward with interest as to who Dimes brings in. And the comments that come with it.
As I write we sit in 7th place 2 points behind Gloucester, 3 points behind Tigers 5th and 5 points behind Newcastle in 4th. Tigers and Newcastle play each other on Friday night and Gloucester play Bath the same time we kick off against Exeter. So by 5pm on Saturday we will know what we have to do against Tigers in the last game. 5th or 6th is still very much achievable...mind you so is 8th. Going down to Exeter was always a tough trip except for one glorious day in the sun, Saturday 19th April 2014, and my first visit to Sandy Park. We travelled in hope rather than expectation as we had lost our last two home games to Saints and Quins as well as Quates and Dan Braid to injury. It was a very sunny weekend and as we sat in the beer garden at the City Gate on Friday no one gave us much chance of a victory...maybe a losing bonus point. Well we could not have been more wrong. It was one of those days that make all the long trips away worth it. First half was promising ...we led 7-19 at the break with three tries. We thought it was squeaky bum time. What we didn't expect was a further 5 tries and a winning score of 12-55. It was a good night....I think. So we travel away to Exeter this weekend and I will be there again to hopefully see a good game of rugby with a Sale win. Maybe this time travelling with a bit more hope but win lose or draw I know it will be a great weekend as we are travelling with great friends and Exeter is a fantastic place to visit. I look forward with interest as to what team we will put out and know that no matter what we will give it our all...just look at the bonus points we have this season....14. Only Exeter have more. Our points difference is +62...only three teams have more (Exeter, Saracens and Wasps). So there is room for optimism and we are certainly moving in the right direction. Whatever happens we will be back next season to watch Sale.
We will still have our opinions and our moans but in the great scheme of things they are unimportant and I will wait with interest as to what posters have to say about the next two games and especially what we make of any new signings. On a personal note I would like to thank you all for cheering me up on a daily basis!
Just out of interest I have only attended two games at home this season. Worcester and Gloucester. And I will be at the Tigers home game. Look forward to seeing you all there.
PS. Major is off on his holidays after the Tigers game so we need volunteers for front page stories. No Lions tour this year and an easy ride for me. IF I don't get any stories then the board will die...and won't be back until after the first competitive game of next season. This is not an idle threat. So please PM me and I can schedule the many interesting stories...need 10 to be safe. Over to you...