The Centre of it all.....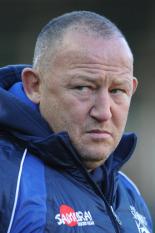 By NorthernMaori
June 14 2018
Some say he has, some say he will, some still doubt he will at all.....Van Canonball that is. NorthernMaori takes a look at the options. ( Please note that this was written at the end of the season).
So, with the season having drawn to a poor close and despite the Sharks ominously circling the top 4 and then top 6, they ultimately had to settle for the usual prey of 8th place and a Challenge Cup campaign to come.

Throughout the season Sale had to deal with a faltering start, a rally, impressive debut campaigns and cameos; a lack of squad depth and a mix and match backline pieced together out of necessity rather than preference. All of this with the next phase of promising youngsters too young (still in school) to be thrown in to the riggers of top flight, professional rugby.
The cameo mentioned undoubtedly refers to that of a certain Rohan Janse Van Rensburg. His short but impressive stint trading a mane for a fin highlighted just what has been missing from a dynamic backline; and how much sharper the Sharks' teeth could be with a bulldozing, dynamic presence in the midfield.
In previous seasons the Club have had to make do with the Smash Bros of Johnny Leota and Sam Tuitupou, which did provide good front foot ball without the precise dexterity required to then distribute to wide supporting runners. Other players have also had to attempts at cementing their place in the starting line up by filling the 12 shirt.
Will Addison – for all his strengths and spirit never quite fit in the shirt or maybe the system, occasionally looking like the one player in the junior team who sees every match as an audition to show their individual skill. He is probably more suited to operating in greater space provided in the 13-15 shirts. Good luck to him in Ulster and I for one hope that he is a great success and that we soon see him in the Green of Ireland, to show those down at the RFU an sample of what they are missing by rarely venturing North of Leicester.
Mark Jennings – my late grandmother often told me that God loves a tryer; and I feel that this very much sums up Mark Jennings. Making an impact whilst very young he unfortunately has spent much of his professional careers either injured or having to learn how to operate in a team lacking imagination or adventure. The injuries have certainly taken their toll on a promising player who could have been a guaranteed starter for Sale. They have meant that he has spent just too long having to rehab back to fitness rather than spending time developing his footwork, passing and evasion skills to give him a fuller package in the 12 jersey. Still a useful squad player the Steve Diamond will do well to retain Jennings over the long term as an squad option who you can be certain will always put his body on the line for the team; unfortunately a back up 12 at best in my visions of a squad.
Sam James – the incumbent 13. The older of the James brothers Sam started out as a 10 in junior rugby but made his professional breakthrough by establishing himself as a useful ball playing 13. Despite the 17/18 stats showing James as having a poor tackle success rate this should not detract away from the positives that he brings to the team and the system created at the Sharks. He can providing playmaking from wider spaces, reliving pressure on the 10; he has a useful kicking game and an underrated offload which helps convert those half breaks in to full on try scoring opportunities. Some people have mentioned him as something of a Will Greenwood-esq player, which I can see and I have though that he could do a decent job at 12 provided that he had move of a "bosher" at 13, maybe the reason that the Addison-James or James-Addison partnership never really bore fruit is because they both want to be that secondary operator. Keep him at 13 for now, but lets stop playing him at 10 as without the secondary playmaker to assist him there he is relatively wasted.
Luke James – the younger of the James brothers. Luke came through the Sharks Academy, club and school rugby playing in the backrow and then at 15! The second half of this season he has certainly shown that he is up to the quality required for Premiership rugby and should be allowed the time and space to develop whilst also putting on a bit (but not too much) bulk. He finished the season as arguably the Clubs go to 12 and deservedly won Young Player of the Year, however, nobody wants to see such a promising young player burn out and therefore should be allowed periods of rest to fully recuperate throughout the season.
Johnny Leota – one of the previously referred to Smash Bros, Johnny Leota has become a fans favourite at the AJ Bell (btw what an awful name for a stadium), through both his effort and charming personality. He spent the majority of the season injured making short appearances at the business end to show that he is very much still alive and kicking. At the time of writing this I am unsure as to his future at the Club but in my opinion should be retained out of loyalty, respect and pride; just three of the things that the sport stands for. Johnny can help keep moral high around the Club whilst also firming that relationship between the Club and its supporters. His guidance to younger players should also not be overstated with a role in the Academy a useful long term solution for the player. His drive and determination to overcome injury this season would benefit younger squad players should similar befall them, therefore SD should retain the big man.
Cameron Redpath & Kieran Wilkinson – I'm grouping these two together as I haven't seen much of either of them but I have heard positives about both. Apparently equally adept at 10, 15 and 12 maybe on of these two players will break in to the team next season rendering all of the consternation about the 12 shirt pointless. Let us all just give them time to develop at their own pace, allowing them to make mistakes and to learn in the same way that many have done so before them. Also, lets hope one of them retains 10 as a primary position as we are a bit short there.
RJVR – wouldn't it be great if he came back. He understands the gameplan and knows the squad; but the rumours continue to mount that he is off to Gloucester "Lions" to reunite with the other former Super Rugby runners-up. Until that point we can just hope or consider other options to add to the squad and potentially solve the 12 problem, here are just a few examples:
Mark Atkinson – former Shark could be surplus to requirements if RJVR joins Glos. Has developed his game over the years and would contribute to the Club's homegrown ambitions and EQP credits.
Theo Brophy Clews – LI player who has played 10 and 12 from what I've seen. Good, young and would fit in well with the squad.
Paddy Jackson – I know, I know. He is not a 12 but if he came and that is IF, he would be at 10 you imagine potentially shifting this the current to 12.
AJ MacGinty – current 10 and chief playmaker. A breakthrough year for the Irish-American, has shown a threat with ball in hand and is not afraid of the contact. Does play at 12 for USA and therefore would not be a stranger to the position.
Stuart Olding – again this is an IF. More of a playmaking centre than a crash ball option but a decent signing money and rugby wise, if not politically or socially.
James O'Connor – No, just no. Leave him at 15 and let him recapture the magic from his younger days.
Jesse Kriel – has been linked. A 13/15 his signing could result in Sam James shifting to 12 and a change of system. Direct runner who can pick a good line you have to feel that he would be a good signing.
Andries Coetzee – predominantly a 15 but could operate as a 12 or allow a backline re-jig.
Kyle Eastmond – has been linked to Sharks before. An Oldham-lad who would settle in well back in Greater Manchester. His signing would probably require an alteration in tactics.
Quade Cooper – why not sign up another reported bad-boy. What a motley crew we would have! Also, personally I would just love to see how he fared in the Premiership.
Anyway, this has dragged on a bit now. I'm sure there are players I have missed off who are at the Club, in the Academy, who have been linked or who you think would be useful solutions but I have other things to do. Next time, someone else write a cover story.
Cheers,