View from the south stand: Sale 13 Wasps 31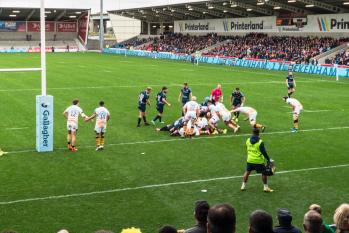 By Major Bloodnok
September 26 2018
A quandry—Feelings of foreboding—A glimmer of hope—Disappointment—Clutching at straws—A New Hope
---
I've been pondering for a while what exactly to write about this match. I'm trying to keep my optimism going but it's proving a bit difficult. Not so much from a 1-3 record but from the manner of the defeats (and the win, if I'm honest).
Although there was a fairly bullish atmosphere at the gathering of the clans, I couldn't help but feel a degree of foreboding that had been with me since before the start of the season. When I first saw the early fixtures—knowing that we'd be without Faf, Splash, JOC and van Cannonball—I feared that we could be looking at a won 2, lost 4 (or even 1-5) start.
Still, I consoled myself, we're facing teams that we might well have lost to, anyway, so at least we're not losing games that we might otherwise have won had the big guns been around. I know, it's a thin thread to hang from, but such is being a supporter of a sports team.
---
We get to the ground, the game kicks off and—wouldn't you know it—all the doomy, gloomy feelings turn to hope and expectation as, within the first two minutes, Nathan Hughes gets binned and Sale score a try.

And, for the next 20 or so minutes, we dared to hope. Sale were looking fairly confident and Wasps were being stretched and making a lot of unforced errors.

That was when it all started to go off the rails: Wasps began to get their act together and managed a couple of worrying breaks that seemed to expose Sale's defence quite badly. And, inevitably, they scored two tries in the five minutes before half time to go in with a psychologically very important lead.
---
Let us pass over the second half with the observation that in two home games so far, Sale's total second half points amounts to six, three in each game.
---
Of the players that took part, my view is that pretty much only Marland finished the game with any credit. He goes looking for the ball, carries well (if a bit lateral at times—but with justification) and basically looks as if he cares. Contrast that with Denny, who seemed uninterested much of the time, hanging around on his wing for all the world like someone who thinks the ball should be delivered to him on a plate (I don't think the butchered pass late on was his fault, though: it was way too high. Yes, he might have held on on another day, but not this day).

I will state here that I don't think we'll finish bottom, I do think that things will improve over the coming couple of months, but I doubt that we'll get any comfort from the next couple of weeks. (although with today's news, I may revise that – let's see what happens on Sunday).

What does concern me is the way the team have fallen off massively in all four second halves so far. There is no spark out there; everything seems dull and uninspired, going through the motions.

No pizzazz.
---
Where to from here? "The only way is up"? Not really: bumping along the bottom is an option, unfortunately. As I said, I think things will improve and we'll see a bit of a march up the table before season's end. How far that march progresses depends on exactly when it starts, but we'll start to pick up the wins we need. With a squad of 32, or 40 if you include academy guys (Dimes's figures, not mine), you're going to be hit badly by the loss of four key players for several weeks. There's no getting around that – it may not be an ideal situation, and we can argue that we shouldn't be here, but here is where we are and the lack of Faf, JOC, van Cannonball and Splash cannot be dismissed as "well, a top-flight team should be able to cope". We can't cope with such a loss and that's why we are where we are.

Yes, yes, "forwards win matches" and the problems seem to be mostly in the pack and the missing players are all backs, but let's not underestimate how much backs doing good things with average ball can inspire those forwards to provide better ball. On Saturday, Wasps didn't have to worry too much about defending the ruck since they knew that Cliffy was unlikely to go on any sniping runs from the base. That meant they were better able to defend the centres and wings. Put Faf in there, and immediately you've got a defence that's a bit worried about what's going to happen. Add van Cannonball and they're looking at double-teaming in the centres, opening the wings a bit more and then if you've got someone like Ashton threatening the gain line from full back…

Any pack has got to take heart and up their performance if that's what they've got behind them. And the pack we have is not substantially different from the one that did a reasonable job last season. Here's hoping that the arrival of Dorian West will kick-start a rise out of the current lethargy.

I expected a bad start – I just didn't expect quite such a series of lacklustre performances, and I think that's what disappoints most.

Leicester on Sunday is going to be, for me, the measure of the team. Can they pick themselves up to compete away against a team that are going to be smarting from an unexpected defeat against Worcester? I can't say I expect a win (although hope springs eternal...), but if they can worry Tigers—make them sweat a bit, keep it close—that would go a long way to restoring confidence and starting the long haul back. I would hope that there are players who see the next couple of games as an opportunity to keep the returning stars on the bench. A losing BP on Sunday and I'll believe we can beat Newcastle; a drubbing and I'll be worried.