View from the south stand: Sale 20 Newcastle 7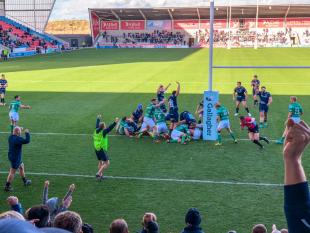 Nope. Not this time...
By Major Bloodnok
October 10 2018
Reflections on being bottom—Hope versus realism?—30 minutes of sensory deprivation—A familiar scoreline—Restoring pride—A huge blow—Hope springs eternal
---
Bottom of the table, one win from five matches, a single bonus point, massive negative points difference; things were looking a bit grim.
The mood was somewhat subdued at the gathering of the clans. There was a degree of belief that Sale should get a confidence boosting second win ahead of the five-week break and to go into that break off the bottom, but tempered with the understanding that this was not a given.
And so we set off for the stadium in a mood all too familiar to Sale supporters over the years: a sort of gloomy optimism.
---
There were a couple of reasons for the "gloomy" part of that mood: one called Goneva and the other called Sinoti. You're always aware at the back of your mind that either of those two could suddenly turn in a moment of brilliance that suddenly puts Newcastle onto the front foot and everything changes. Add another reason called Flood and you're thinking "this could all go horribly wrong".
So, when Goneva went off for an HIA (which he didn't return from), there was a bit of a lifting of spirits among the Sale faithful that one threat had been removed.
And then, after 20 minutes, Flood also went off and we started to feel even more of a lightening of the mood.
I don't want to make the first 30 minutes of this game seem more exciting than they really were, though. This was a mostly dreadful, stodgy half hour that we really should have been paid to watch. Oh, there was some pressure from both sides and a couple of extended phases of play (that inevitably ended with some form of handling error), but on the whole it was entirely forgettable.
Even AJ's penalty on 33 minutes to open the scoring was seen (correctly) more as the inevitable precursor to a Falcons' score than as the start of the game proper.
Sale have this astonishing ability to go to sleep after scoring and gift the initiative back to the opposition. So it was five minutes later when Newcastle bundled over for a short-range try that took us into the interval 3-7 down. The gloom and sense of foreboding was palpable.
---
Twelve minutes into the second half, Sale had a promising attack down the right when Mulipola pushed Yarde over off the ball, earning himself a 10-minute rest. A couple of minutes later, referee Foley was asking the video ref if there was any reason he couldn't award Philips's try. No reason was found, the try was awarded and converted and Sale were now 10-7 ahead.
With that score, Sale made several changes including the long-awaited return of a certain J. O'Connor — looking, I must say, totally unlike the person who took to the pitch last season. His hair was darker and longer and — am I seeing things? — looking a tad chubbier in the face.
Whatever changes he'd made to his appearance, his presence on the field had an immediate effect: there was a bit more danger to the attack. The Falcons defence, already a bit wary of the threat posed by van Cannonball, now had a somewhat more unpredictable character alongside him to consider.
With just a few seconds of Mulipola's sin-bin remaining, Falcons ensured they would remain at 14 men for another 10 minutes as scrum half Micky Young was binned for a high tackle.
Five minutes later, the ball spun out left to Bryn the (somewhat lesser) beard who raced the length of the five-metre area to score Sale's second try. 15-7.
On 73 minutes, we got one of the things we'd been waiting for: a van Cannonball run. He received the ball 20-odd metres out, ran over the first defender, brushed aside the second an dragged the third with him over the line for the third try.
AJ somehow missed the conversion and we were at 20-7 with about five minutes left. Surely this one was in the bag?
Then we got the incident that we really, really didn't want: a seemingly innocuous tackle left Marland lying on the ground in agony. The replay showed— don't watch the replay. Seriously, skip past it if you're watching the full match video. And with that, we've lost the only player to emerge in credit from all the games so far for the next six months or so.
After that, the game fizzled away to its conclusion and 10th place (temporarily — now 11th for the interim).
---
So, a win: that's good. A win against Newcastle, a team that have tripped us up too often in the past: better. Three tries and nilled them in the second half: promising. Two of the four missing names back and looking sharp: surely we're now on the upward path.
On the other hand, losing Marland is a big blow: just as we get two of the big names back, we lose our currently most penetrating back. Fortunately, back three is an area we're not short of cover for. With Ashton having one more game of his ban to serve, I expect to see Byron, JOC and Denny (if fit) running out against Perpignan, with Horse possibly losing out to a returning Ashton against Connaught.
---
I am cheered by this result. Still much to do, not least making up lost ground, but Dorian West looks to have already started firming up the pack and now we have a new prop to ease some of the pressure on Harrison.
The return of van Cannonball and O'Connor has markedly improved our chances of scoring tries and, once Ashton and Faf are back, I expect a flurry.
I'm in a bit of a quandary, though: I want Faf back in the team ASAP, but I also want him to have a proper rest after some 18 months of continual rugby. Definitely rest him for the Premiership Cup games (I think they should be officially recognised as being to blood new players or give meaningful game time to fringe or returning guys), but there's the matter of Europe.
If we have ambitions to progress beyond the group stage (and I think we should), then we can't afford to play less than our best in any game. But… But, but, but… We have to be aware of the needs of the players: their welfare has to come first, and Faf needs a rest, so put the selfish wants away and rest him for the next four weeks, then bring him back for the last 20 against Leicester in the Prem Cup, to get sharp for the trip to Saracens the following week.