View from the south stand: Sale 34 Connacht 13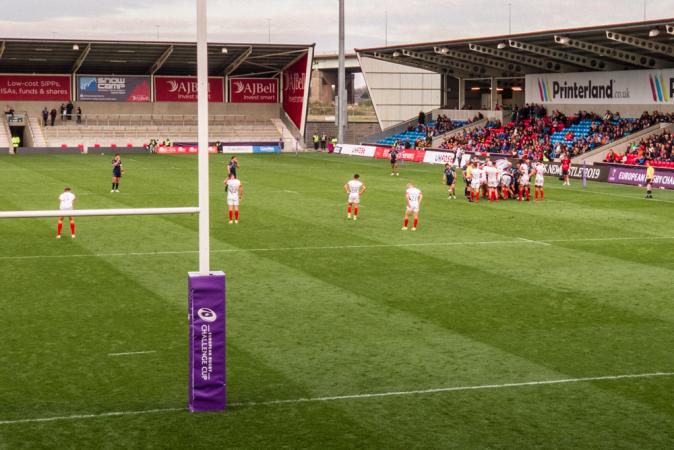 By Major Bloodnok
October 24 2018
A prescient quip—an exciting prospect—early disappointment—nip and tuck—evenly balanced—a change of attitude—determination—cutting loose—sitting pretty.
---
At the gathering of the clans, I asked several people whether they thought Chris Ashton would get a yellow card before or after scoring his hat-trick. It was meant as a joke, but I'll certainly take credit for a bit of semi-prescience.
It was a nice day, promising some running rugby – given Sale's announced backline that included Faf, van Cannonball, JOC and a returning Ashton. Add Wilkinson (who gave a good account of himself at Perpignan), Horse and Sam James into the mix and that ought to make any opposition think hard about defence.
Sale's pack is—let's be honest—still a work in progress. That's not say that they are slouches at all; it's just that the depth isn't really there and, with a couple of exceptions, they're not in the super-A class. So, tasty as the backs look, they're still dependent on the quality of ball that the forwards can deliver – would they be able to repeat last week's heroics and turn over a Connacht side that many pundits were talking up?
---
For most of the first half, the answer to that seemed be "not really". The teams were evenly matched as the half-time score of 13-all showed.
Losing Faf to the bin for a deliberate knock-on with less than two minutes on the clock was not an ideal start and gifted Connacht an early 3–0 lead. With no further score before Faf returned, Sale could be said to have come out of the sin-bin ahead (given an expectation of 7 points). Shortly after Faf's return, Connacht went 6–0 up and we were starting to wonder whether this might be the start of a long afternoon.
Within about 10 minutes, though, a couple of penalties had pulled the score back to 6–6 and the match was progressing evenly and intriguingly, if not massively excitingly. During this period, van Cannonball needed treatment a couple of times, finally going off with just over 20 minutes gone. Had he been brought back too soon? Were we about to lose him after only four games back? Later reports suggested that he had been brought off as a precautionary measure (which would have come as shock to certain Independent journalists, I'm sure), so we live in hope. Maybe he'll be rested for the next two Prem Cup games and be back firing on all cylinders in a few weeks' time.
Then, on 30 minutes, Connacht bundled over for a try in the right-hand corner, expertly converted for a 13–6 lead. "Oh, boy", we all thought, little realising that that was to be Connacht's last score in the game. It didn't seem that way at the time, though, and there was genuine concern that this game could get away from Sale, if they didn't do something sharpish.
I made a note at about this point in the match asking myself why we kept kicking the ball away, given that, with a bit of patience, we have a back line that is capable of breaking through on the slightest opportunity.
Maybe the team were wondering the same thing because, a few minutes later we saw a neat passing move involving JOC to James, L. (on for cannonball) to Ashton, who fended off one tackler to run 20-odd metres down the touchline and carefully place the ball in the end zone (had Dimes warned him not to show off? – especially after Freddie Burns's unfortunate gaff). Faf kicked a very good touchline conversion to take us into half time 13-all, which was probably a fair reflection of the half.
---
In the annals of sports journalism, few clichés will have been used more often than "this was a game of two halves".
This was a game of two halves. Well, yes, obviously: that's the way the game is structured. But the cliché leaves unsaid the implied "contrasting".
Sale came out for the second half as if they'd collectively decided to extract a few digits and get the job done effectively and efficiently.
This changed attitude was, for me, epitomised by two defensive incidents.
The first came about eight minutes into the half, when Connacht had a scrum inside the Sale 22. The Connacht 8 picked the ball up and was promptly flattened by a small blond Rottweiler named Faf who seemed to want to prove that his giant-killing act against a certain England forward in the summer was no fluke.
The second incident came late in the game, with Sale already 21 points ahead and in no real danger of losing. The ball was near halfway towards Sale's right wing. Chris Ashton was heading over to the left to join the defensive line when a Connacht player broke though, skipped a couple of tackles and was heading for the line—thinking Christmas had come early—when he, too, was flattened, this time by an intercontinental ballistic Ashton.
There was no real need for that: a try wouldn't have threatened the win. It wouldn't even have given them a losing bonus point. It was just sheer bloody-minded refusal to give the opposition anything. And it's not the first time I've seen Ashton chase down a seemingly certain score – he did it in the pre-season friendly at Heywood Road. If that sort of attitude infects the rest of the team, then I think it will go a long way to making them very, veryhard to beat.
Between those two incidents, Josh Beaumont crashed over from the base of a scrum, Ashton took a quick penalty five metres out for try number three and later got his hat-trick out wide. This time, he did do the swallow dive, and I, for one, don't blame him one iota. Faf kicked all three conversions for 100% on the day, a 34–13 win and a second bonus point.
---
So, Sale are sitting pretty at the top of their group on 10 points, with Connacht on four and the two French teams with two apiece after drawing in their own game. I hope that Dimes intends to keep this up and has targetted 30 points from the six games – what a statement of intent that would make…
This was the first game this season where Sale were even approaching full strength in the backs. AJ was missing but, although I haven't mentioned him here, Wilkinson stepped up to the mark (ah, the clichés, they're irresistable) and showed that he's good enough to deserve an extended run at out half.
Solomona and Yarde are missing but… we have Horse and Splash (and Paolo). No loss of threat there.
Add to that Luke James is becoming good enough that even the loss of van Rensburg is not that big a deal. His brother Sam, to my mind, has found his rightful home at full back.
And then we have Faf. The beating heart of the team around which everything revolves (yes, I can mix metaphors as well). We have to keep him. Move heaven and earth, whatever it takes, if we can keep Faf de Klerk long-term, then this team will go far.
Which leaves the forwards. No-one played badly and they delivered quality ball which the backs capitalised on. It's just that we do need one or two top-notch, gnarly hulks who can terrorise the opposition and bring on the existing guys to even better things.
OK, I may be going overboard a bit here, but that win put a lot of heart into me for the future. We will march up the table, we will do well in this cup and the future is bright (and Orange?). Don't wake me up just yet, I'm enjoying this.