View from the south stand: Sale 15 Saracens 15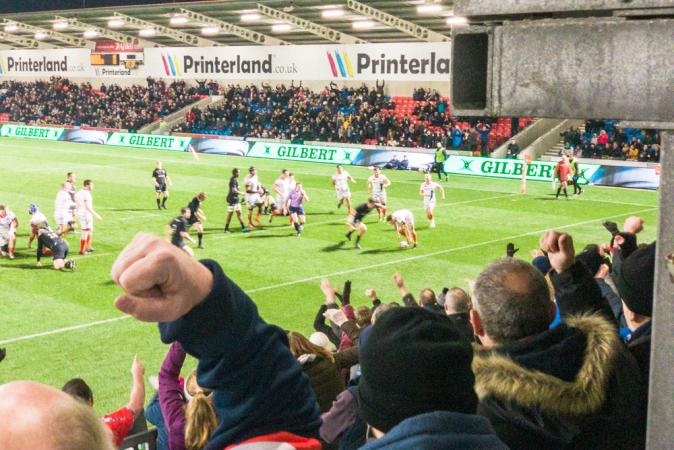 By Major Bloodnok
November 7 2018
A perplexing time—A failure of planning?—A more even contest—Early hopes dashed—Hope restored—A lack of self-belief?—Honours even—Inspiring talent—Clouds on the immediate horizon
This is an odd time of year. European competition, the whatever-it's-called-this-year cup and the autumn internationals mixed in with a couple of Premiership games.

You would think that the Premiership Cup, being touted (but not enforced) as a "development" competition, would be played during the autumn internationals, when teams are deprived of many of their top players. But round 1 was before they started and round 2 (this one) is played on the weekend of an "unofficial" game (i.e. outside the window during which national unions can request players). So, three official international weekends and three Prem Cup games - perfect, eh? No. There is a one week overlap. Round 3 is the same weekend as the first official AI, leaving two weeks of Premiership matches played at the same time as internationals.

Surely someone, somewhere, could come up with a schedule of matches that doesn't screw up so many important club games.
---
After last week's drubbing at the hands of a pretty-much full-strength Worcester, we were hoping for a more even contest, given that Saracens were fielding a team mostly comprising fringe and/or second-string players — much as Sale were.

For the first few minutes, Sale were looking sharp, gaining a couple of penalties through good forward work and resulting in a 3-0 lead after 5 minutes.

After that, though, Saracens started to show their class and began to dominate the play. Halfway through the half, Saracens' number 5, Joel Kpoku (who seems to be a clone of Maro Itoje), bundled over the line for the try. With the conversion, Sale were now 3-7 down.

Five minutes later, they were 3-12 down after another Saracens try, unconverted this time.

With five minutes to go in the half, a bit of midfield grappling was turned into a try by Luke James feeding Aaron Reed who made a stunning break through a tiny gap before sending Paolo Odogwu through into the corner. A cracking touchline conversion from Wilf meant that we went into the break 10-12 down, which, to my mind, was a pretty fair reflection of the half (possibly flattering Sale slightly).
---
Sale were much brighter in the second half and were rewarded with a smartly-taken try by Wilf who then rather inexplicably missed the routine conversion. That brought the score to 15-12, which soon became the final score of 15-all ten minutes later after a Sarries penalty.

But the blight of the second half, as it has been so often, was the apparently pointless kicking. It seems to me that the team don't have confidence in their own ability to retain the ball over more than half a dozen phases. If things get a bit static, then a sense of panic creeps in and someone will try a kick ahead. This rarely works.

Possibly the most egregious example of this came during what was actually a very promising attack, with the ball moving out wide and the centres and wings looking a bit hungry. Then, inexplicably, Luke James tried a sort of grubber-come-something kick through. The net result being that within 30 seconds, Sale had been sent back 70 metres into their own 22.

Why? I'm not expecting Newcastlian heroics of 38 phases with the clock in the red, but at least have a bit of patience to try keeping the ball for a while longer and trust the backs to find an opening.
---
The takeaways: Aaron Reed had some serious gas in his boots and will be pushing Solomona, Yarde and the rest in the not too distant future.

Wilkinson continues to impress, but needs time off now, lest the pressure of being number one overwhelms him. The arrival of du Preez should help, and I hope that Wilko continues to be given a good 10-20 minutes in the upcoming games to ease him into the role that will one day be his by right.

Luke James is not a 15. Sam is, but not Luke – keep him in the centres, where he's much more deadly.

Why wasn't Warr given 20 minutes? We know what Wilf is like and what he can and can't do. Warr (when I've seen him) has looked lively and capable. This should have been a perfect occasion to give him some time on the pitch, but he got nothing. Don't understand it.

Looking forward, Dimes has said that he'll put out a full-strength side against Leicester next week. Obviously, that'll be minus players called up for international duty – including, it seems, Faf again. Someone's having a joke, aren't they? I mean, I'm dead chuffed for him forcing his way into the starting 9 jersey, but he was supposed to be on the fringes when we got him.

I was looking forward to the next two Premiership games against Saracens and Saints, but I now start to fear that we may get a return to the early season doldrums that we thought had come to an end with the victories against Newcastle, Perpignan and Connacht. Time to hide behind the sofa, I think…