Vue depuis la tribune: Bordeaux 24 Sale 50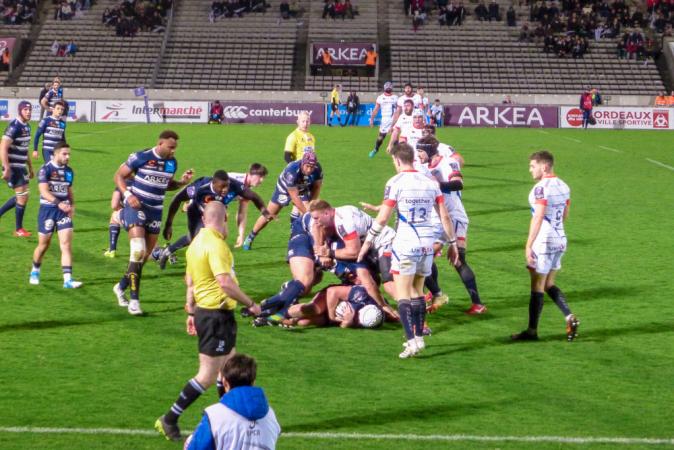 By Major Bloodnok
December 10 2018
Reflections on past trips—a new memory—relaxing—various alarums—a disconnect—a worrying start—response—a procession—delight—cheers—an old friend—squashed rumours
There's usually something memorable about a European away trip, whether it's the result or, more often, something amusing or unfortunate (or both) that happened to someone, probably as a result of excessive imbibing.
This, though, must be the only one where the list of memories includes the words "tear gas".
As I write this, I'm sitting in a cafe in the Place du Parlement, enjoying a pleasant petit dejeuner on a quiet Sunday morning.
Yesterday, though, sitting in the Connemara pub for the gathering of the clans, things took a decidedly surreal turn.
---
The day had started simply enough: a tram ride into the centre, a large black coffee and a wander toward the place I was planning to have breakfast. That's when I started to notice the police presence: several large vehicles full of heavily-armoured flicks (the sort that are always cocking up raids on Spiral). And everyone else just wandering about as if this was something that happened every day. The only concession I saw to any form of concern was the mesh covering the windows of Louis Vuitton.
It did occur to me that this might not have been the best trip to decide to wear my yellow fluoro Sale shirt, but the mood in town remained incredibly relaxed.
Even when the march started, things were convivial. Marchers popped into the pub for a bit of refreshment and the only disturbance was a few people revving their motorbikes.
But then people began to arrive with reports of things starting to kick off, riots and tear gas a couple of streets away. And yet here we were in an island of calm amid apparent chaos.
The trams to the stadium were still running, despite so many being cancelled. The disconnect from reality was very strong and I was seriously starting to wonder what they were putting in the beer.
And then, a glance to the left and an ominous grey cloud a few hundred metres away accompanied by a thousand yellow vests running toward us in a panic.
Fortunately, they came no closer and there was no more gas that we saw but, in that moment, the pub seemed very small and the match a long way away.
---
But then it was time to head off and leave the protestors behind for while. A short tram ride and we were at the stadium, all thoughts now focused on whether Sale could keep their exceptional start to the campaign going. I had met a couple of Bordeaux supporters in the morning, and they were not very confident, given that the team selection was - shall we say? - not their strongest.
Not that Sale were putting out a full first fifteen themselves but, on paper, we did look stronger.
Small comfort: I've seen too many matches where a poor start has rapidly degenerated into an even worse performance.
So, when Bordeaux scored an interception try after five minutes, my heart sank a bit with the prospect of another frustrating evening.
But Sale continued to apply pressure and, a few minutes later, Paolo was given the ball out wide and skipped past a couple of players to score Sale's opening try. Wilf missed the conversion, but we were away at 7–5 down.
Let's be frank here: the scoreline flatters Bordeaux. With the exception of a few dodgy lineouts early on, Sale dominated this game in every department.
Bordeaux's first try was an interception during a Sale attack and the third came at the end when Sale were down to 12 men. 10–50 would have been a representative score.
Following Paolo's response to UBB's early try, the game turned into something of a procession: a brace for Ashton and the bonus point from Curry, B, on the stroke of half-time.
And so it carried on: the penalty try (morally Denny's), Cliffy, Denny's real try and Paolo's second.
Add two red cards into the mix (I'm going to refrain from comment other than to wonder where the lawmakers expect a player to put his arm) and four yellows and you have an eventful match that left us all breathless and deliriously happy at the final whistle.
---
I heard a rumour that Dimes was overheard talking to the players in the post-match huddle asking them "now do you believe in yourselves?". They should, because this was no fluke. Maybe Bordeaux fielded a weaker team, but that still doesn't guarantee an eight-try drubbing – that comes from effort, skill and desire. On Saturday, Sale had those in spades.
Strauss had one of his best games since joining, the front row held their own—indeed, the scrum had the ascendency for most of the game—Cliffy also had one of his best games since returning and the James boys seemed to be everywhere.
Paolo, to be honest, has lost a yard since bulking up a bit but there was no way anyone was going to stop him when he got the try line in his sights.
Denny seems to have come out of his recent doldrums and I think it's a toss-up whether it's him or Ashy who gets the next hat-trick. At one point late on, he packed down with the scrum and his fist-pump and look of self-congratulation when they won a penalty told you everything. You would have thought he had single-handedly pushed the Bordeaux scrum backwards.
And then there's Ashton. Just, wow. He's got a good amount of making up to do for missing those early games but you can see the hunger there, the desire to score tries and keep scoring them. Forget rotation, Ashton goes in the team every game from now on (6 nations excepted, I assume). He doesn't need any rest, he just needs ball in hand and a try line to run at.
I think it's vital that we turn the screw in the return fixture next week and look to better this scoreline. For one thing, that would fire up the team for Bristol's visit the week after, and also as a statement of intent: we're not only out to win this, we want top seeding going into the knockout stages.
We're going places. Believe.
---
Postscript: two huge cheers erupted in the pub post-match: the second for the team as they arrived for a well-deserved celebration. It's notable, though, that the first—no less loud—cheer signalled the arrival of a certain former tighthead. We still love him.
VADEEEEEEEEEEEEM!
---
<Puts on Columbo mac>Oh, one last thing: you'll have seen the rumours about Faf going to Gloucester or somewhere else or whatever. All I can say is, if you give them any credence, then you did not see the expression on his face just after the final whistle here. He's going nowhere.