View from the south stand: Sale 14 Bordeaux 17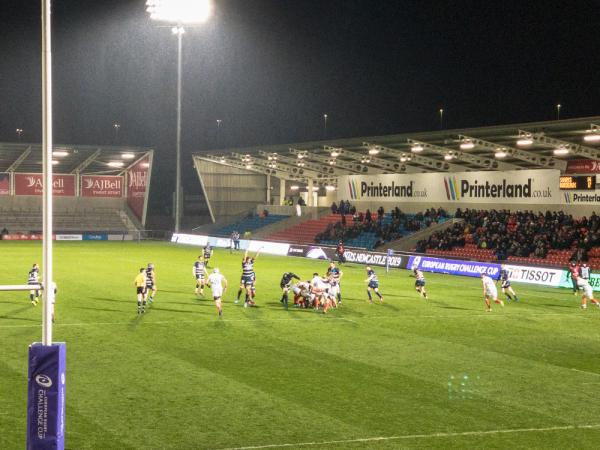 By Major Bloodnok
December 18 2018
Wondering—a conclusion—anatomical concerns—a setback—looking forward—maintaining hope—feeling bullish.
---
I've spent the last few days wondering exactly what I should write about this game. My conclusion? Not much.

It happened. It was a horrible day, it was a horrible match. Bordeaux wanted revenge for last week, Sale didn't want it as much as they did.

Apart from a sublime line from James, L. for Sale's try, there was not much of note—certainly not enough to distract me from wondering if I still had a full complement of toes.

You may think that this is business as usual and last week was the exception, or you may feel that this was a reaction—from both teams—to last week's result: a fired-up Bordeaux against a more complacent Sale.

I'm not going to let this defeat alter my opinion that Sale are definitely improving on the early season disappointment. I don't think they'll be anything like as lacklustre against Bristol – or Gloucester.

Yes, this game was a setback for the ECC campaign: it makes the game in Galway that much more… tense, shall we say? But I don't think it represents a setback in the efforts to climb up the Premiership table.

What will hurt that is the loss of the Bear for the next three games (we could really have done with him against Sarries). Should Harrison suffer a bad injury, then I'd say we're really stuffed.

I take heart that Sale actually looked better with 14 men than earlier with 15. The forwards had more parity in the latter half, and we held them off once Harrison and Webber had come on. The lack came because we sacrificed a back to restore the front row, so were less of a threat there. Had Bristow not had a mad moment and been substituted 'normally' at around 50 minutes, I think Sale may well have won that game.

OK, take that last sentence with a pinch of shark-flavoured salt if you want. To be honest, I was so cold that I wasn't paying that much attention, but the fact that we held them to within three points despite spending nearly half the game a man down (and playing some incompetent rugby at times) gives me a very definite straw to cling to. Also, there's just too much talent there to be that bad consistently.

But we do need greater depth in the forwards—we're still too vulnerable to a couple of injuries/suspensions in critical areas.

Anyway, we're still in contention for a top two seeding. Let's not lose sight of that as we turn our attention back to the Premiership for the next few weeks.

Looking at what comes after, I'm afraid that failure to beat Bristol could leave Sale in deep trouble. Gloucester at Kingsholm is never easy and Sarries are, well, Sarries, whether home or away. We need four, preferably five, points on Saturday to avoid getting left behind.

There's still along way to go and defeat Saturday would not be the killer blow, but it would certainly make life difficult.

It looks like being a good crowd: let's make sure it's a vocal, hostile one. It's English opposition with an English ref: a much more familiar prospect. Let's see how profitably Dimes and the team use this week to put that result behind them and use it to fuel the desire to smash the next game.

Bring it on.