View from the south stand: Sale 24 Saracens 18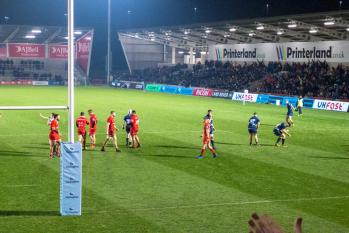 By Major Bloodnok
January 7 2019
Christmas presents—a week to remember—hopes & fears—an all-too-familiar start—a rapid response—belief—just rewards—a positive future.
---
- Saturday, 29th December 2018: Sale beat 3rd placed Gloucester away.
- Monday, 31st December 2018: Faf de Klerk extends his contract to 2023.
- Friday, 4th January 2019: Sale beat 2nd placed Saracens (sorry: spoilers, I know).
---
If there's a Sale fan who doesn't think that those three things make up the best seven days in recent memory, then we'll have found someone who could win the lottery jackpot and complain that the prize was bigger last week.
That results also mostly went our way and Sale ended round 12 in 5th place (and could have been 4th if Newcastle had beaten Quins) was merely the sugar flower on the icing on the cake.
I will readily admit that, even after the Bristol result, I was mentally steeling myself for these two games, telling myself that 2 points would be a reasonable return against two strong teams. To get nine points was beyond my wildest hopes (and if you try to tell me you expected it, I'll not believe you — unless you're one of the team or a coach).
Having watched the games in Bordeaux and at home to Bristol and read about the win at Gloucester, I supped my pint at the gathering of the clans with conflicted feelings. On the one hand, recent performances had convinced me that Sale were fully capable of beating Sarries: on that count, I had no doubt. The devil on my other shoulder kept point out that this was Sarries we were talking about. Most teams are capable of beating them, but they have this annoying tendency to find yet another level to rise to when they need it. They may well be the only team with an eight-speed gearbox.
So, genuinely believing that this Sale team could win, but with the nagging voice of reality telling me not to get my hopes up, I took up my accustomed position after a worryingly long time spent spent in traffic reminiscent of the bad old days of season one. A bad omen?
---
Any comforting thoughts that Sarries may have been a bit off the boil recently had to be tempered with the knowledge that this was the comeback game for a certain Vunipola, B. So it was no real surprise that, eight minutes into the match, that same Vunipola, B crashed his way over the line for the opening score.
Any comforting thoughts that Owen Farrell had been a bit off his game recently were similarly tempered when he nailed the touchline conversion seemingly effortlessly.
It was going to be a long evening…
…For about five minutes. The teams exchanged penalties and then a period of Sale pressure culminated in the Chuckle Brothers ("to me", "to you") Sam James and Denny Solomona bamboozling the Sarries defence for Sale's opening try. Play moved right, with Sam J passing out to Denny, who pushed on and passed back inside to Sam who had an unopposed run in over the line. Rob du Preez missed the conversion, but Sale were back in it at 8–10 down.
Two minutes later, Sam returned the favour. Faf pulled off a lovely switch pass to a charging James, who then shipped it on to Denny, who skipped his way through the Sarries defence for a truly memorable 50-metre try. Denny at his absolute best.
Following an exchange of penalties and a yellow card for Farrell, Sale went into the break with a five-point and one man advantage.
Dare we believe?
---
The second half went as second halves so frequently do: much more attritional and even (in terms of scoring, at least): two du Preez penalties to a Tompkins try (unconverted).
That try came a couple of minutes from no side, but there was still time for the restart and a final phase of play. It is a testament to how much Sale have improved that, although the thought crossed my mind, I did not really consider the possibility that Saracens might snatch it at the death. (Mind you, if I'd known what would happen at Worcester the next day, I might have been a bit less confident.) That Farrell kicked the ball dead with Saracens pinned back deep in their own 22, so taking the bonus rather than risk a Sale score, merely confirmed that improvement.
Because there really has been a sea change in the team. It's difficult to pin down, but it's to do with that afrementioned confidence in their ability to see out the game. A lack of the former bum-clenching apprehension, so to speak. Not so long ago, I would not start to feel confident with less than a lead of at least twice as many points as minutes remaining (and not until the final whistle with less than a one score lead).
But now, there's something there in the team that the crowd seems to pick up on. A confidence in themselves, perhaps.
---
It doesn't seem fair to single out individuals from what was a team performance through and through, but I'm going to mention a few things that struck me.
If Sam James isn't smashing down the England dressing room door very soon, then we have to conclude that the entire national setup is run by idiots. Similarly, if England's right wing continues to be a Denny-free zone, then there is something seriously screwed up.
One of the most prominent complaints that used to be levelled at Denny was his fragile defensive work. That case can no longer be made: he has made several critical, even try-saving, tackles over the last few games. His positioning defensively is much better and the right wing is no longer a point of vulnerability that opposition teams can exploit.
Faf continues to be the fulcrum around which the team revolves. His biggest value is, I think, that defences can't relax; they have to cover multiple options, because he will punish you if you miss one. That's what all the great players bring to the game — an unpredictability based on their ability to change everything round at a nanosecond's notice. That ability is at its most devastating when embodied in a half-back. And that's why, of the three Christmas presents I mentioned at the top, Faf's extended contract is the one that brought the biggest smile to my face and is, for me, the most significant in terms of the club's future prospects.
I can't round this up without mentioning the pack once again. Yes, Harrison; yes, Jonno; yes, Curry (either); but the thing is we have a solid working pack now, so I'm going to give the biggest shout-out to this season's most astute signing: Mr. Dorian West. The change in the forwards has been remarkable since his arrival. Maybe he bullies them…
---
Connacht next and I think we need to go all-out for the win on this one. This upsurge in form needs its tangible reward and I feel the Challenge Cup is our best bet of getting such a reward, so we ought to go flat-out to get a) into the knock-out stages and b) home advantage in the quarters (and semi if we can). A second trip to St James's park and bit of silverware would do an incredible amount for the team's self-esteem and self-belief.
Meanwhile, for the first time in ages, I feel we can be optimistic going into any game. Not that we'll win everything, but that we can win and, if we do win, it'll be on merit. Not afraid of anyone, now.
Bring on Exeter…