Mickey in Wonderland- Saracens v Worcester Warriors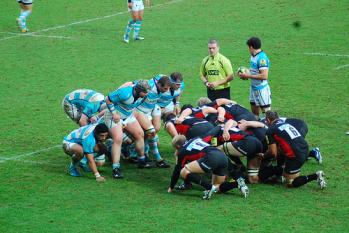 C.T.P.E. by P.N.H.
By Darraghgirl
January 30 2012
Hello boys and girls (sorry just finished panto) welcome to the Magic Kingdom. Today Mickey Mouse and his friends take on Toytown Warriors in Mickey's very own Mickey Mouse Cup! Mickey's Gang are a different team from what we've been used to – a mixture of familiar faces, new blood and old friends. Let's meet them shall we?
Mickey (Jamie George) is captaining the side from hooker (mind those ears). Say hello to the nice boys and girls Mickey! That's it. The rest of Mickey's Gang line up like this. Propping beside Mickey are Piglet (John Smit) and Pooh (Petrus du Plessis) with Buzz Lightyear (George Kruis) and Goofy (Eoin Sherriff making his debut) in the second row. Donald Duck (Justin Melck), Pinocchio (Will Fraser) and Snow White (Jackson Wray) make up the back row. The half backs are Peter Pan (Nils Mordt) and Tinkerbelle (Peter Stringer). In the centre are Cinderella (Adam Powell) and Robin Hood (Joel Tomkins also making his debut) while Tigger (Michael Tagicakibau) and Pocahontas (Kameli Ratuvou) are on the wing. Finally at full back is Bambi (Duncan Taylor).
The crowd are a little on the sparse side (the official 4,970 looks decidedly optimistic) and at least early on the spectators seem to know each other somewhat better than the team!
Warriors start strongly winning an early penalty which hits the post and then Fortey punches through a weak defence and offloads to Sam Betty who puts Toytown in front. Carlisle converts and with only 5 minutes to go Mickey's Gang are looking like the Lost Boys. (Oh no!) Worse is to come. Peter Pan puts the restart straight into touch (perhaps the Toytown witch has him under her magic spell?) but fortunately Mickey's Gang win a penalty from the resulting scrum and finally get into the Warriors' half. A second penalty follows (thanks Piglet) and Peter Pan gets the gang on the score sheet at 3-7.
The Gang exert some pressure and win another couple of penalties which result in a first attack on the Warriors' try line with Tigger and Robin Hood showing well. Peter Pan kicks a second penalty and Mickey's gang are almost level. (Isn't this exciting!) The Gang get back into the Warriors' half with a sustained attack featuring lots of dodgy passes which are miraculously held (well done Buzz). Inevitably the ball finally goes loose and Tom Arscott collects the ball on half way, chips ahead, catches and shows Tigger a clean pair of heels which he can't get his teeth into, to score Warriors' second try under the posts which is easily converted by Carlisle and with just 16 minutes gone Warriors are even further ahead 6-14. Oh no! What can we do boys and girls?
Peter Pan puts the second restart into touch. Mickey gets a bit cross with him and Tinkerbelle waves her magic wand – the spell is broken and from then on Peter Pan is in Neverland (second star on the right and straight on til morning) and hardly puts a foot wrong with some superb passes and kicks. Tinkerbelle is using her magic too to get Mickey's Gang moving and force Toytown Warriors into errors. Peter Pan opts for the corner with his penalty and a strong drive by the pack enables Tinks to collect the ball and fly over the tryline. Peter Pan converts and Mickey's Gang are back within a point.
Mickey gets a bit complacent and loses a lineout. Warriors' Fatiaki is looking threatening (hisssssss) but Mickey's Gang are getting to know each other a bit better now. Snow White is taking control of the 7 "dwarves" in the pack and Donald Duck is waddling well then Cinderella manages to put Tigger free but he runs out of room and into touch (ooohhhh).
Walt McCall Disney has words with the Gang at half time because they come out looking much more sprightly. (He's behind you!)
Peter Pan at last gets the ball in play from the second half restart but Warriors attack through the evil Drauniniu (boooooo) only for their backs to get in a criss-cross and give Mickey's Gang a penalty which Peter Pan, who is playing better and better, puts deep into touch. Robin Hood is receiving some good ball from Cinders, (wasn't she the one who wanted to go to the ball? and who seems to be revelling in her preferred role of inside centre), and starting to find his feet. Eventually Tinkerbelle sees Bambi running from deep and offloads superbly. It looks as if he has to score but those long legs get in a muddle again just like that day on the ice and he falls short, just managing to lob the ball out to Tigger but his outstretched paws knock it on. (Grrrrrrr)
Mickey decides to call for reinforcements and on comes Aladdin (Huge Vyvyan) for Goofy and Baloo (Nick Auterac) for Piglet. Almost at once the Gang win a penalty but Peter Pan for once misses. More changes see Tinkerbelle give way to The March Hare (Luke Baldwin), Pinocchio is replaced by Mary Poppins (Scott Spurling) and Pocahontas by Roger Rabbit (Ben Ransome). A lovely move sees Peter Pan pass out to Cinders, on to Robin Hood and finally out to Roger Rabbit who is almost over. The ball is recycled and Mary Poppins slips a lovely ball inside to Donald Duck for a try which Peter converts and at last Mickey's Gang are in the lead 20-14. Better is to follow. Robin Hood intercepts a pass following the Warriors' restart and scores unopposed under the posts making the conversion easy for Peter and now Mickey's Gang led by 27-14. The Lost Boys have become the Merry Men!
A few minutes later Robin Hood scores again when the Gang engineer a huge overlap. (Robin seems to be enjoying the change from the RSC to pantomime). Peter Pan again converts and the lead is now 34-14. Everything is going splendidly. Peter is controlling things in midfield and kicking beautifully. Cinders and Robin Hood seem to have struck up an interesting partnership (!) and Bambi is everywhere. Snow White and Buzz Lightyear, along with Donald Duck (before his departure) look dangerous and the tight five are looking very solid.
Warriors cast their final magic spell, throwing on Benjamin & Claassens (Tinks may be off the pitch but she is up to the job with her fairy dust). The Gang w in penalty in front of the posts. Should Peter go for goal? Oh yes he should! Oh no he shouldn't! But to much acclaim, Peter goes for the corner. Another attack is launched through Cinders, Robin Hood and Bambi (who is now on the wing) but stops just short. Warriors are pinned in their own 22. Tigger gives way to Mowgli (Nathan Earle, again making his debut) and Peter Pan turns down another penalty in front of the posts (oh yes he should, oh no he shouldn't) and goes for another 5m lineout. This time the forwards make the catch and drive and Mickey himself touches down for the 5th try. Peter Pan converts and the Gang go 41-14 ahead. In the final minutes, The Fairy Godmother (Tom Jubb) replaces Cinderella and Pooh gives way to the hairy Simba. The curtain closes with Warriors stuck in their own 22 going nowhere and everyone takes a well-earned bow.
So a game of 2 halves! The Gang spent 40 minutes singing "getting to know you" but once they did they started to look very promising indeed. Bambi deservedly won Player of the Match but most of the Gang did well and Cinders, Robin Hood, Tinkerbelle, Donald Duck, Snow White and Mickey himself all deserve a mention. Peter Pan was a revelation – the best I've seen him play in the red and black (maybe it was the magic dust from Tinks) and of course Aladdin: his arrival with his magic lamp seemed to be the catalyst for the four try binge in the last 20 minutes. Maybe Warriors were getting weary or maybe the Genie granted him 4 wishes!
The Cast:-
15. Bambi Duncan Taylor
14. Pocahontas Kameli Ratuvou (rep 23 Roger Rabbit Ben Ransome)
13. Robin Hood Joel Tomkins
12. Cinderella Adam Powell (rep 20 Fairy Godmother Tom Jubb)
11. Tigger Michael Tagicakibau (rep 22 Mowgli Nathan Earle)
10. Peter Pan Nils Mordt
9. Tinkerbelle Peter Stringer (rep 21 The March Hare Luke Baldwin)
1. Piglet John Smit (rep 17 Baloo Nick Auterac)
2. Mickey Mouse © Jamie George
3. Pooh Petrus du Plessis (rep 18 Simba James Cleverly)
4. Buzz Lightyear George Kruis
5. Goofy Eoin Sherriff (rep 19 Aladdin Huge Vyvyan)
6. Donald Duck Justin Melck
7. Pinocchio Will Fraser (rep 16 Mary Poppins Scott Spurling)
8. Snow White Jackson Wray
Toytown Warriors
Pennell ©, Arscott, Fatiaki (Claassens), Carlisle, Drauniniu (Benjamin), Gray, Arr (Frost), Douglas (Currie), Fortey (Lutui), Tomaszczyk (Porter), Gulliver, Gillies, Betty, Muagututia (Kvesic), Cowan (Dacres).
Scorers:
Mickeys Gang: Tries Tinkerbelle, Donald Duck, Robin Hood (2), Mickey Mouse. Conv: Peter Pan (5) Pens Peter Pan (2)
Warriors: Tries: Betty, Arscott, Convs: Carlisle (2)
Scores (Mickey's Gang first)
0-7 3-7 6-7 6-14 13-14 20-14 27-14 34-14 41-14
Attendance 4,970
Referee: Ian Tempest. Quote "being a relatively new referee I found this book very interesting…I've had problems managing the scrum……" ho hum!!!!!!!