Sarries give Wasps cold shoulder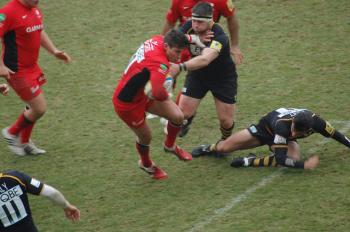 Go Nils
By Darraghgirl
February 14 2012
First an apology. I hadn't intended to write this report, partly because I thought you'd be bored with me by now and someone else might offer, and partly because it was too cold to make notes - but given there were no volunteers I thought maybe this report, somewhat lacking in detail, was better than nothing.
Little DG and I made our annual pilgrimage to that industrial estate somewhere near High Wycombe aka Adams Park to check up on the red kite population and watch Sarries contrive new ways to lose to Wasps. Of course last year there was an end to the ritual humiliation when we contrived a win but looking at the team sheets we weren't too hopeful of another victory. But first the kites. Well you'll be pleased to know they appear very healthy. I stopped counting at 50 (on my first visit 7 or 8 years ago we didn't see a single one). In fact the way they were circling over Adams Park reminded me somewhat of vultures waiting for some poor creature to die before they went down to feast on the carcass.
To be honest I didn't think the game would go ahead given the weather we had last week and the famed micro-climate in that part of Bucks but Wycombe Wanderers have installed under soil heating (more than can be said for Stade de France) and paid the lecky bill and switched it on and it was working. In fact the pitch looked in splendid condition. (Unfortunately they didn't manage to defrost the lady's loos or the beer pumps but you can't have everything!)
Second top versus second bottom should have been a no-brainer however Sarries were having to get used to providing England with a third of the starting team and to coping with a number of longer term injuries amongst senior players which meant the team that took the field featured a mixture of regulars, returners from injury, fringe-players and Storm players. I have never been a great fan of Mordt and seeing his name in the pivotal position of 10 didn't make digesting the Hog Roast Baguette particularly easy but I have to admit he looked very good against Worcester and deserved his chance. There is a nagging little worry though that says Wasp's first team are a different kettle of fish to Worcester seconds. But we shall see.
Little DG and I discussed who would take the kicks. During the warm up Alex Goode seemed to be the one with the kicking tee so it was no surprise to see him take on the role. It was good to see the smiling face of Schalk Brits "warming up" (well actually wandering around with his hands in his pockets grinning at the crowd. Superheroes don't need to bother which such formalities).
The referee, Greg Garner, was perhaps a surprise choice given he has "form". I believe he took charge of last year's game where 3 waspies went to the bin and the game probably hinged on that. Certainly the Wasps' supporters around us weren't very complimentary about him.
Once the game started things didn't exactly go to plan and Wasps scored a try in the first couple of minutes. A sustained Wasps attack led to fly half Nicky Robinson kicking the ball. Mordt charged it down, the ball could have gone anywhere but rebounded into his hands. He set Flutey free and for a minute it looked like Flutey would score but in the end he offloaded to Billy Vunipola who scored. Robinson kicked a near touch-line conversion to give Wasps the lead.
A beautiful cross kick from Mordt resulted in a 5m lineout and from the subsequent attack, Sarries won a penalty. Up stepped Goode and never looked like missing. A 2nd penalty followed shortly after and it was back to 7-6. Then Sarries decided to gift Wasps a second try when a high ball wasn't cleanly collected by Goode and it bounced nicely for Lindsay to score with the help of the TMO. Reports suggest that Goode was given a little shove before he took the ball but it was up the other end of the pitch so I can't comment. Robinson again converted and Wasps were once again sitting pretty 14-6.
Wasps decided to return the complement and Short intercepted a pass aimed at Haughton and scored under the posts, leaving the aforementioned Haughton trailing in his wake. Goode kicked an easy conversion and it was back to 14-13. Goode kicked another penalty just before half time to give Sarries a narrow lead at the end of an entertaining first half.
All was not well in the scrum – the first "completed" scrum occurred just before half time, all the others having ended in free kicks or penalties. There was also a lot of kicking by both sides. Understandable I guess because it was cold and catching high balls in those conditions can't be easy but Sarries in particular were guilty of quite aimless kicking, not deep enough to cause problems and no one prepared to chase the kicks. All that happened was Wasps got the ball!
The teams returned for the 2nd half and again, Sarries won an early penalty to stretch the lead to 14-19. That seemed to be the end of the scoring for a while. With half an hour left de Kock replaced Stringer and Gill and Brits came on for Smit and George. It's hard to say what Brits did but the team just looked better, more innovative, more inventive. As usual he popped up everywhere and Sarries seemed to take charge as the match progressed.
Mordt missed touch with two penalties, going for too much distance when being a bit more conservatism would have been a better option. From one of these, Wasps ran the ball back and attacked the Sarries tryline but the defence held firm and Robinson missed a fairly straight forward kick. I also remember an excellent bit of defending by Powell when he collected the ball deep in his own 22, ran pretty much the width of the pitch avoiding several marauding Wasps, and put in a good clearance kick. A 2nd penalty conceded a few minutes later though was kicked and Wasps were back within 2 points.
Sarries replaced Mordt with Tomkins leaving Goode to go to fly half and Wyles to full back. I have to admit I liked the look of that although 10 minutes is probably not long enough to judge. I don't think poor Tomkins touched the ball! Sarries won a penalty wide-ish on the right. Goode stepped up and slotted it home putting the match out of drop-goal range and that was that. One last Wasps' attack, Sarries held out and as the Sarries' supporters counted the clock down, the ball was booted into touch.
Long before that the Wasps' fans were streaming out of the ground disgruntled by their own team's performance and that of the referee. I have to say from our viewpoint behind the posts I fail to see how anyone can judge offside and it's pretty difficult to see if someone is not releasing (either ball or tackler) when they have their back to you at the other end of the pitch! As for the scrum, that was a mystery to everyone, not least Mr Garner I suspect!
So another win, a chance for a few fringe-players to make their mark, an assured performance by Goode with the boot and a tougher challenge next week against Leicester who have a point to prove. We missed Barritt's tackling certainly in the first half. Brits was magic as ever and if Borthwick or Joubert was back just to bolster the forwards and add a bit of leadership I believe we can win. But it would be nice if someone else could do the report!
SARACENS
Goode, Taylor, Wyles, Powell, Short (Tagicakibau), Mordt (Tomkins), Stringer (de Kock), Smit © (Gill), George (Brits), Nieto (Du Plessis), Kruis, Smith (Vyvyan), Melck, Saull (Fraser), Wray
WASPS
Southwell, Haughton, Waldouck, Flutey (Prydie), Daly, Robinson, Berry (Simpson), Payne (Taulafo), Lindsay (Korshunov), Broster (McIntyre), O'Donoghue, Wentzel, Birkett (Jones), Poff, Vunipola
Scores (Wasps first)
7-0 7-3 7-6 14-6 14-13 14-16 14-19 17-19 17-22
SCORERS;
Wasps: Tries: Vunipola, Lindsay; Conv: Robinson (2); Pens: Robinson
Saracens: Try: Short; Conv: Goode; Pens Goode (5)
Attendance: 5,574
Referee: Greg Garner