Per ardua ad astra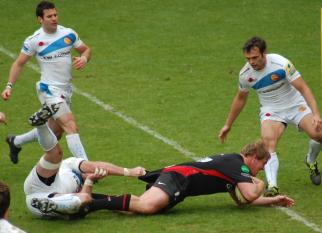 Powerhouse MOTM by PNH
By Convex Hull
May 8 2012
There were no Red Kites over Vicarage Road for the last match of the regular season and the last Saracens match in Watford, just the roar of rather different type of raptor. A single Typhoon rumbled and crackled above the stadium before the match, a happy coincidence to mark the end of fifteen years at Saracens' home from home.
My first visit to Vicarage Road was quite a few years after Saracens had moved out of London. The children had reached their late teens and I found myself with enough time at weekends to contemplate watching live rugby again. At that time Saracens was a thoroughly unfashionable club, "Sorries, the perpetual underachievers", but when I was greeted by the sight of the Wilson and Keppel tribute shufflers outside the stadium I knew that this was a club that felt no need to conform, no contrived self-importance, a place to enjoy rugby and meet gentle, ordinary people.
A good measure of stoicism was required when supporting Saracens – a carefully honed skill acquired by all England supporters who endured the 70's and 80's.
We all know about the remarkable transformation that has taken place over last three seasons, but Saracens' progress through this season has shown some frailty. It was always likely to be third place and a trip to Welford Road next week but, surely, the team would try to leave Vicarage Road in a blaze of glory? The omens were not good, the air was damp, the pitch looking weary after a surfeit of rain and football. It was double brandy, rather than ice cream, weather. Exeter are not a team to be trifled with. Armed with a top class head coach, they have already scalped Saracens at home and their intention was to force a place in the top four.
There was talk of a new game plan from Saracens, an attempt to break free from the worthy, if dull, box kicking crocodile that has so irritated some scribblers in the press. There are no style points awarded in rugby, a fact that should be abundantly clear to the owners of Bath, Gloucester and LI, if not their supporters. However, this Saracens team has a potency in attack that has been missing for much of this season; the measured game that they play may secure wins, but it does little to lift the spirit of the players or supporters.
The first few minutes of the game contained nothing to suggest a new era, Sarries starting with Wigglesworth and Farrell at 9,10, Exeter using Barrett and Steenson as their play makers. Exeter started with more determination than Saracens, launching powerful attacks around Naqelevuki that were robustly defended, particularly by Barritt and Botha. An early scrum was comfortably won by Saracens but a turnover ball, something that has become rather common from Saracens recently, forced a scrabbling defence to concede a penalty close to the Saracens 22 metre line. The central position was no challenge to Steenson's kicking prowess and Exeter duly took the lead.
Exeter persevered with their robust running attack, but made little headway against a solid and quick Saracens defence. In an attempt to break through, Barrett kicked over the heads of the defenders from the base of a ruck that found Short on the Saracens 22 metre line. Short, not for the first or last time during the match, launched a blistering counter attack that took him forty metres along the left touch line only to run, somewhat inexplicably, straight into Naqelevuki. There was a degree of endeavour in the Saracens game, but a lack of accuracy and a series of nervous set piece plays, due in greater part to the stout defence by Scaysbrook, caused the Saracens attacks to splutter and fade. The pressure was, however, sufficient to force two penalties in quick succession from the Chiefs, Farrell turning the latter into three points.
Wray chose to run the ball out of the Saracens 22 from the restart, but was hauled down with little progress up the pitch. Pinned in their own 22, Saracens decided to play the ball wide, but a clumsy fumble by Wyles gave an easy turnover that allowed Mitchell to drive the ball to within a metre of the Saracens try line. Despite repeated drives, Exeter were denied the try by a valiant tackle from Short on Naqelevuki that dragged his foot into touch as he placed the ball over the line. Following this fortunate escape, Saracens chose the bizarre option of throwing to the front of the line, with Joubert running into the space to receive the ball. I suppose that it was an attempt to run behind the Exeter line, but Joubert's fumble gifted a scrum to the Chiefs on the five metre line. There was no second mistake from the Chiefs' rock-solid scrum, a powerful run by the excellent Johnson concluded with a try between the posts.
Saracens persisted with a game that had more emphasis on running, rather than kicking, but the slow service by Wigglesworth and passes that were just a fraction too slow, enabled the Chiefs to squeeze Saracens' attacks onto the touch lines. As always, Goode was totally assured under the high ball and majestic when running. Somehow he defies laws of motion, there are comments about his pace in the press but, on the contrary, the opposition seem to be condemned to slow-motion whenever he has the ball. It is a quality that I have only observed in a handful of players over the years and one, to my mind, that marks him out as of the highest calibre.
In truth, the second twenty minutes of the first half was much the same as we have seen from Saracens for most of the season, dogged attritional play that squeezes the life out of the opposition and wins penalties. Thus, with the aid of Farrell's somewhat wayward kicking, and penalties won at the scrum and rucks, Saracens had closed the gap to a single point by the time that the players left the pitch for half time. The Chiefs deserved their lead, and it would be fair to say that they should have been further ahead.
With a final half to play at Vicarage Road it seemed that the rugby was destined to leave Watford as a lamb, rather than a lion, but then a remarkable thing happened. It transpired that Rob Baxter had assessed Sarries to be 'there for the taking' during his half time talk. I suspect that the Saracens squad also got a tongue-lashing during the interval, so both teams started the second half intent on playing at a higher tempo. There was plenty of urgency on the pitch from the kick off, but rather less precision. Saracens gifted their usual turnover to the Chiefs at a ruck and for a moment it looked like that the strong-running Exeter backs would inflict the same punishment on Saracens as Clermont metered out a few weeks ago. Orchestrated by Barrett, Exeter pushed, pulled and dragged the home team around to expose a gap along the right touchline. With Short to beat on the Saracens 22, Ritchie chose to execute a grubber kick, with the aim of running past the stationary Saracens defence. The kick went directly to Short's hand and, unable to find Naqelevuki to run into, he scampered the length of the pitch to score a rather fortunate try.
It is said that fortune favours the brave, despite turnovers and poor throwing, Saracens' rekindled adventure was rewarded with an exquisite box kick by Wigglesworth to within 15 metres of the Exeter try line. Whitehead's throw-in was strongly contested by Saracens and Joubert stole the ball from Johnson, quickly transferring it to a rampaging Rhys Gill who crossed the line with various Chiefs in tow. Farrell's conversion took the score to 23-10 at 48 minutes into the match. Within three minutes Saracens were back again in the Exeter 22 with a powerful rolling maul taking them within five metres of the try line. From the subsequent ruck Saracens stretched the Chiefs defence with some slick passing which enabled Short to come close to touching down, a penalty advantage to Saracens was successfully defended by Exeter who won a restart from the 22 line.
Nieto had been substituted by Stevens at half time. Sarries began to make further changes with both Hodgson and De Kock replacing Short and Wigglesworth. Farrell moved to the familiar 12/13 slot and Wyles went to the wing. De Kock's slick service from the rucks, coupled with Hodgson's precise and fast passing, changed the balance of play firmly in favour of the home side, with waves of attacking play that stretched the Chiefs defence to the limit. The Chief's did not 'shut up shop', but sought to counter attack and Rennie came close to breaching the home team's defence. Saracens made further changes, George for Brits, who had a fairly indifferent match by his high standards, and Smit for Gill.
It is noticeable how often Stevens turns up in a place where you might not reasonably expect a prop to be. His mobility and athleticism are a huge benefit to the team, but there were also some penalties for failing to bind properly. His muscular frame seems to struggle with the transition from touch to engage, perhaps he should substitute a few gym sessions for yoga to improve his suppleness and muscle control? He would look splendid alongside Lycra-clad 'ladies-that-lunch.'
Both teams continued to play an expansive game, with Farrell taking another three points from an infringement at the ruck. Exeter began to make changes to maintain their attacking intensity, but found themselves pushed back by relentless crunching tackles from Saracens, including a notable one from Barritt on Johnson to push him in touch. George's excellent long throw from the subsequent line-out enabled Saracens to pass the ball through Hodgson, Strettle and Goode, who crossed the try line in some style.
Greatly to their credit, the Chiefs, continued to attack the Saracens line, winning a string of penalties that they chose to run. Exeter failed to benefit from their sorties into the Sarries half, with Farrell clearing deep into the Exeter half from a penalty. Again George delivered a peach of a throw to the Saracens' jumpers, and Hodgson ran a sublime line that took him through the Exeter defence to make the score 40-10.
This marked a point where Maddock and Kruis were substituted for Borthwick and Strettle, and also the time in the match where Saracens lost focus. Penalties conceded by Stevens and Fraser left the Chiefs close to Saracens' try line and the redoubtable Chris Budgen rumbled over to close the gap. There was no loss of intensity by the Chiefs and their efforts were further rewarded when a fortunate bounce off Wyles allowed Dollman to kick ahead and force De Kock to kick the ball dead five metres from the try line. It did look like the line-out had formed, but referee Wigglesworth, who had an impeccable game, thought otherwise. Exeter took a quick throw and caught the Saracens defence cold allowing Jess to score a slick try in the corner.
Two Exeter tries were enough to lift Saracens' game, with Goode pushing Exeter into their half with a combination of running and kicking to touch. The match ended with Sarries pushing hard for a fifth try and Melck injured in the last play of the match.
It has been a pleasure to write a report for this game, both for the quality of the rugby and the outstanding Exeter team and supporters. It is a privilege to do it for the last match at Vicarage Road, that surely should have fallen to one of the stalwart supporters who have been season ticket holders for the last fifteen years.
I don't know if there are Red Kites at Copthall but a true, fast, surface will ensure that there is no need for crocodiles on the pitch. Nigel Wray has led the club through adversity in the last fifteen years and, with their own stadium, the club can now look forward to a time amongst the stars.
See you all back at VR in September.
Saracens: A Goode; D Strettle (J Maddock 63), C Wyles, B Barritt, J Short (C Hodgson 52); O Farrell, R Wigglesworth (N de Kock 52); R Gill (J Smit 55), S Brits (J George 55), C Nieto (M Stevens h/t); S Borthwick (capt, G Kruis 63), M Botha; J Wray (W Fraser h/t), J Melck, E Joubert.
Tries – Short, Gill, Goode, Hodgson; Conversions – Farrell (4); Penalties – Farrell (4)
Chiefs: L Arscott (I Mieres 59); P Dollman, S Naqelevuki, B Rennie (N Sestaret 64), M Jess; G Steenson, K Barrett (J Poluleuligaga 67); B Moon (B Sturgess 60), C Whitehead (N Clark 60), C Mitchell (C Budgen 73); T Hayes (capt), J Hanks (A Muldowney 60); T Johnson (B White 63), J Scaysbrook, R Baxter.
Tries – Johnson, Budgen, Jess; Conversions – Steenson (2); Penalty – Steenson
Referee: T Wigglesworth
Touch Judges: I Tempest & R Goodliffe