Saracens Top 10 Busts - Chris Jack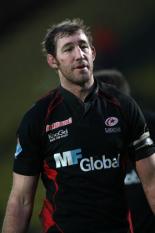 Master of none
By The Fezboys
July 30 2012
This is the first in a series - in no particular order of prefernce - of the Top 10 in a long line of non-English players who came, saw and took home a lot of money for not a lot of work. In the professional era thare have been many, including former All Black second row Chris Jack.
Name: Chris Jack
International Caps: 67, New Zealand
Joined from: Canterbury Crusaders
Time at Sarries: 2007 to 2009
Appearances: 35
Points: 15
Famous for: Being NZ player of the season in 2002 and a regular fixture in the All Blacks team, as well as being regarded by many as the best second row in the world.
Hype: Alan Gaffney said on his move to Saracens:"We have signed a world class player in the prime of his career. Chris is one of the best players in his position in the world and is an integral part of the All Blacks side which has led the way in world rugby in recent seasons. He is an outstanding player."
Reality: Played most of his time at Sarries at 6, thanks to Eddie Jones's fixation with trying everyone in that position. Think Andy Farrell and you get the picture. It didn't work. Neither did Jack who lolloped around Premiership grounds as if it were a school third team match and, in the long-standing, professional-era Sarries tradition, just took the money.
Most memorable Sarries moment: Er, um, moving on swiftly to….
What happened next: Jack told the world, after leaving the club to go back to NZ, that northern hemisphere rugby is "easy", much to the annoyance of Telegraph rugby writer Mick Cleary and the rest of us. The Cleary piece can be found via the link here:
http://blogs.telegraph.co.uk/sport/mickcleary/9970817/Good_riddance_to_Chris_Jack/