Saracens Top 10 Busts - Jannie De Beer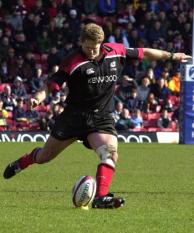 By The Fezboys
July 31 2012
The series of Top 10 Busts continues with a player whose acquistion was a big gamble for Sarries. Who lost.
Name: Jannie de Beer
International Caps: 13, South Africa
Joined from: A 12-month injury lay-off in South Africa
Time at Sarries: 2001
Appearances: 8
Points: 126
Famous for: Booting England out of the 1999 World Cup with five drop goals.
Hype: SARRIES GET DE BEER IN! read the headline at the time, and Francois Pienaar said "We are very pleased to have signed such a fantastic player - he will be a great asset to the club. It is not just his ability with the boot. His distribution and running are always overshadowed by his kicking, but they are also a very important part of the De Beer package."
Reality: De Beer was not fit before he joined and Sarries took a huge punt on the drop goal expert coming good once more. The inevitable six-week lay-off for yet another injury became permanent and he never played for the club again. We recall in a match at Vicarage Road against Harlequins (we think), Kyran Bracken routinely passed the ball direct to the inside centre, such was the nature of his outside half's ailments.
Most Memorable Sarries Moment: At London Irish in December 2001 Saracens were awarded a kickable penalty and De Beer put the ball on the floor and bent over to tie his laces. All the Irish players turned their backs and walked towards the posts while De Beer, who had not signalled he was going for goal, took a quick tap and fed an unmarked David Flatman to score near the left corner. Irish won 30-23 that day, but the Flatman try is still remembered long after the result has been forgotten.
What Happened Next: Retirement and a devotion to the Almighty. By the way, does anyone still have one of those T-shirts printed by Saracens with a beer can on the front and De Beer and no10 on the back? No?