Exeter - Sarries report. One Rotation Too Far?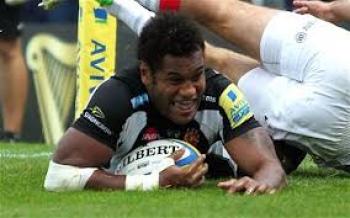 Match-winning moment
By Darragh Girl
September 25 2012
To rotate or not to rotate, that is the question? (to misquote the Bard). There has been much debate on this Board and elsewhere as to the value of a Rotation Policy. Saracens have practiced a rotation policy for several years with a fair amount of success.
It was one of the reasons we won the title a couple of years ago with our players still relatively fresh at the end of a long season and it is also one of the reasons we are able to keep 2 or 3 quality players per position happy because they know they will get their chance. But there is also a downside and I fear that was exposed at Sandy Park today. Only 7 of the team named to faceExeterstarted against Irish andSale. How can they "gel" together unless they play together?
Mr DG and I were lucky to be invited by a supporter of The Chiefs to watch the game from his box. (Mr DG has his uses!) Chiefs were delighted by two things, the weather and the team selection. Several times I was asked over lunchtime curry and popadoms "I didn't know Sarries had so many good players but why are they all on the bench?" I was always taught that in sport you do want the oppositionDON'T want, so it appeared we were playing right into their hands!Exeterwere coming off 2 defeats – the most recent to London Welsh, so they were always going to be up for this game. The awful weather and our selection generosity were 2 gift-horses they weren't going to turn down!
The elephant in the room with all the "rotation" is of course Faz. Don't get me wrong, Owen Farrell is a very good player. He was first choice fly half for England a few months ago and he led us to our first ever title in his first season but just now something is wrong and he isn't the player he was. It may be the injury, or his England experience (he wouldn't be the first player to lose his form with the national team), or Andy going or any one of a number of things we have no knowledge of, but whatever it is he's not playing with the swagger and confidence he had last season. And unfortunately it is having a knock-on effect (literally actually) with the team! The figures don't lie. Charlie starts 2 games, we score 5 tries and 9 points. Owen starts 2 games we score NO tries and 3 points. To use cricket parlance, when a test batsman is out of nick you can go 2 ways: keep playing him and hope his form comes back or send him back to county cricket to score a few runs. We all know we have to look after Charlie. Sure as eggs is eggs if he starts every week he'll get scrambled and we need to look after Owen too.
So where did it go wrong on Sunday? Well undoubtedly the weather was a factor. Sandy Park is a beautifully situated ground with views across the river Exe down to the sea in one direction and across toDartmoorin the other. Today at2.00pmwith the floodlights on, it was quite tricky to see the East stand let alone the scenery! It was cold, the rain poured down, the wind blew and I was jolly glad to be in a box! But as they say, it's the same for both sides! For the second successive week we had a referee change which given that the designated official was David Rose, might not have been a bad thing until in his place we had a rather portly Sean "Wavy" Davey. O dear!
It wasn't a great start. Owen skewed a touch clearance then didn't get much distance with a penalty to touch (although the wind was probably a factor). From the lineout, Jamie George threw the ball at Nieto's back! The lineout never functioned for the whole match – possibly related to rotation? Who knows.Exeterlooked the more dangerous and almost got across the Sarries try line but without referring to theTMO"Wavy" was happy the ball was knocked on and Sarries defended their own 5m scrum. After 15 minutes Sarries won a kickable penalty. It was right of the posts, 25m out but into an increasingly strong breeze. Owen stepped up and nailed it to give Sarries a narrow lead but straight from the restart Sarries conceded a penalty on their own 10m line which Mieres kicked to level.
Sarries won another penalty, this time in front of the posts which Owen again kicked before clashing heads with Hargreaves and departing for the blood bin. Charlie made a brief appearance but Exeter were on the attack and eventually won a second penalty to again level things when Kelly Brown illegally stopped a drive for the line and went to the sin-bin for 10 minutes.Exeterhad the wind behind them and despite a lot of aerial ball (which both full-backs handled admirably) looked the more dangerous. With 5 minutes to go to half time, Mieres took on a kick from wide on the right just inside the Sarries half and landed it. (Please note position for future reference). As the clock ran down a Sarries' drive was illegally pulled down on theExeter10m line but Owen missed a tricky kick into the breeze andExeterwent in 9-6 ahead.
The second half started with Wiggy replacing de Kock. Sarries won a scrum penalty which Owen, now sporting a head bandage, kicked and the sides were level. Finally the cavalry came on – Borthwick, Brits and Gill replacing Hargreaves, George (who didn't have his best game) and Maku. Then came the point on which the match turned. There was some messy play which ended in anExeterscrum. For some reason tempers flared and there was a bit of a barney. It would all have ended happily had not a bandaged Ashton decided to launch himself from some distance away into the melee. I don't know whether the bandage was as a result of the "glassing" which Ashton sadly experienced last week or something else but something had gone to his head. Neither Wavy nor Ashley on the line seemed entirely sure what had happened but there was no hiding from theTMOand Ashton went to the bin for 10 minutes. The scrum became a penalty which Mieres uncharacteristically missed but Owen's restart was charged down putting more pressure on Sarries' defence. Stevens replaced a tiring Nieto butExeterwere on the ball and realising Ashton's wing was unguarded the dangerous Naqelevuki bundled over in the corner. Now Ashton is a fabulous player, a real game changer but on this occasion his petulance turned the game the other way. Even he can't tackle from the sin-bin and his absence was a major factor in theExetertry. 4 games, 3 tries, 2 sin-bins, 1 problem! Mieres missed a very difficult conversion into the wind and with 25 minutes to goExeterled 14-9.
Sarries retrieved some ground almost immediately when Owen kicked another penalty for 14-12 and with Ashton back on the field and Whitehead binned forExeterthis should have been the point at which they pushed ahead for the win. But it didn't happen. It wasExeter, playing into the wind, who wanted it more. Jess might well have scored forExeterhad he not slipped on the wet grass. Owen missed a tricky penalty from where Mieres kicked that final first half penalty (told you to note the spot) and with about 10 minutes to go Sarries finally got into theExeter22 when Short was bundled into touch 5m out. At last Charlie returned to the field this time for Duncan Taylor with Owen moving to outside centre. Brits called for the mark in his own 22 and skewed the ball into touch.
Sarries won a penalty from almost the same spot that Mieres converted and Owen (Er, Charlie? Ed) missed. The Owen of last year would have shoved Charlie out the way and gone for it. It is a measure of his lack of confidence that he left it to Charlie. Charlie did his best but bless him, even with the wind behind him it wasn't going to happen. What did happen in the last few minutes was some concerted Sarries pressure. TheExetertry line was threatened for really the first time. Lovely play from Charlie to Ash almost put Short through. Once again the tempo had risen and try scoring looked a possibility.
Into the last couple of minutes and a good run from Brits won yet another penalty from "the spot". Charlie didn't fancy the kick and Owen didn't offer so Charlie plonked it down in the corner. For the second week running we had a 5m lineout to win the game and for the 2nd week running we blew it. With Charlie perfectly placed for the drop, Brits tried an absurd pass which ended in a knock on by Stevens under pressure from Alcott (Arscott? Ed). Wavy, obviously out of puff, decided there wasn't time for the scrum even though there was still 15 seconds to go andExeter deservedly had the win.
So where do we go from here? If we play like that next week Quins will murder us! We are on a downhill points sequence 5,4,2,1 if that continues we are in for a big zero! But all is not lost, despite yesterday: we are in 4th place and we still have 18 games to go including twice against Quins and Saints, this season's high flyers. But we need to stop the rot! I do wonder if being "homeless" is a problem. For all its faults, The Vic was a bit of a fortress, it was our home in a way that Wembley and Twickenham can never be and I hope desperately that once we move into our new home in February we are still in touching distance of the playoffs. Meanwhile we are on the road again to the Stoop. We have to play our strongest team against the league leaders. Rotation is fine in its place but rotation for rotation's sake – I'm not convinced.
Teams:-
EXETER
Arscott, Dollman (Foster), Whitten, Naqelevuki, Jess, Mieres, Thomas (Chudley), Sturgess, Whitehead, Rimmer, Hayes, Hanks (Muldowney), Phillips (White), Scaysbrook (Alcott), Baxter
SARACENS
Goode, Ashton, Taylor (Hodgson), Barritt, Short, Farrell, de Kock (Wigglesworth), Vunipola (Gill), George (Brits) Nieto (Stevens), Hargreaves (Borthwick), Botha, Brown, Fraser, Wray (Joubert)
Scorers:
EXETER: Try Naqelevuki Pen (3) Mieres
SARACENS: Pen (4) Farrell
Scores (Exeterfirst)
0-3, 3-3, 3-6, 6-6, 9-6, 9-9, 14-9, 14-12
Referee Sean Davey
Attendance 6,141