RAINDROPS KEEP FALLING ON MY HEAD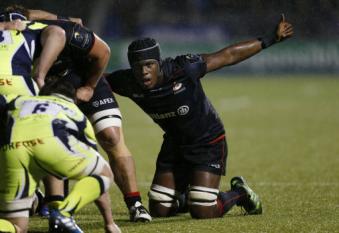 By Darraghgirl
December 12 2016
Sir Alfred Wainwright once said "there's no such thing as bad weather, just inappropriate clothing". The legendary fell walker clearly never had to write a match report in a downpour!
I had hoped that the strange kickoff time, the inclement weather and the proximity of Christmas might reduce the attendance sufficiently for us to move from the wet of row A to the relative dryness of row M but nearly 9,000 people turned up and the only spare seats were wet ones. So nothing for it but to make the best of things so with notepad already getting soggy and buried under the groundsheet we began.
As fireworks bravely tried to brighten up the wet and the gloom, both teams emerged from a tunnel menacingly lit by 3 red lights onto the wet 'turf'. At least Sale were wearing dayglo green which made them visible. The first scrum produced a Sarries penalty and the size of the problem ahead both for Sale and for me became apparent. Sale were faced with the first of many line out drives which ultimately resulted in 3 points for Sarries, I was faced with the impossible task of trying to record events either in the darkness under the groundsheet (so I couldn't see what I was writing) or outside in the open where the pad rapidly turned into papier mache. Given that at my age the memory isn't sufficiently reliable, this was going to be a challenge.
My notes mention a deft kick ahead by Burger? Surely not! Anyway I think Wyles also helped it along and Wiggy almost scored but Josh Charnley stormed out of the gloom and Wiggy was held up. Maybe not 5 points but Faz took the 3 for the penalty advantage for 6-0. The rain began to drip off my nose as Wiggy did some nice juggling and Maro was imposing at the line out but despite their dominance, Sale halved the deficit with a penalty from MacGinty.
Sale were already feeling the physicality with Mills covered in so much blood he looked like a refugee from Hallowe'en. Another Sarries attack. The notes seem to say 'lovely hands from Kruis' but maybe not. Sale kicked the ball dead resulting in a scrum back for Sarries, a penalty advantage, a lovely offload from Wiggy and a super break from Bosch for the first try. Faz was never missing anything so it was soon 13-3.
Sale learned nothing and again kicked the ball dead. My fingers were pretty dead too. This time the scrum back was on the edge of their own 22 and the scrum was not going well for them. Worse was to follow when Sale lost Josh Beaumont to injury. Sale won a line out but it was academic because Maro again claimed the ball. Mako drove through the rain and Sale and a lovely chip ahead from Faz put Goodey in for the 'try' except it was disallowed either for offside or because Alex slid over the dead ball line in trying to ground the ball. Either way no try but a modern yellow card for Pearce after a highish tackle on Faz. Faz duly kicked the points for 16-3.
My feet were starting to feel damp as Maro stole yet another Sale line out and this time Wiggy offloaded to Farrell who delayed his pass to Maitland just long enough to put the Scotland wing clear and over for a lovely try, the wet ground providing fuel for a spectacular slide-in. Again Faz converted for 23-3. Poor Sale. Everywhere they turned there was Maro Itoje. A promising line out in Sarries 22 but Itoje's long arms collected it and cleared the danger. Wyles made a lovely break down the wing but Wiggy knocked the wet ball on with the try line begging. It was all Sarries as half time approached. Finally a penalty close to half way and out to the right. Up stepped Bosch and for once over it went for 26-3 at half time.
Respite for the players but not for me. I didn't dare move for fear of dropping the already sodden notebook in a puddle and totally obliterating the tiny amount that remains legible.
Farrell reappeared for just a minute before being substituted, something he seemed to disagree with but life's pretty good when you can replace one England squad member with another. Sale defended well for the first few minutes but it couldn't last. A succession of penalties were conceded Mills earned the wrath of Monsieur Rayual and 10 minutes in the dry before Sarries forward pack, supplemented by most of the backs, rolled over the line with Jamie George touching down. Loz missed a tricky conversion but the score was now 31-3. For a few moments it almost stopped raining. Not that it made any difference as by now I was so wet the water was through to my underwear. Brits replaced George and Will Skelton's huge frame came on for its debut. I remember at least one suffocating tackle - wham! Shortly after, Goodey put through a deft little grubber for Wyles to score the bonus point try. This time Loz kicked an even trickier conversion for 38-3.
The heavens opened again. Sarries continued the punishment. This time it was a nice pass from Barritt lobbed on by Mako (with a suspicion of forwardness) who found Maitland outside him. A second try wasnt a given but Maitlands super jinking run took him over in the corner. This time the conversion bounced off the crossbar (another time and place it could have won Loz a quarter of a million pounds)! 43-3. Could we get the half century?
Lucky Maitland earned a rest out of the rain and was replaced by Earle. Koch and Barrington joined Brits in the new-look front row. Spencer replaced Goodey with a general reshuffle that seemed to leave Brits at fullback. But maybe that was the rain?
Still Sarries pounded Sale. Maro thought he'd scored but the TMO thought otherwise. I think I was seeing double as once Seymour departed, his replacement bore an uncanny resemblance to one of the other forwards. He had the same name too. Perhaps they're related?
Sale incurred a 3rd yellow card - maybe they thought there was a bonus point for 4 yellow cards! The West stand appeared to be on fire - quite remarkable given the rain - and finally a sixth try when Barrington scored and Loz converted for a nice round 50
Sale plugged on until the end but they never had much hope as their European dream disappeared with the rain into the gutter.
Many Sarries fans had already sought sanctuary in the bar by the time Monsieur Rayual blew his whistle but your correspondent stuck it out to the bitter. The things I do for this site! Yes I know, I could have gone home and watched the replay on TV in the comfort of my living room but that's just too easy. In the words of Barry Manilow: "I made it through the rain. I kept my point of view".
Saracens
Goode (Spencer) Maitland (Earle) Bosch Barritt Wyles Farrell (Lozowski) Wigglesworth M Vunipola (Barrington) George (Brits) Du Plessis (Koch) Itoje Kruis Rhodes Brown (Skelton) Burger (Conlan)
Sale
Arscott (Mumford) Odogwu James Leota (Jennings) Charnley MacGinty Mitchell (Phillips) Harrison (Flynn) Webber (Neild) Aulika (Parker) Beaumont (Nott) Mills Sully Seymour (B Sully) Pearce
SARACENS (50) Tries (6) Bosch Maitland (2) George Wyles Barrington. Conv: Farrell (2) Lozowski (2). Pen: Farrell (2) Bosch
SALE (3) Pen: MacGinty
Attendance 8746
Referee: Mathieu Rayual