Sarries Sale through choppy waters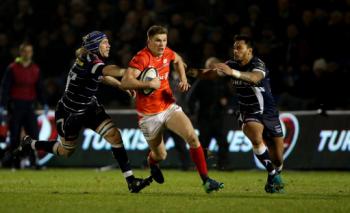 By J O'G
December 19 2016
I wasn't at the game; the report was written from in front of the TV. I had a replay in the can for any missed details. In fact the two halves were enjoyed perhaps in the way I watched them. The first half was watched live whilst waiting for Sunday Lunch; hungry and nervous. The second watched post Roast dinner and a couple of glasses of wine – sort of live on the replay a more enjoyable affair.
Sale were a different team than last week and were contesting every breakdown; their defence was hard but reasonably fair. As you may have heard Sale had a couple of Rugby League wingers and it wasn't long before they started to make their presence felt. A well worked line-out move saw Charnley carve a big hole in the middle; potentially due to the 'lazy running' of their centre who stopped Brad tackling him. The ball was passed wide and a 2 on 1 was there for Solomona to exploit, had he not dropped it. Sarries played the kicking game to keep Sale pinned in their 22 and should really have finished off a good set of phases on the 5 yard line. Unfortunately they stopped being patient and Brad (of all people) threw a pass from between his legs into Solomona's hands in space. Fortunately, it was as much a surprise to him as to me and he dropped it.
Shortly afterwards Sale came offside and Sarries took the lead; but it was short-lived before a high tackle from Burger saw the sides level. Then a moment of magic from Sarries on their 22. Turning over the ball, they slipped into space and a great inside pass to Fazlet also in space. He offloaded to Brad who kicked to the far corner as the defence came across. Sarries had 2 men chasing the kick to no defenders, but it ran into touch. Sale recovered, but most of the rest of the half was spent around Sale's 22. They ran the ball from everywhere, with little result, but were also strong in defence when Sarries got the ball. At one point it looked like Faz was even setting up for the drop goal, but another penalty gave Faz an easy chance to make it 3-6. As the half was finished; little scoring but very tight, both skippers were warned about the number of penalties as 12 had been awarded
In the second half, the game seemed more enjoyable, but that could have been the 2 glasses of wine with dinner and the fact I could stop it to top up a third. It wasn't long before Sarries had an attacking lineout and were making strides towards the line when Webber brought it down. He seemed to have forgotten the ref's warning before halftime, but Farrell had left his kicking boots in the changing rooms. The same was true 3 minutes later when another penalty; this time for Solomona was tugging Burger's shirt (very football like). I fancy had Webber not been off, he would have had a yellow card, but Sale were warned of their conduct again. Farrell again missed, and no points were scored whilst Webber was off the pitch. However, a wonderfully weighted cross-kick from MacGinty saw Solomona again flapping his hands without catching the ball; had he caught it, he would have scored.
Shortly after Webber's return Sarries were attacking again; playing a penalty advantage, they threw the ball wide only for Evans to stick out a hand and a deliberate knock-on. He seemed perplexed why he had been yellow carded. Farrell scored with this one and Sarries were able to stay in the Sale half for the next 10 minutes as well. Again another brilliant cross-field kick from MacGinty to Solomona; again he was past Wyles, again he failed to catch it. On another day Solomona could have had a hat-trick; perhaps against Saints he will.
The pressure from Sarries kept Sale under the cosh and shortly after Evans had returned, there was more TMO activity. The ball came loose and a slow pass to Haley almost had him caught by Farrell. The return was run back by Goode and a couple of passes later Krius was hit hard before the ref blew up. Farrell's potential late hit was adjudged ok (I like the way the ref insisted it was run in real time), he perhaps could have avoided contact, but Haley had already thrown a couple of dummies. Ioane was out of luck though on the Kruis hit. He went in with the shoulder only, but as he tried to wrap his arms around, Krius bounced out of reach making it look worse than it was. Ioane was the third yellow card and the fourth Farrell penalty.
As the game was winding down at 3-12, a sublime bit of skill from Skelton who had been on for around 15 minutes. He took the ball round the corner and engaged two tacklers; as he went down he freed his arms and popped the ball up for Farrell to walk in under the posts; Sale 3 Farrell 19. Shortly afterwards, Sarries again made the man count moving forward with purpose the ball came to Goode who stood up the last two defenders and slipped in a lovely grubber kick for Earle to collect, sidestep Haley coming across and walk in under the posts. Suddenly it was 3-24 with 5 minutes to go and Sarries urgency came through for the bonus point as Farrell quickly took the conversion.
Too urgent, as Sale kicked short, collected the ball, the ball went through three pairs of hands and Evans going over for the try. It was 10-24 and the Sale try meant no time for the bonus point. The game drew to a close with me very happy. Sarries had not played well, but in the end won easily. Skelton looks a great addition; he was grabbing players and dragging them upfield through tackles. He was also a one-man maul in defence.
Still, the only unbeaten side in the tournament; and a probable home ¼ final with a win at Scarlets.
Sale Sharks: Haley; Solomona, James, Leota (Jennings, 70), Charnley (Arscott, 65); MacGinty, Mitchell (Phillips, 55); Harrison (Flynn, 67), Webber (Briggs, 70), Aulika (Parker, 67), Evans, Ostrikov (Mills, 71), Neild (Seymour, 71), Lund (capt), Ioane.
Try: Evans. Con: MacGinty Pen: MacGinty. Sin-bin: Webber, Evans, Ioane.
Saracens: Goode; Maitland (Earle, 72), Bosch, Barritt (capt), Wyles; Farrell (Lozowski, 71), Wigglesworth (Spencer, 71); Vunipola (Barrington, 62), Brits (George, 51), Du Plessis (Figallo, 51), Itoje, Kruis, Rhodes (Skelton, 51), Burger (Brown, 71), Wray.
Tries: Farrell, Earle. Cons: Farrell Lozowski Pens: Farrell 4.
Referee: A Brace (Ireland)
Attendance: 6,158.