IT'S BEHIND YOU!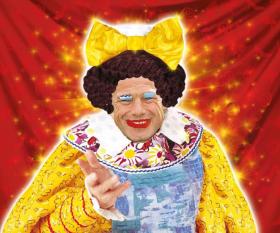 By INNINGS
January 2 2017
When I was a boy, New Year's Day meant the pantomime, as my parents bundled us into the car and we went for our annual visit to the Theatre Royal at Windsor. I carried on the tradition with my own children, but now they've fled the nest. So it was with a thrill of nostalgia that I bundled myself into the car today to drive to Leicester. What was I going to see?
Would it be Cinderella? Would grumpy northern character actor Richard Cockerill play Baron Hardup, sitting in the crumbling kitchen of Welford Castle, while the Ugly Sisters, played by the aptly cast Youngs brothers, squabbled about who should get to wear the family's white dress to the Prince's Ball at Castle Twickenham?
Would it be the ballet, the Nutcracker perhaps, with Riccardo Coccerelli wearing tights, and dancing as the Nutcrackered Prince? Would he slay the King Rat, played by Bradley "Ratty" Barratt? Would the prince rid the Kingdom of Toys of the Saratcen invaders?
Or today might bring some Shakespeare, perhaps his little known play, King Richard the Fourth, with that great actor-manager Lord Cockerill playing the king, assassinated after the Battle of Leicester, buried in the car park of the Leicester Royal Infirmary and found again in five hundred years' time, his body amazingly preserved, still scowling, still grumbling.
Most of all, I hoped for the cheeky comedian Dickie Cockers, performing his famous impersonations, including his totally lifelike Kenneth Williams – "Infamy, infamy, they've all got it in for me."
It was a long and difficult drive, rain for a hundred miles and roadworks that seemed to go on as long. When I got my seat I was glad that it was well back, the rain may have been little more than light drizzle, but it affected both main kickers and certainly would have affected me if I had endured it for the duration.
And so the play began. How they cheered when Owen Williams opened the scoring after a silly giveaway. How they groaned when their prince, Manu, left the stage after a cameo that lasted scarcely eight minutes: an awkward fall after a heavyweight three-man tackle would have felled anyone, especially one scarcely match-fit. And how they laughed when the under-baddy, the Ratlet twice aimed his sword at the posts and missed his aim. I was seated among the die-hard pantomime goers of Leicester, and many of them around me also laughed when the chief Baddy, Chris Ratty was knocked cold unconscious in a clash of heads and had to be escorted form the stage. It seems that the famed Leicester sporting spirit and appreciation of the actors goes only so far. At least the majority of the crowd gave him the generous applause that we expect as supporters when any player has to be helped from the field.
But what about the game? I cannot say it was a vintage offering. The first half was little more than a prolonged and sometimes tuneless kickfest. The follow-up for this style has to be perfect against top quality opposition, and neither side made the best use of this tactic. If Tigers had managed to get two or three players into a speedy chase, instead of the single one chaser who usually arrived, the story of the half might have been very different, and indeed on a couple of occasions, when Tigers did get two players into contest for the kicked ball, Saracens were sent into desperate defence mode. Saracens also kicked extensively and their follow-up is always speedy. Tigers today seemed to leave the receiver to handle the rush on his own, slow to provide immediate support for the receiver, but usually eventually able to get men back, cover the kick receiver and shut down the risk. So half-time arrived, two penalties apiece, with misses by both kickers. However, on the stroke of 40 minutes, one rare excellent follow up of a very good Youngs clearance saw Alex Goode, putting his loss of the England EPS place behind him, forced into giving a scrum for carrying the ball, under intense pressure over his own dead ball line. Sarries gave away a scrum penalty immediately and Williams had fairly easy penalty shot. Appropriately for the aftermath of Hogmanay, the kick sounded like the famous Ian McLaren kicked haggis, the ball was nowhere near target, and the half ended, with Tigers left to rue a lost chance to establish some sort of ascendancy.
The second half was largely the first half facing the other way. Tigers dominated the scrum, Sarries dominated the lineout, and both sides enjoyed some strong mauling. Tigers went 9-6 ahead after another error forced by Tigers' pressure, and then at about 60 minutes we had the one moment of genuine quality of the entire game. Skelton tore into the primary Tigers defence; Youngs passed a truly dreadful floater, in every sense, to Owen Williams. Barratt was onto the wobbling aerial ball like a rat up a drainpipe, Farrell received a fast ball ten metres out and opposite the left hand post. He beat Dan Cole for indecision, another man for speed, and arced perfectly through the centre channel for a try that even had the Tiger support recognising its quality. His conversion and a later penalty gave him all Sarries' 16 points. In the dying minutes Tigers battered and tried everything they knew to get a better result than the bonus point that they looked like holding. Although Tigers' increasingly frantic and frankly undirected efforts did yield a fourth successful penalty for Williams, they never looked like scoring the try that they needed during these closing minutes.
Overall, I have rarely seen a Sarries scrum so heavily beaten in the scrum game, but so dominant in the line-out. Both sides have a very sound mauling game, and few sides that I've seen this season could have lived with either in that department today. In the carrying department I'd say that Tigers generally found Will Skelton almost unmanageable, Jackson Wray too quick with darting little carries that kept the close-in defence very much on their toes, and Maro Itoje's star continues to shine. One extraordinary charge down of a Williams clearance came from the very toe end of Itoje's boot, and caused much discussion of the laws, but it was legal, snuffed out a counter-attack at source. For most of the final quarter, Tigers defended their turf with increasing commitment and energy, but sometimes a little less rushing and a little more focus on execution would help their cause. It's great to win the little contests but they don't help if you fail to capitalise on what those little wins can offer. Owen Farrell was man of the match, but in truth it could equally have been Maro Itoje or Jackson Wray, both thinking players who attack as well as they defend and who simply do not understand the concept of a lost cause.
I watched the game again on television last night. TV makes the game look better than it sometimes can be when one's there, and this was certainly true of this game. However, I did appreciate Austin Healey's discussion of the kick-chase game, and he made the point of how dangerous it is when executed well, and how dangerous it can be when executed baldy. The two Owens, Farrell and Williams, proved the point perfectly: any aspiring coach should look at this game and see that there is a profound gulf between a skilful, committed kicking game and aimless return-ball for lack of better ideas. If in doubt, the aspiring coach needs only to ask Burns what it's like to face endless high balls with no immediate support and the close attentions of Marcelo Bosch or fourteen others like him.
And the pantomime we saw? Perhaps it was the stage version of Signing in the Rain, starring Alex Sanderson as Gene Kelly. However, Mark McCall lacks the presence of the great co-star, Debbie Reynolds, sadly gone this week. Mark has nothing of her looks, her hairstyle or her voice. However Debbie also had a great side-step, and I think Mark at least has that covered.
An astonishing weekend gave five away wins out of six. At one end of the table, Sale Sharks may yet regret a home loss to Bristol that drags them back into dangerous relegation territory. Bristol have strung together two wins on the bounce and both were against relegation fellow-travellers. Such wins are not called double-pointers for no reason. At the sharp end, Wasps and Sarries have a little valuable clear water over the two sides beaten by Sarries in the last two premiership finals, Exeter and Bath. The battle for fifth to ninth is a dogfight, with the aristocrats of the 'true clubs' like Tigers, Saints, Quins and Gloucester locked in a struggle that will end in at least two of them failing to reach the European big cup yet again. And with Falcons also in that mix, there could be three 'proper' clubs looking up the address of Timisoara Saracens on Google next autumn.
LEICESTER TIGERS
Burns, Betham, Roberts, Tuilagi (Brady), Thompstone, O Williams, B Youngs (Harrison), Genge, T Youngs (McGuigan), Cole, Slater, Fitzgerald, M Williams (Kitchener), O'Connor, McCaffrey (Evans)
SARACENS
Goode, Ashton (Earle) Bosch, Barritt, Maitland, Farrell, Spencer (De Kock), Barrington (Lamositele), George, (Brits), Figallo, Skelton (Hamilton), Itoje, Rhodes, Burger (Brown), Wray
SCORERS
Leicester Tigers
Pens: O Williams (4)
Saracens
Try: Farrell, Conv: Farrell, Pens: Farrell (3)
Attendance 25,248
Referee: J P Doyle (RFU)