FALCONS FLOORED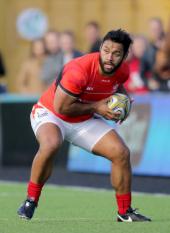 By Darraghgirl
March 6 2017
So this is a first for me – a match report from the Aviva Premiership TV site (no mean feat when your broadband is as slow as ours!) However I didn't feel that the return of Billy, together with a five pointer, could go unmarked – so here goes!
This was the last game before the return of the Cavalry from international duty (although in all fairness some of the cavalry had already come back – both Vunipolas proving match fitness (and playing together for Sarries for the first time since Mid October) and Sean Maitland, also proving he had recovered from his rib injury and attempting to get back into the Scotland team for the Calcutta Cup). And not before time – this Six Nations period has proved tough for Sarries with a couple of away losses early on, before some redemption last weekend against Sale. But with the state of the table, and both Wasps and Exeter winning with a try bonus, it was vital that Sarries keep in touch of the 2 leaders as well as putting a bit of distance between the clubs below.
Winning "up North" is never easy. Kingston Park is a challenging and chilly ground and Newcastle have found a bit of form in recent weeks so there were ample banana skins around to slip up on. Fortunately Saracens are well-acquainted with the plastic pitch and for once the sun appeared to be shining – probably a very unusual site in the North.
An inauspicious start saw Sarries concede a penalty at the scrum which Takulua converted to give the home side an early lead. Then Billy got the ball and as Billy does made an immediate impression which lead to Conlon winning a penalty in front of the posts and an easy 3 points for Lozowski.
Newcastle had the ball but didn't get far and Sarries eventually turned over possession. Billy threw a long pass out to Mako who was this week's "kicking prop". Mako grubbered the ball out to Ashton on the wing and only smart work by Sinotti prevented a try. In the resulting ruck, Takulua fumbled the ball which allowed Rhodes not to be off side. Rhodes reacted first, stole the ball and scored his first try for Saracens this season. Lozowski missed a tricky conversion but Saracens now led 3-8.
Almost immediately Newcastle reduced the deficit to 2 with a straightforward penalty from Takulua. Wiggy was kicking much better and forced a line-out deep in the Newcastle 22 which Wray stole. A sustained period of attack from Saracens couldn't breach the Newcastle defence and it finally broke down when a poor pass out to Ashton saw him surrounded and he was penalised for not releasing.
Another Newcastle attack was almost intercepted by Lozowski who got one hand to the ball then dived athletically forward and just failed to hang on to the "catch". Referee Maxwell-Keys told him it was a "really good attempt"! Meanwhile Brad Barritt once again went through the HIA – he must know all the answers in his sleep – to be replaced by Nathan Earle.
Newcastle turned on the pressure again with some useful possession in Sarries' 22 but the danger was cleared only for Socino to collect the ball in his own half and waltz through the Sarries' defence before off-loading to Takulua who looked certain to score. But Maitland just got his tackle in forcing Takulua to ground the ball short and then knock-on – a scenario confirmed by the TMO. Barritt returned with the inevitable head bandage – maybe he should just start the match that way and save time. As the commentator said "tough as tarmac".
Maitland secured a superb high ball and kicked the ball on for Ashton to chase. Ashy thought he'd grounded the ball but Mr Maxwell-Keys was suspicious of a bit of juggling beforehand and was proven right by the TMO so to Ashy's chagrin, no try. Sarries began to pressurise Newcastle again with a couple of penalties which went to the corner although sadly the second of these was overthrown and intercepted by Socino. Taylor sadly limped off after 30 minutes – he doesn't seem to get much of a break from injuries these days – so Earle was back on for good. Sarries won a penalty in front of the posts and Lozowski made it 6-11.
Big Jim was "felled" by Callum Green. Mr Maxwell-Keys was adamant it was accidental, Jim of course thought otherwise and decided to take matters in to his own hands only to receive a stern talking to from the referee, (for someone who looks about 12 he finally seems to be getting a grip on this officiating lark). Mako had a second attempt at replacing his contacts and another lineout was lost. (perhaps he put them in the wrong eyes). Fortunately Waldouck wasn't watching the ball and Sarries won a scrum and a penalty from his generosity. (Serves him right for wearing bright blue undershorts with his black kit – surely a real fashion faux pas that one).
Billy came off the back of the scrum with the ball and Wiggy chipped ahead. Lozowski was the first to react and ran through a back-pedalling Newcastle defence to score Saracens' second try which he also converted for a 6-18 lead. As half time approached, Sinotti made another searing break and off-loaded to Tait only to be forced into a knock-on when a step from Earle made him stumble with the try line begging.
The half ended with yet another lost lineout. Brits wasn't wearing his head gear today – maybe he usually has some sort of range-finder buried in his bonnet that he was missing?
Part 2 and Brits nailed a lineout early on – in fact he didn't miss another one all game so someone must have reset his sights at half time! End to end stuff followed with some excellent clearances from Wiggy. Brits was down for a second time with a sore knee but recovered to give Lozowski a consolation kiss after Ashton's kick ahead was fielded by Loz but Brits wasn't there for the offload.
Finally Figallo managed a clear-out which set up another lovely attack from Sarries with a lot of deft handling and a nice backward flick from Maitland. Wiggy and Barritt found Ashton and he doesn't miss those. Unfortunately Lozowski did miss the conversion but the lead was now 6-23.
Newcastle started to ring the changes and eventually it brought a result. Saracens seemed happy playing without the ball and keeping Newcastle on the edge of their 22 but Sinotti Sinotti eventually made another super run to initiate the breach and finally Socino got the ball on to Waldouck who ran straight past Wray, Conlon and Ashton and scored. Takulua converted to make the scores 13-23. Spencer replaced Wiggy, who was back to his best. There was a nice embrace between a hirsuite Olmstead and Ashy by the advertising boards. Bosch put in a super tackle on Goneva. Kelly Brown replaced Conlon. It was all a bit disjointed and Newcastle began throwing the ball around. A long pass from Hodgson to Goneva was well read by Lozowski who intercepted and ran in unopposed for his second try and Saracens' first Premiership try bonus since October. Lozowski duly kicked the conversion and the fashionistas heaved a sigh of relief as Waldouck departed.
Sarries changed their front row and Billy's departing shot was a lovely carry off the base of the scrum that went through the hands and eventually found Earle on the wing. He dummied out to Ashy then decided to score himself. Once again Lozowski missed the conversion but at 13-35 the game appeared done and dusted.
Newcastle had other thoughts and scored twice in the last 5 minutes. The first was by Goneva who picked the ball out of the ruck and ran unopposed under the posts, catching the red men napping. The second try followed a long Newcastle attack when substitute Davy Wilson barged over the line. Delaney converted both scores and the game finished 27-35.
So all in all a satisfactory afternoon. Bearded Billy was back and showed what has been lacking over the past few months. There were still too many errors – the lineout was a disaster area in the first half and the defence leaked rather too many tries. But it was 5 points where few thought we would get more than a losing bonus point.
So 1 or 2 weeks of Anglo-Welsh and then we welcome back, hopefully in 1 piece, Farrell, Itoje, Billy, Mako, Jamie George and Maitland. And not before time. We will need to be at our best for the rest of the season to get a home semi final. But what the heck, as we discovered in 2015, all you have to do is finish 4th!
Newcastle Falcons:
Tait, Goneva, Waldouck, Socino, Sinotti, Hodgson, Takulua, Vickers, Cooper, Welsh, Green, Olmstead, Wilson, Welch, Latu
Subs: Lawson, B Harris, Wilson, Hogg, Chick, Egerton, Delany, C Harris
Saracens:
Taylor (Earle), Ashton, Bosch, Barritt, Maitland, Lozowski, Wigglesworth (Spencer), M Vunipola (Lamositele), Brits (Saunders), Figallo (du Plessis), Rhodes, Hamilton, Wray, Conlan (Brown), B Vunipola (Flanagan)
Newcastle (27)
Tries: Waldouck, Goneva, Wilson; Conv: Takulua, Delany (2); Pens: Takulua (2)
Saracens (35)
Tries: Rhodes, Lozowski (2), Ashton, Earle; Conv: Lozowski (2); Pens: Lozowski (2)
Referee: Craig Maxwell-Keys RFU