HAVING KITTENS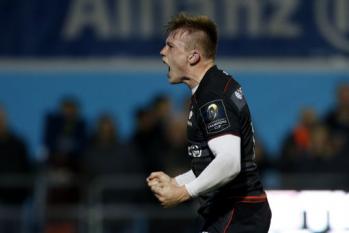 By JO'G
March 12 2017
The match felt a little 'after the Lord Mayors show' what with the exciting Wales win on Friday night had opened up the opportunity for England against Scotland. I had timed the journey well, listening to the first half on the car radio and watching almost all of the second on the big screen. England's emphatic victory left the crowd in a great mood even though the last few minutes were cut off.
I managed to get to my seat to see the last England try on a mobile phone. It was a bit odd seeing the seats around me filled with youngsters; the season ticket holders conspicuous by their absence. I would say from my observations that less than half the normal seat holders were in place; with big areas of the platinum seats empty. I'm pretty sure that most of them, having seen the respective team sheets and the fact it was on BT Sport make up their minds to watch the game wherever they saw the England one
Still we had a game on our hands and Leicester started strongly and getting the rub of the green from Luke Pierce. After a drive on the 22 a penalty for not rolling away was awarded and straight from the advantage Burns tried a speculative cross field kick. Gallagher seemed to have it under control, but the Tiggers winger batted it backwards out of his hands. There was an element of luck for Worth as it landed at his feet and bounced forward perfectly, just between 2 covering defenders and allowed Worth to follow up with a second boot and fall on the ball over the line. Burns converted from out wide, but shortly afterwards he missed a fairly easy penalty after Pierce again found Saracens wanting. The superiority of Tigers in the close exchanges was earning them good results at this scrum penalty. This matched the rather dismal performance of Sarries at the line-out as only around half of the ball was won by the men in black; Leicester won pretty well all of theirs during the whole match.
Shortly afterwards what seemed like a travesty; a clearing kick by Saracens competed with in the air by a player from both sides. In fact both players went down holding the ball but Pierce penalised the Saracens player. It seemed that we were not playing just a superior XV but the man with the whistle as well. Burns had more luck with this kick and from the restart Sarries had a penalty of their own. Whitely hit the post and despite following up and catching the rebound could not score. Eventually Leicester turned over the ball and kicked clear but from the ensuing ruck Taylor cleverly dummied and ran into space almost from halfway. He passed to Conlon who was held up just short. From the ruck Taylor dummied again and went over just a few yards from the posts. Whitely missed the conversion; 5-10.
We then had 10 minutes of play between the 10-yard lines with neither side making any headway, but it seemed to me that Sarries were holding their own and getting the upper hand slightly. Then another odd penalty; 10 yards of backchat – although the ten was more like 15. Burns missed again. It looked as if the half would peter out with the score close when another stroke of luck for Leicester. Thatcher was tackled, both knees on the floor and a hand still holding his shirt. Pierce seemed to ignore this when Thacker got up, knocked away the hand and kept on running without letting go of the ball. Sarries players were forming the ruck as he was away behind them passing to Hamilton for what was the critical score. Burns converted as halftime came. 5-
Like the others around me we felt the try was rather dodgy, but as the teams came out again Leicester started much the stronger and a moment of magic from their ultimate development player JP Pieterson spinning through a gap and letting off an offload with the Tiggers player getting to almost the posts. After the tackle the ball ended up between his knees but again Pierce wasn't interested in the knock-on or when Genge finally went over in the corner Pierce awarded the try when Genge and Earle were still fighting with it on the ground. Genge certainly put the ball down on Earles arms and when I was playing if the attacking player still fought for it, it meant he didn't think he had got it down. Still it was given and Burns missed the conversion. It seemed all over but Sarries were not giving up with great defence and kick chase. Not really hanging on to enough possession to make anything of it, especially losing almost every lineout inside the other 22. After another 15 minutes there was finally another penalty for Burns to slot over.
As the substitutes started to come on Sarries were definitely advantaged. The way the benches were organised, the Sarries replacement was almost always better than the player being replaced, for Leicester it was the other way round. The teams were now evenly matched and Sarries scored a lovely try right round the outside; plenty of players straightening and then passing with Gallagher going over in the corner; the conversion missed. 10-25 with twenty minutes still to go and now the tide had turned completely. Leicester were slowing the ball down at every opportunity, going in off their feet and coming up offside at almost every opportunity. Sarries were pressing for every chance, kicking their penalties to the corner well. But every lineout ended in failure; either Tigers came away with the ball or the drive was stopped or broken up. Despite playing most of the final 20 minutes in the Leicester 22 Sarries were not to score again. Halfway through this period Burns read a Loz pass to perfection, intercepting and running the whole length of the pitch. Despite Earle catching him at a rate of knots, the angle of the Leicester winger meant Earle had another 10 yards to run and despite catching him, Burns was able to score. Burns converted his own try.
All in all a pleasant enough game and some decent performances by Sarries youngsters against a much more experienced side. Pierce seemed to even out his penalty count in the latter part of the game. Tompkins especially played well. I was thinking that if the match was in 2 years time, the Sarries side probably might have enough experience to win. Was also impressed by the speed from breakdown to breakdown by NdeK; a spritely 36 years old and still like a Duracell bunny
SARACENS
15 Matt Gallagher; 14 Mike Ellery, 13 Tim Streather (c), 12 Nick Tompkins, 11 Nathan Earle (Perkins 69'); 10 Tom Whiteley (Lozowski 51'), 9 Henry Taylor (De Kock 51'); 1 Richard Barrington (Thompson-Stringer 49'), 2 Jared Saunders (Lindsay 64'), 3 Vincent Koch (Lamositele 49'); 4 Fa'atiga Lemalu, 5 Mark Flanagan (Isiekwe 56'), 6 Kelly Brown, 7 Joel Conlon, 8 Samu Vunisa (Burger 49')
REPLACEMENTS: 16 Tom Lindsay, 17 Hayden Thompson-Stringer, 18 Titi Lamositele, 19 Nick Isiekwe, 20 Schalk Burger, 21 Neil De Kock, 22 Alex Lozowski, 23 George Perkins
LEICESTER
15 George Worth; 14 Tom Brady; 13 Mathew Tait; 12 Jack Roberts; 11 J P Pietersen; 10 Freddie Burns; 9 Jono Kitto; 1 Ellis Genge; 2 George McGuighan; 3 Fraser Balmain; 4 Harry Wells; 5 Graham Kitchener; 6 Luke Hamilton; 7 Harry Thacker; 8 Lachlan McCaffrey; 16 Tom Croft; 17 Michele Rizzo; 18 Greg Bateman; 19 Joe Maksymiw; 20 Will Owen; 21 Ben White; 22 Owen Williams; 23 Charlie Thacker
SCORERS:
Saracens: Tries Gallagher,Taylor
Leicester Tigers: Tries Worth, Hamilton, Genge, Burns. Conv: Burns (3) Pens Burns (2)
Attendance: 4747
Referee: Luke Pearce
View a Printer Friendly version of this Story.
HAVING KITTENS
TheSaracens.com (IP Logged)
12/03/2017 21:20
Thanks Jeremy
As you say a reasonable performance given about half the Tiggers' team are probably first choice starters whereas I don't think any of ours were - and many were 3rd or even 4th choice!



Edited 2 time(s). Last edit at 2017:03:29:21:56:15 by Darraghgirl.
Re: HAVING KITTENS
22/03/2017 18:05
I am pleased that Tigers were able to give game time to their promising youngster JP Peitersen. A true prospect for the future. Is he in their academy?
£676.97 (*) donated to the Saracens Foundation due to visits to the Sarries frontpage [
www.rugbynetwork.net
]
Please read and submit articles for publication. (*) As at October 31, 2017.
Sorry, only registered users may post in this forum.