SECOND TERM REPORT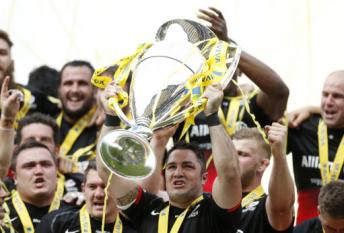 By Darraghgirl
March 17 2017
The second term is always the toughest. The second novel, the second album, the second season. Defending a title is so much harder than winning one! At the start of the first International break in November, Saracens were top of the league with just one defeat to Quins. As the 2nd International break comes to an end, things have got a bit tougher:- hardly surprising given the number of call ups to the full international team, the Under 20's team and of course injuries.
In the autumn, our first choice team was probably: Goode, Ashton, Bosch, Barritt, Maitland, Farrell, Wigglesworth, Mako, George, Figallo, Itoje, Kruis, Rhodes, Burger and Billy. For much of the winter less than half of that team have been available for selection. You can't lose that many high calibre players and not notice.
During the 2 International breaks (5 weeks in the autumn and 8 weeks just now) we have played 7 Premiership games: (a third of the season) without our internationals (losing 3) and 3 games with our fit Internationals, winning 2 and drawing 1 (showing real fighting spirit with 14 men against Exeter). Removing top players for 7 out of 22 Premiership games is asking a lot of any team, maybe too much. This year we have suffered badly from injuries to key players at the same time: Goode, both Vunipolas, Kruis, Itoje and Taylor have all had lengthy injuries not to mention more minor (but none the less irritating) injuries to Burger, Maitland and Fraser. In some positions we really are stretched very thin:- fly half especially. We were only a dislocated finger (or an International call up) away from throwing Max Malins in at the deep end with no cover. Now Malins looks to have a lot of potential and will hopefully fulfil his promise in years to come but better to manage these things and not have one's hand forced. Malins, of course, has been absent for most of the season too first with injury and then as soon as he was fit, away with the under 20's. Thank goodness Brits has stayed fit – with only a rather shaky-looking Saunders as cover things could have been even worse
We fared rather better in Europe, winning 5 of our 6 games and drawing away at Llanelli. But enough to give us a home quarter final draw (albeit against "Scotland" aka Glasgow) and the prospect of a record crowd at Allianz. Should we get through that, our route to Edinburgh is not easy with an away game either in Ireland (against everyone else's favourites Anthony "Axel" Foley's Munster) or in France against Toulouse. Encouragingly the Vunipola brothers both appear to have made miraculous recoveries and assuming England don't break them this weekend, should be raring to go. Goodey should also be back soon although we may not see Kruis for a few more weeks.
What remained of our playing squad tried their best in the Anglo-Welsh, finishing as top qualifiers for the Semi-Final and securing a home draw. Sadly an experienced Leicester Tigers team was too much for them on the day so one trophy at least will have a new home. But the Anglo-Welsh Cup has at least allowed many academy players to ply their trade with the first team and we have had the chance to glimpse some potential stars of the future (when the U 20's can spare them), especially Dom Morris, Jack Nay, Nick Isekwe and Hayden Thompson-Stringer
One area where we have improved a bit is discipline. Only 3 Yellows (Rhodes, Loz and Ellery) and just the unjust red shown to Barrington against Exeter (and the subsequent ban for Barritt the real culprit) in 10 games (we lost 2 of those games, drew 1 and won 1). Ashton returned on Christmas Eve with a try and has continued his try-scoring form. He got a kick in the head against Leicester and has been on his best behaviour ever since so maybe got some sense knocked into him!
So as we enter the final straight, we sit 3rd in the Premiership. Wasps have a 6 point lead but we trail Exeter by just a point and are 10 points clear of Bath in 4th. After a well-deserved week off (I'm sure the coaches will take note of the Worcester performance the last time the squad had a break) all being well, we welcome back Itoje, Farrell, George, Maitland and the Vunipolas. Hopefully they still have plenty of energy because there are some big games ahead. As well as Europe, we have Bath, Quins & Bristol at home (or at Wembley which is sort of home) and Saints away (or at Milton Keynes which is also sort of home) and finally a visit to the Ricoh it what could be a prequel to the 2017 Premiership final. So all to play for still – fingers crossed that we don't pick up any more injuries!